Here is my weekly vegetarian meal planning chart for this upcoming week. Preparing a visual meal planning chart makes it easy for planning, grocery shopping, and of course, cooking.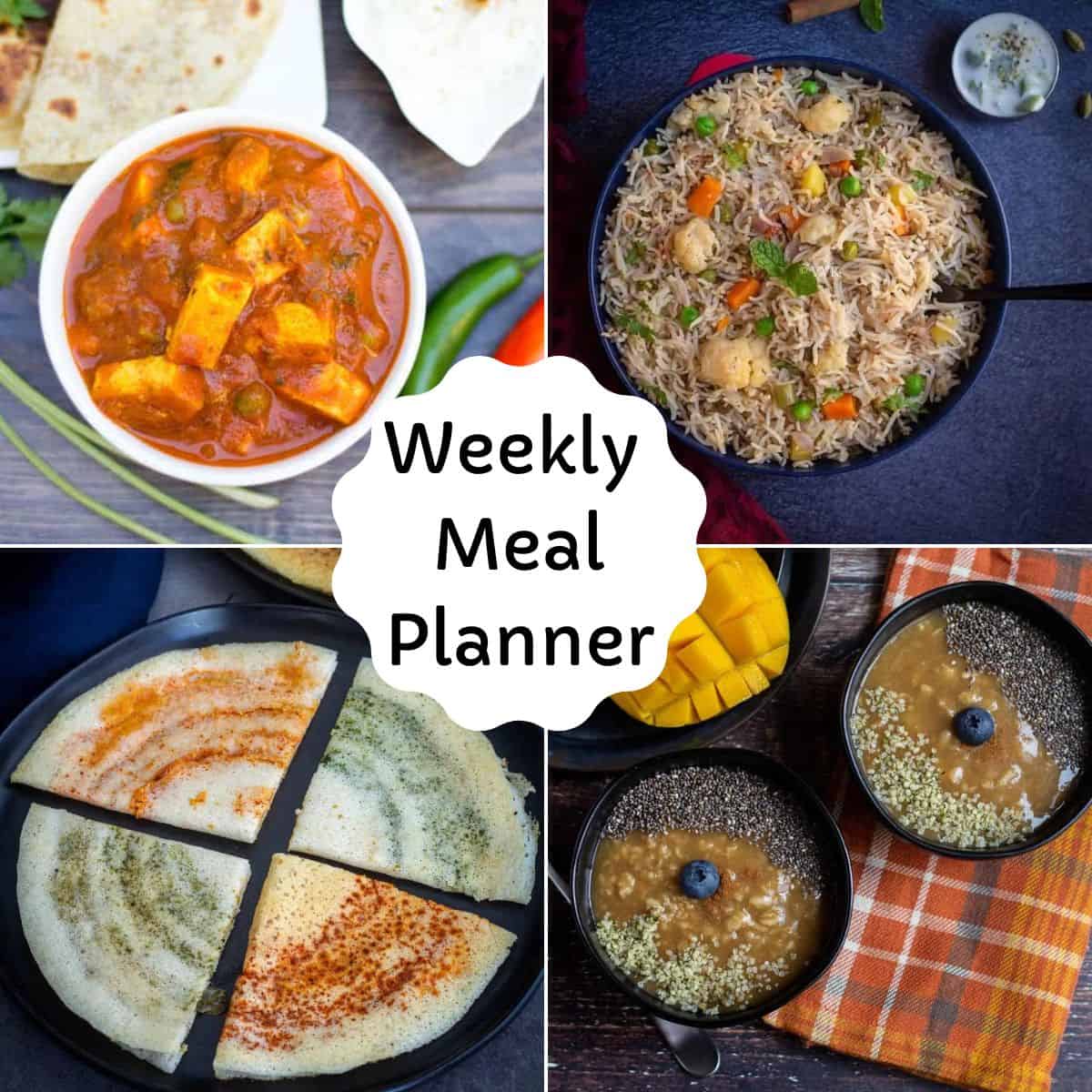 Are you new to meal planning and prepping or looking for new ideas?
I have been sharing 5-day meal plans for vegetarians for the past two years, and I have over 47+ Indian vegetarian meal planners on my blog. You can check them out all under the "meal planner" category. Please share your thoughts and feedback in the comment section.
My meal planning and prepping this year
After a big gap, I am back with my meal planners. Even though I haven't been sharing meal planners here on the blog, I write down the weekly meal plan and stick it on my fridge. It helps me with prepping, grocery shopping, and planning for batch cooking.
Yes, I do batch cook these days. I have a long commute to work, and it is difficult to cook all the meals in the morning, and by the time I am back from work, I am super exhausted to prepare a full-fledged meal. So mostly, I batch cook over the weekend for Monday, Tuesday, and Wednesday. And Thursday and Friday, we manage with one-pot meals.
Note – Use the grain of your choice. Instead of rice, you can use millet, quinoa, or brown rice. Also, you can make multigrain roti or quinoa, or ragi roti.
Can you freeze freshly cooked meals?
Yes, you can. But I usually refrigerate the meals as I store them for only two to three days. You can freeze them if you plan to store them for a long time.
I have a full series on how to cook and freeze lentils and how to use frozen lentils and make different dishes. Please check it out if you are interested, and I have more frozen meal series coming up. So stay tuned.
This week's meal planner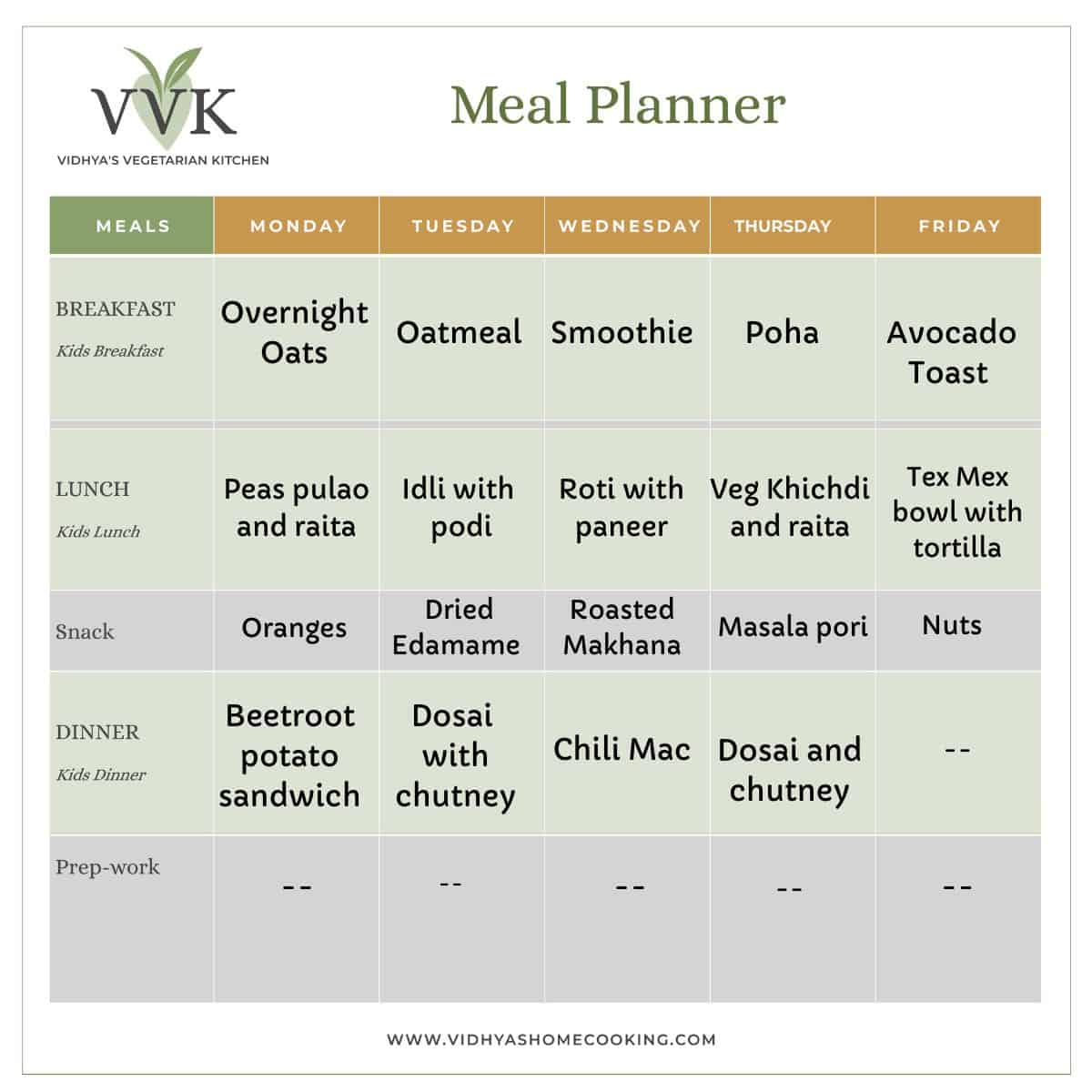 Here is the visual meal planning chart for this week, and most of the recipes are on the blog; find the links below. If it's a new recipe, I will share them first on Instagram, so make sure to follow me there.
Monday Menu
I have overnight oats, which you can plan and prepare the day before. I have recently shared overnight chocolate oats, and you can check them out.
For lunch, it's veg pulao and raita, and I plan to make it over the weekend so that it's easy to pack on Monday.
For dinner, it's the Bombay sandwich. I usually steam beets and potatoes over the weekend, which are handy for these sandwiches.
Tuesday Menu
I have oatmeal again for Tuesday's breakfast. I switch between rolled and steel-cut oats and make them in Instant Pot based on the time availability.
For lunch, it's the humble idli with podi, and for dinner, it's the dosai with chutney.
Wednesday Menu
I cannot imagine our breakfast without smoothies, and I have a smoothie for Wednesday.
I have roti with paneer curry for lunch, which I plan to make on Tuesday night, and I have already made the roti this weekend.
And for dinner, I have the one-pot chili mac, and I don't have the recipe yet on my blog, but I will share it soon.
Thursday Menu
As I work from home on Thursday, I have some time for making breakfast and lunch in the morning, so I have poha and veg khichdi for Thursday. For dinner, I am resorting to dosai and chutney again.
Friday Menu
I have simple avocado toast and Tex-Mex rice/tortilla bowl for Friday, and usually, we outsource our Friday dinner, so I have left it empty.
I hope this menu planner helps and you all can draw some inspiration. If you have any questions, please leave a comment below. I will share the daily updates on my Instagram and my FB group. So stay connected!
Stay Safe & Happy Cooking!
Vidhya