After a heavy festive special meal, we all crave simple recipes, and this week's meal planner is all about that. Here is this week's weekly meal planner with simple recipes.
Are you new to meal planning and prepping or looking for new ideas?
Check out all my previous meal planners. I have been sharing some meal planners for the past two years. I have shared over 33+ Indian vegetarian meal planners, and you can check them out all under the "meal planner" category.
This week's meal planner and prep work!
Usually, after a heavy festive meal, I typically make cumin-pepper rasam or milagu kuzhambu, more like detox food, and I made them over this weekend. So for this week's menu, I have simple one-pot meals and kiddo's favorite meals. For this week, you don't need much prep work. Essential prep work like preparing the idli-dosa batter and preparing yogurt is more than sufficient. 
I do have naan and some mixed veg stir-fry on the menu. I am using the Costco naan, store-bought pav buns, and for mixed veg, I am using fresh vegetables. But you can use frozen mixed vegetables too.
Idli batter: This time, I am making my regular idli-dosa batter and using it for Monday dinner and Thursday breakfast.
Chopping: Chop the required vegetables, especially cabbage and carrot, for the stir-fry. That saves a lot of time.
One-pot meals
This week you can find a lot of one-pot meals on my menu, like vathal kuzhambu sadam (not on my blog), Instant Pot pav bhaji, tofu curry, udon noodles, paneer pulao, IP mac n cheese (not on my blog), etc. These are easy to make, and you can make them with minimal prep work and less than 30 minutes of active cook time.
Without any further ado, here is this week's meal planner. Please check the recipe links below. Follow me on my Instagram to see how I pack the lunch for kiddo every day, new recipes, and everyday meals.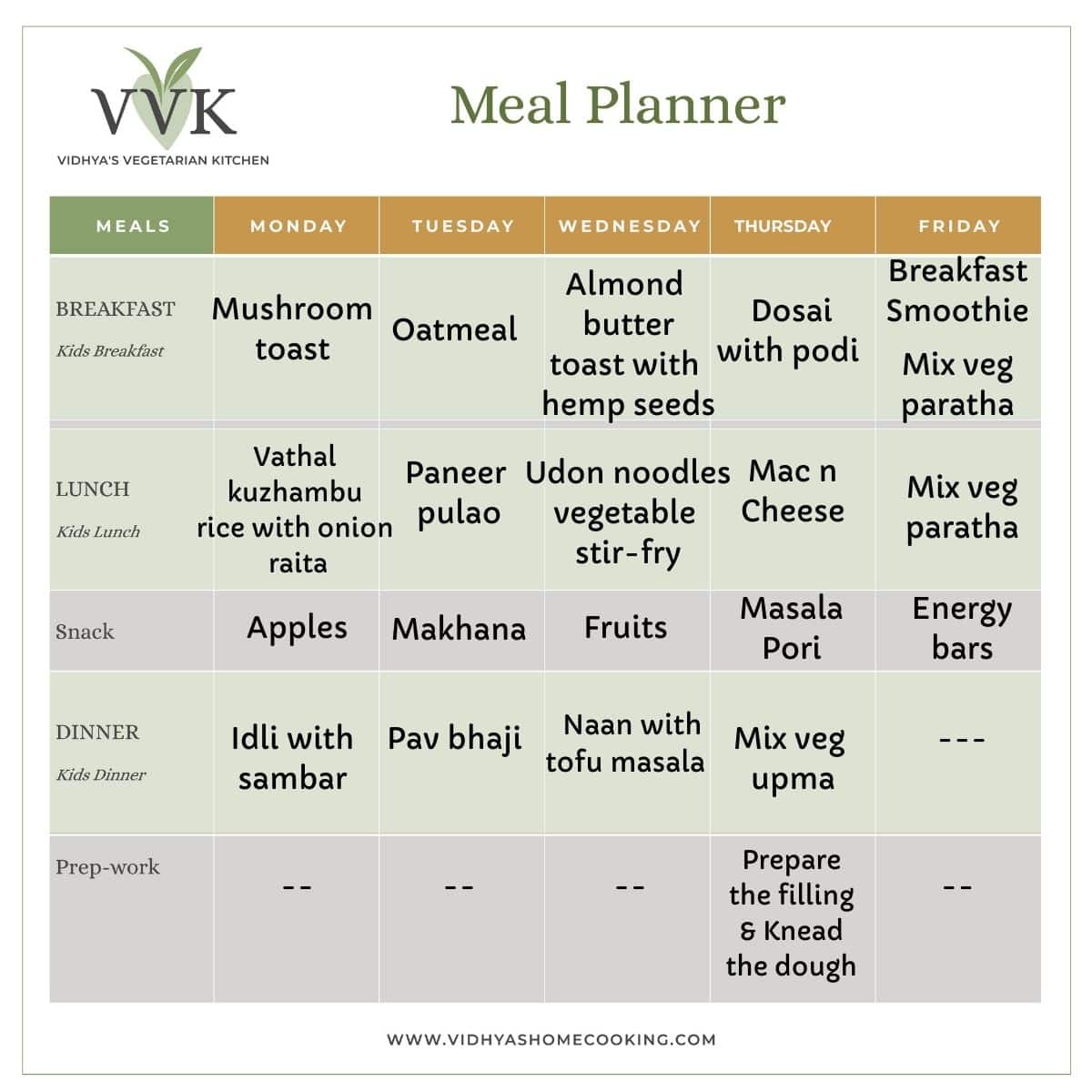 Some recipes are not on my blog, as soon as I am done testing, I will share them here. But you can follow me on Instagram where I typically share the rough recipes of the same.
Monday Menu
Tuesday Menu
Wednesday Menu
Breakfast – Almond butter toast with hemp seeds
Lunch – Udon noodles with vegetable stir-fry
Dinner – Naan with tofu masala
Thursday Menu
Breakfast – Dosai with podi
Lunch – Instant Pot Mac and Cheese
Dinner – Mixed veg upma
Friday Menu
Breakfast – Mixed veg paratha
Lunch – Mixed veg paratha
I hope this menu planner helps, and you all can draw some inspiration. If you have any questions, please leave a comment below. I will share the daily updates on my Instagram and my FB group. So stay connected!
Stay Safe & Happy Cooking!
Vidhya