A simple vegetarian weekly meal planner with pasta, noodles, and other assorted Indian dishes. Here is the meal planner for the upcoming week.  
PS – Substitute the rice/millet with grains of your choice.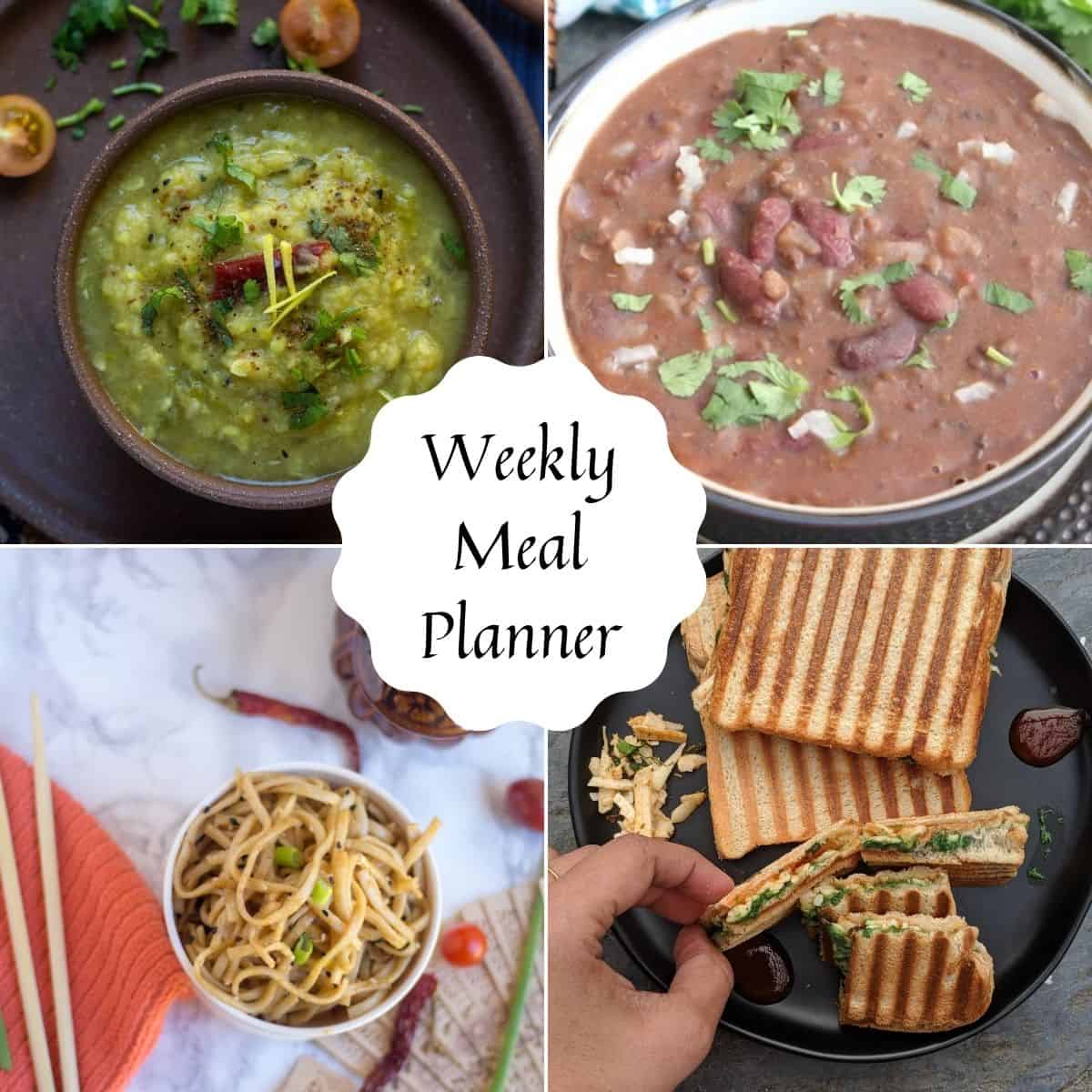 Are you new to meal planning and prepping or looking for new ideas?
Check out all my previous meal planners. I have been sharing some meal planners for the past two years. I have shared over 30+ Indian vegetarian meal planners, and you can check them out all under the "meal planner" category. All meal planners are unique, and I am sure you can draw some inspiration.
This week's meal planner
I usually test my recipes for the blog during the weekend, but I couldn't test for the past few weeks. So try some new recipes for breakfast and dinner. One is the vegan bread omelet, and the other one is Thai red curry rice with edamame. I will share the recipes soon.
Also, I made a big batch of ginger chutney last week, so I will be using the same and making simple rice with the chutney. As we love udon noodles, it's on repeat mode this week as well.
We got some homemade snacks from our friends and we can very well manage this entire week with that stash of snacks. :-) But I am including some fruits as well.
How I store cut vegetables
Last week, I did a Q and A on my Instagram regarding meal planning, and one of the questions was how I store my cut vegetables?
In my opinion, if you have the vegetables cut, half the cooking is done. So I always clean and cut the vegetables over the weekend. I cut okra, chayote squash, ridgegourd, bell peppers, ivy gourd, beets, carrot, and many more. Except for vegetables like mushrooms, cucumber I pretty much chop them all.
Over the years, I have tried different ways of storing cut vegetables. I started with plastic containers, and I worked really.
But when I started to reduce my plastic storage, I shifted to stainless steel containers. I got similar stainless steel containers, and as they weren't transparent, it was a bit difficult for me to find the veggies. I had to open the containers every single time.
Finally, I tried these transparent reusable Ziploc bags, and I have been using them for 10 months now. It's advantageous. Again this has one drawback. These are not dishwasher safer.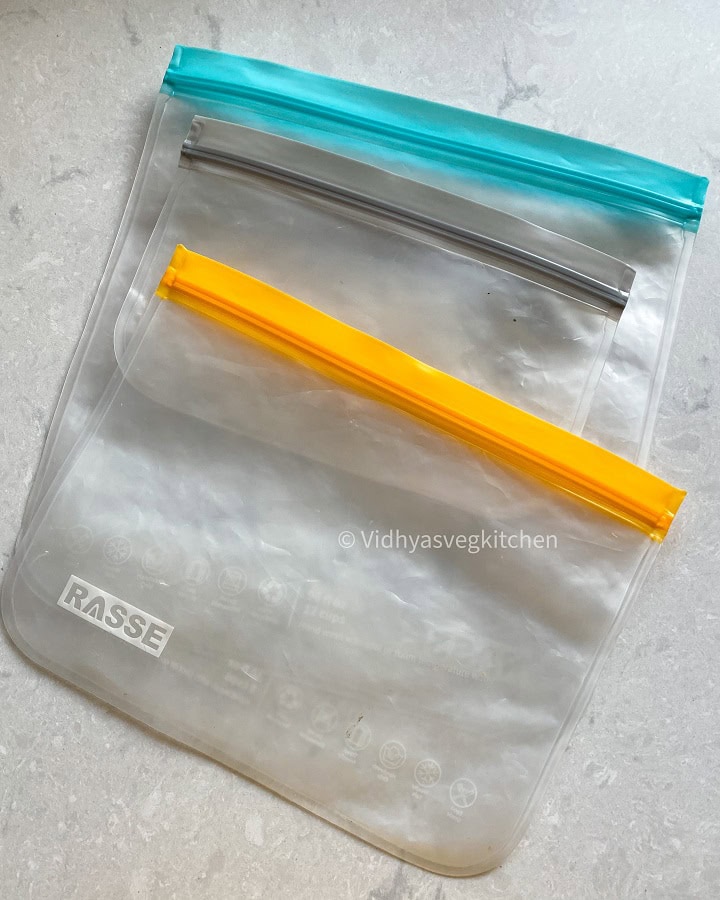 This week's meal planner
Please click the links for the individual recipes! I am yet to add few recipes to the blog and will update the links as soon as I post them.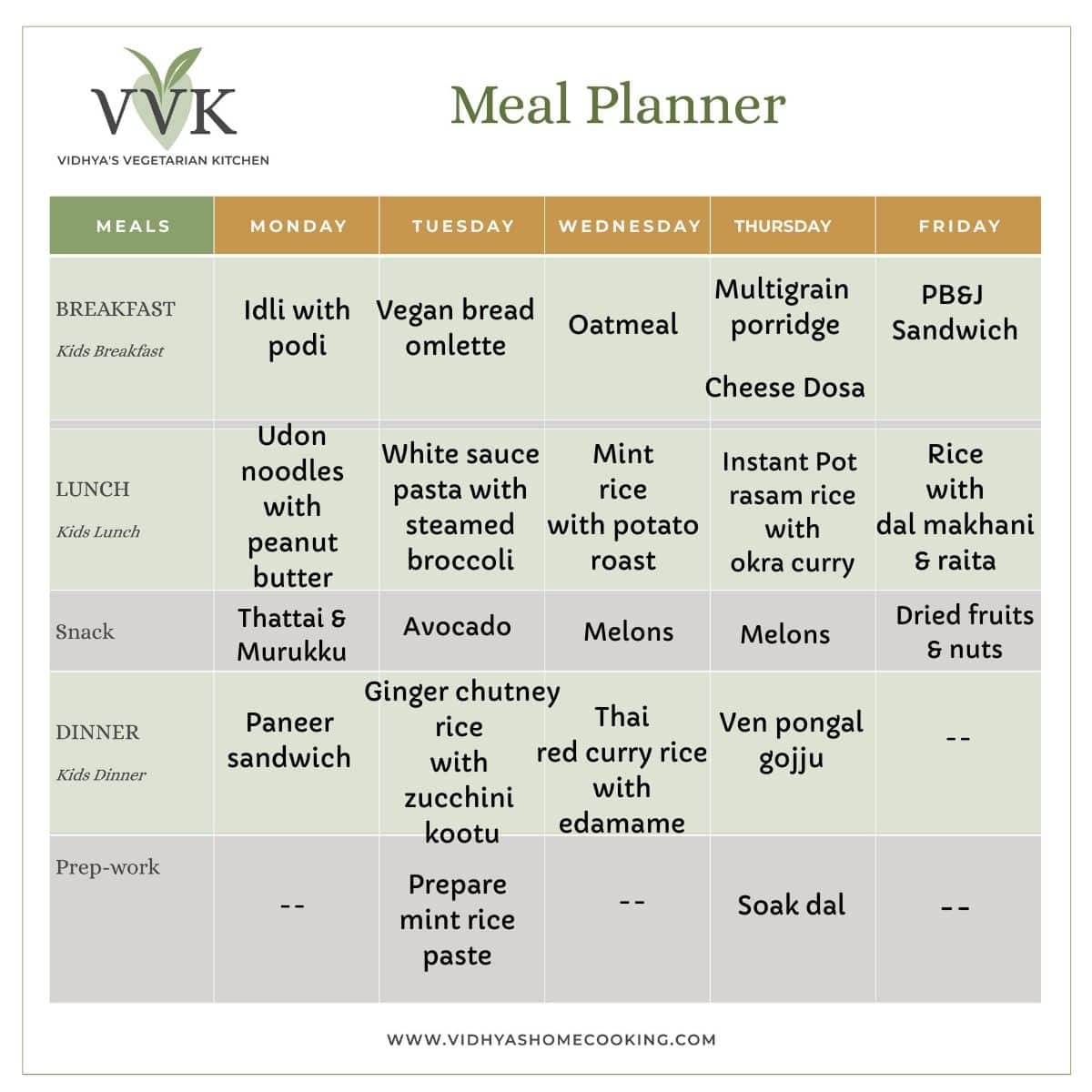 Monday Menu
Tuesday Menu
Wednesday Menu
Thursday Menu
Friday Menu
Breakfast – Peanut Butter and Jelly sandwich
Lunch – Rice with dal makhani and raita
I hope this menu planner helps, and you all can draw some inspiration. If you have any questions, please leave a comment below. I will share the daily updates on my Instagram and my FB group. So stay connected!
Stay Safe & Happy Cooking!
Vidhya