Holi is right around the corner and here is one of the popular recipes that are prepared during holi and also other festivals – Thandai. This sweet masala drink is prepared with milk, nuts and flavorful items like fennel seeds, khus khus, white pepper, and saffron and with a dash of rose syrup.
The main step involved in this recipe is the boiling of milk and letting it to cool. And this step requires attention and takes longer time. There are other recipes to prepare for holi na, so why not take a short cut?  I followed Tarla Dalal's recipe but adjusted the ingredients according to our likes and also included the rose syrup and cashews. I am preparing this as a semi home made recipe by using the store bought evaporated milk. Now all we have to do is soak the other ingredients and grind them into smooth paste and mix it with milk. Let it sit for few hours and drain and serve chilled.
Evaporated Milk:
As I mentioned before in my kheer post, Evaporated milk is dehydrated milk with longer shelf life. It is not as thick as condensed milk and also it is not sweet. According to wiki, Evaporated milk, known in some countries as unsweetened condensed milk,[1] is a shelf-stable canned milk product with about 60% of the water removed from fresh milk.
Here are my other recipes that I tried with evaporated milk,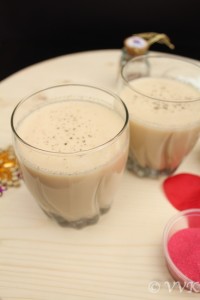 Now we can relax and play holi. This recipe can be prepared well ahead and can be stored in fridge along with the masala mix and just before serving depending upon your preference you can drain the milk or served as is with the masala. Cool and refreshing Thandai is what you need for quenching your thirst and energizing yourself again for playing holi.
To be honest, we like this masala milk very much and we don't need any occasion for preparing this.
Note: You can use regular milk and prepare it in the traditional way too. All you have to do is boil the milk and let it cool before adding the masala. You can either opt for this or go with store bought evaporated milk.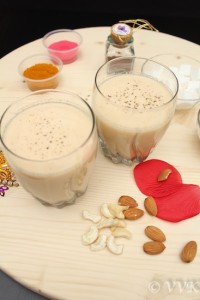 Ingredients:
Evaporated Milk – One 12 oz can
Sugar – 4 tbsps
Water – ¼ cup
Almonds – 5
Cashews – 5
Saffron – a pinch
White pepper – ½ tsp (heaped)
Fennel Seeds – ½ tsp (heaped)
Poppy Seeds – ½ tsp (heaped)
Rose Syrup – few drops
Elaichi Powder – ¼ tsp
Steps:
Warm 3 tbsps of water and add the saffron strands and let it soak for half an hour.
Soak cashews and almonds for half an hour.
Also soak white pepper, fennel seeds and poppy seeds for half an hour.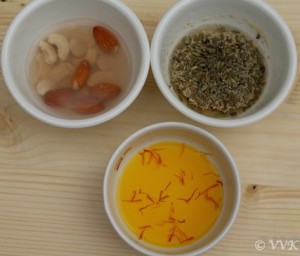 After half an hour, peel the skin of the almond and grind the almond, cashews, fennel seeds, poppy seeds and white pepper together by adding the remaining water.
Take the evaporated milk in deep bowl or pan. Now add this ground mix into the evaporated milk.  Also add the sugar, soaked saffron water, elaichi powder and rose syrup and mix well.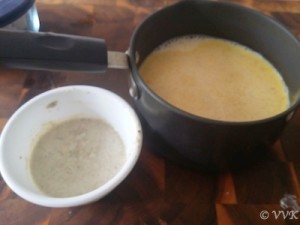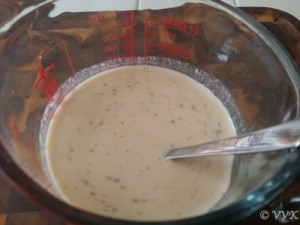 Let it sit in the refrigerator for about 1 to 2 hours so that the masala mix can incorporate well.
That's it. Thandai is ready. Serve chilled. (If you want smooth milk, drain the milk and serve if not you can serve as is with the masala)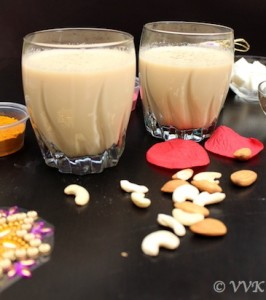 Notes:
Evaporated milk can be substituted with regular milk as I mentioned above.
Pistachios can be added along with almonds and cashews.
As my evaporated milk was bit sweet, I added less sugar. Adjust accordingly.
White pepper can be substituted with black. Adjust the masala proportions as per your taste.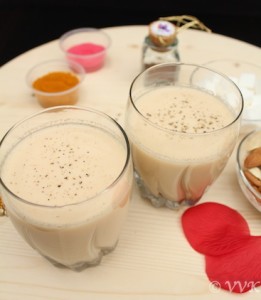 Ingredients
Evaporated Milk – One 12 oz can

Sugar – 4 tbsps

Water – ¼ cup

Almonds – 5

Cashews – 5

Saffron – a pinch

White pepper – ½ tsp

heaped

Fennel Seeds – ½ tsp

heaped

Poppy Seeds – ½ tsp

heaped

Rose Syrup – few drops

Elaichi Powder – ¼ tsp
Instructions
Warm 3 tbsps of water and add the saffron strands and let it soak for half an hour.

Soak cashews and almonds for half an hour.

Also soak white pepper, fennel seeds and poppy seeds for half an hour.

After half an hour, peel the skin of the almond and grind the almond, cashews, fennel seeds, poppy seeds and white pepper together by adding the remaining water.

Take the evaporated milk in deep bowl or pan. Now add this ground mix into the evaporated milk. Also add the sugar, soaked saffron water, elaichi powder and rose syrup and mix well.

Let it sit in the refrigerator for about 1 to 2 hours so that the masala mix can incorporate well.

That's it. Thandai is ready. Serve chilled. (If you want smooth milk, drain the milk and serve if not you can serve as is with the masala)
Notes
Evaporated milk can be substituted with regular milk as I mentioned above.
Pistachios can be added along with almonds and cashews.
As my evaporated milk was bit sweet, I added less sugar. Adjust accordingly.
White pepper can be substituted with black. Adjust the masala proportions as per your taste. Adapted from From Tarla Dalal