South Indian vegetarian lunch menu with arachuvitta sambar, potato curry, rasam, spinach gravy, and some pickle. A simple and satisfying lunch menu served with a handpound rice!
A perfect weekend menu with the classic combination of onion sambar and potato curry. Check out the menu details and recipe links below.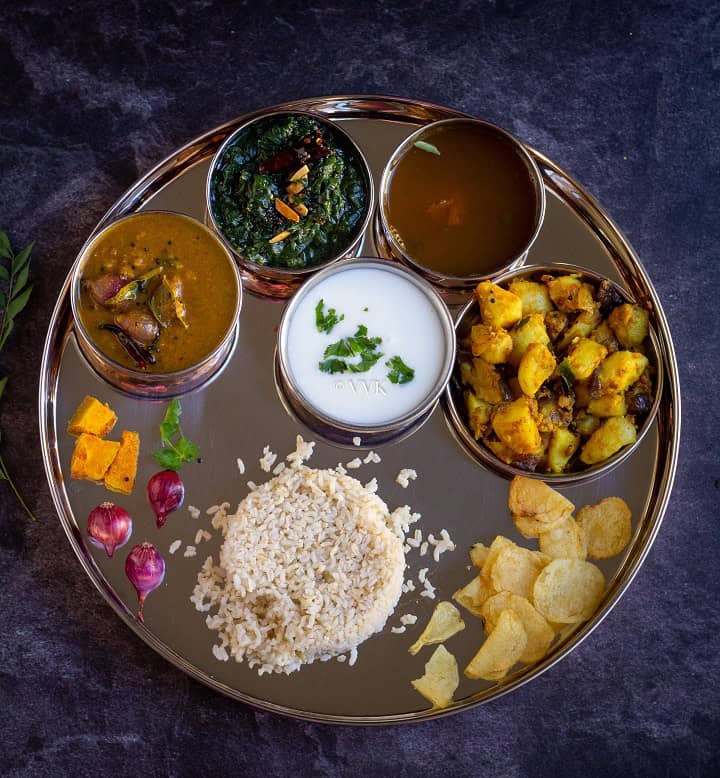 Today, I am sharing my MIL's classic Sunday lunch combo – vengaya sambar and potato-onion curry. This is a popular combo at my husband's place. They either make avial with potato curry or stuffed brinjal or this vengaya sambar and potato-onion curry.
We love both sambar and potato curry and rasam and potato curry combo and I try to make it whenever possible over the weekends. (I do make parathas and biryanis over the weekend. So we keep switching the menu) I even shared the rasam and potato-onion curry combo on my YT channel.
I went with a classic combo of rice, sambar, rasam, curry, and kootu. As we need dal for the sambar, mostly I make paruppu rasam or tomato rasam instead of the jeera milagu rasam. Also, instead of regular kootu, I made keerai masiyal or kadaiyal. I have the clay-pot version on my blog but for this thali, I made it in the soapstone vessel/kalchatti. That's about it.
I am sure this is a classic combo at most Tambram households on weekends unless it new moon day or any other no-onion no-garlic days.
Peeling the shallots is the time-consuming part here in this thali. Once you have that ready and you dal cooked, you can put this together quickly. The arachuvitta sambar might sound lengthy and tedious, but trust me, folks, it's very easy and packed with flavors. So do give it a try.
South Indian Vegetarian Lunch Menu Combo 3-
I have arachuvitta vengaya sambar, paruppu rasam, potato-onion curry, spinach masiyal, homemade wild lemon pickle in today's lunch combo, and store-bought potato chips. And instead of rice, I went with hand pounded rice or kai kuthal arisi as we say in Tamil. You can always use grain on your choice.
I don't have the wild lemon pickle recipe on my blog yet. We were doing a recipe testing this time, and I will soon post the recipe and update it here. I made it more like a lemon pickle with ginger /neer elumichai. I didn't soak up well when I served for this thali. Instead of store-bought potato chips, you can always opt for vadagam or appalam.
Click recipe links below for the individual recipe posts.
Lunch Menu List-
I am not adding links to rice, pickle, and yogurt. You can find how I cook my rice in the open-pot method on my YT channel, and also, you can find interesting pickles and thokku on my archives.
PS: Follow me on Instagram or join my Facebook Group for more gardening and recipe updates. If you try this lunch combo, please don't forget to comment and rate this recipe. If you have any questions, please leave a comment, and I will get to it asap. Make sure to follow me on my Pinterest for more healthy and delicious ideas!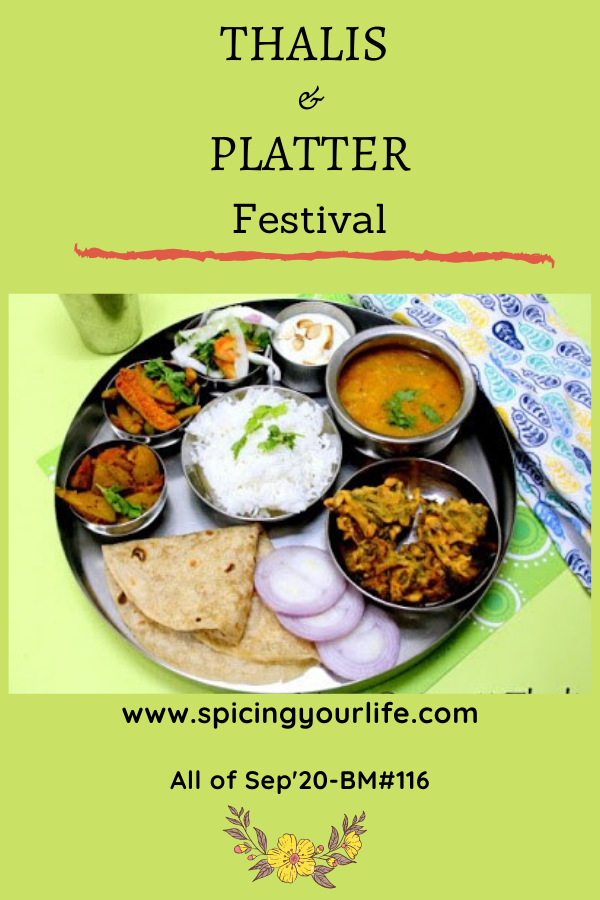 Check out the Blogging Marathon page for the other Blogging Marathoners doing BM#116