Here is my ragi platter with simple and delicious recipes with ragi flour or the finger millet flour! Be it for breakfast or lunch or dinner or snack; it's easy to include ragi flour into your everyday diet.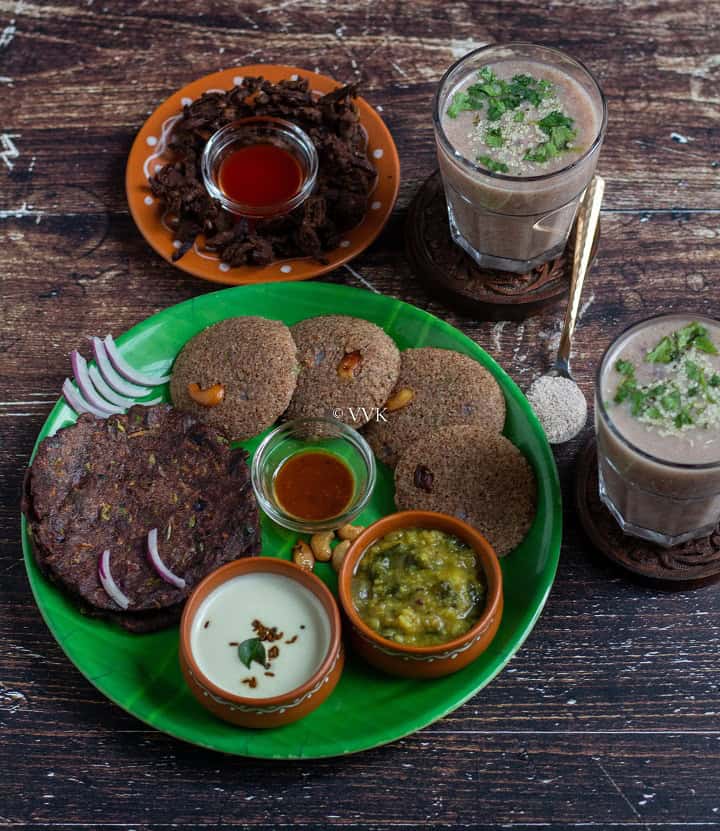 Finger Millet | Ragi
Finger millet, commonly known as ragi, is a nutritious millet. Like pearl millet, it is quite popular in India, especially in South India. Guess what; it's not native to India. According to Wikipedia, Finger millet originated in East Africa (Ethiopian and Ugandan highlands) and came to India around 2000 BCE.
In Tamil, we call ragi as keppai or kezhvaragu (pronounced as kel- va-ra-gu). In Hindi, it is nachni. But ragi is the commonly used term.
Nutritional benefits
Ragi is an excellent source of calcium, and like any other millet, it is a protein-rich grain and provides the essential amino acids.
This gluten-free grain is rich in antioxidants and also suitable for people with diabetes. The fiber content keeps your stomach full and reduces the appetite, and thereby it aids in weight loss as well.
Ragi flour
While we use the whole ragi for making idli/dosa batter, we use sprouted and roasted ragi flour for most of the recipes.
And don't worry, I am not going to ask you to prepare ragi flour at home. I have used store-bought ragi flour for all the recipes today. You can easily find ragi flour in all the Indian groceries.
Ragi koozh or porridge is popular baby food, and that's what I grew up eating, and that's what I gave for Raghav. I started this ragi porridge when the kiddo turned six months old. I used homemade ragi flour for him.
Recipes with ragi flour
With ragi flour, you can make many recipes like ragi mudde (I have the recipe on my South Indian Cookbook), dosa, idli, adai, roti, porridge, or malt (sweet and savory), puttu, murukku, etc.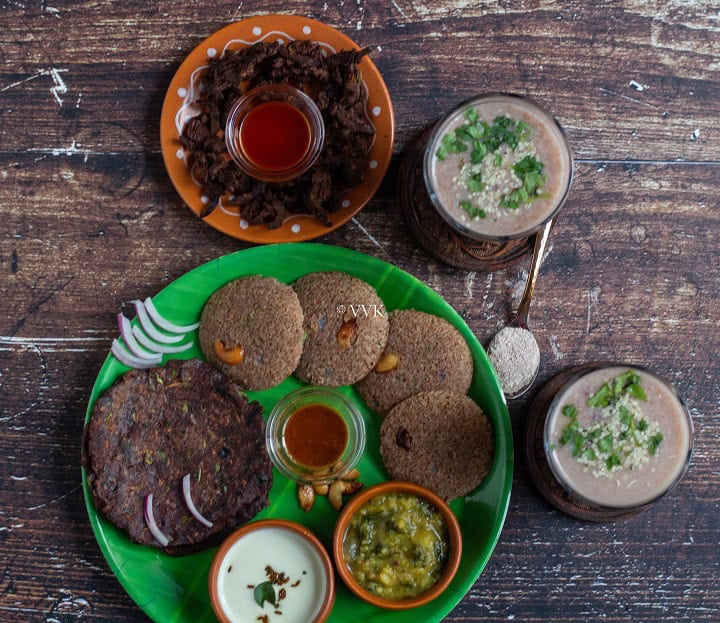 Today, on my plate, I have four simple recipes with ragi flour. PS – I haven't shared all the recipes on the blog yet. I will be sharing them soon and linking them all here. So stay tuned!
Finger millet | Ragi pakoda with ketchup
Instant Ragi idli with coconut chutney and podi
Ragi congee
Ragi adai with spinach gravy
Appetizer | Air Fryer ragi pakora
When we think about ragi flour, we always think about the porridge or the ragi balls. But you can use it in the place of rice flour, and that's what I did. for this pakora. Also, I used my air-fryer, and I used only 2 tbsps of oil for this pakora.
Breakfast | Ragi malt / ambli
When I have a platter with ragi flour, I can't skip the congee or porridge. People call ragi porridge as ragi malt, ragi ambli, and with different names. In this platter, I have the savory version of ragi porridge topped with hemp seeds.
Breakfast | Lunch | Dinner – Ragi idli
In our family, we can have idli for breakfast, lunch, and dinner. Make this ragi idli for any meal, and I am sure you will love it.
Instant Ragi Idli | Finger Millet Idli | Ragi Rava Idli
Incorporate ragi flour into your diet with this quick and instant no-soak and no-ferment ragi idli. Healthy and delicious recipe perfect for any meal!
Check out this recipe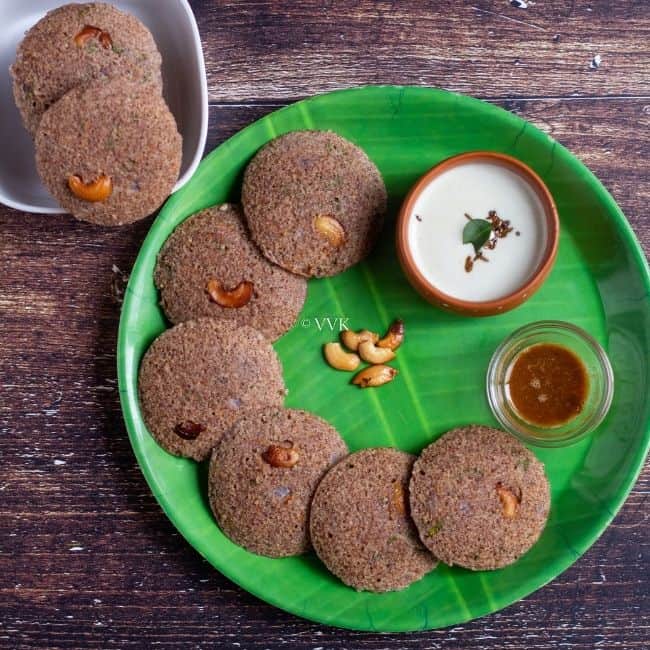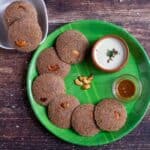 Breakfast | Lunch | Dinner – Ragi adai
Call it ragi roti or ragi adai; these flat-breads are perfect for lunch or dinner. Pair it with some spinach sambar/kuzhambu for a delicious combo.
Are you wondering why spinach gravy? You all know how much I love Kalki's novels. In Parthiban Kanavu, in the first chapter, you will find some reference about pearl millet / kambu adai served with keerai kuzhambu.
Somehow, it stuck to my mind, and when I tried the combo, it was terrific. So from that point on, I pair millet adai with keerai kuzhambu, which you see on this plate.
I hope you all liked this platter. Please stay tuned and I will share the other recipes soon.
PS: Follow me on Instagram or join my Facebook Group for more gardening and recipe updates. If you try these ragi recipes, please don't forget to comment and rate this recipe. If you have any questions, please leave a comment, and I will get to it asap. Make sure to follow me on my Pinterest for more healthy and delicious ideas!
Check out the Blogging Marathon page for the other Blogging Marathoners doing BM#116
You are invited to the Inlinkz link party!Click here to enter