The last dish that I am preparing with methi is "Methi Pulav". The base recipe is Menu Rani Chellam's. She prepared this dish in Jaya TV's Arusuvai Neram. I modified the spices and didn't fry the rice separately but went with using butter instead of oil. Usually I don't add too much oil. At the max 2 tsps or for some dishes 1 tbsp. If I add more oil for one dish I compensate that by making other dish non-oily. For this pulav some how I thought why can't try butter. I am not going to do it always but once in a while it should be ok right? As I had a bag full of sera samba rice that bought for Chettinad Biriyani, I used that instead of basmati rice. Ok here is the recipe.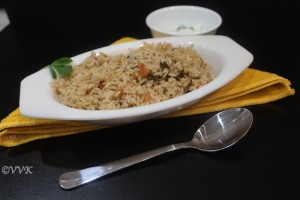 Methi Pulav
Ingredients:
Fresh Methi leaves – 2 cups
Basmati / Seeraga Samba rice – 2 cups
Water – 4 cups
Bay leaf – 1
Fennel Seeds / Sombu – 1 tbsp
Butter – 1 tbsp
Onion – 1
Tomato – 1
Red chilly powder – 1 tsp
Dhaniya/Coriander powder – 2 tsp
Garam Masala – 1 tsp
Turmeric powder – 1/2 tsp
Salt – 2 tsps
Cilantro – 2 tbsps
Steps:
Wash and soak the rice in water while doing the prep work.
Remove the methi leaves from the stems and clean them. (Discard the stems).
Chop them roughly. Chop the onions and the tomato too.
Now heat the pressure cooker or pan and add butter.
Once the butter melts, add the bay leaf and fennel seeds.
Let it splutter and add onions and cook them till they are translucent.
Now add the tomatoes and methi leaves.
Add salt and turmeric powder and cook for couple of minutes.
Add all the dry masalas at this stage and cook for 3-4 minutes.
Now add rice and 4 cups of water. Check for salt and adjust accordingly.
Add the chopped cilantro and pressure cook for unto 3 whistles.
That't it. Yummy methi pulav is ready. Serve hot with raita.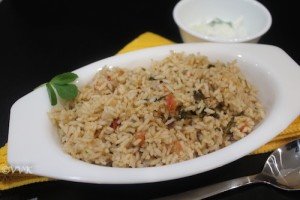 Submitting this post for Blogging Marathon #50 – A 3 day marathon for 4 weeks
Blogging Marathon page for the other Blogging marathoner doing BM#50
0