After April's month's Mega Marathon, I didn't participate in any other monthly marathons. So after four months break here I am participating in another Marathon. This is not a baking marathon :-) Its "Buffet On Table". Each week has its own interesting themes and like other marathons I learnt a lot in this one too while preparing for this one. Got to know about different cuisines and the culture and the story behind.
When I saw the themes for this marathon to be honest I was little scared. It was difficult for me to choose the dishes. I haven't explored lot of cuisines. I have always stayed in my comfort zone: Indian, Italian, Mexican and Thai. Of course add Burgers to the list. I wanted to try something different and learn something new. So I had to spend time in researching and learning. Then I had to try it out and perfect it. Couple of recipes turned out good at the very first shot but there were some sodappals (mishaps) too. But thanks to the BM team for selecting these themes and letting us explore and learn. Its going to be an interesting month for me with different dishes and looking forward to learn more recipes from other bloggers too and I hope you all find it interesting too.
The first week theme is International Combo – Two dishes that go hand in hand. Yes I will be posting two recipes which makes a perfect combo. The first dish that I chose to prepare was Kung Pao Tofu. M is a big fan of chinese food. When we were in Folsom, we used to go a restaurant which serves amazing kung pao tofu with steamed rice. He was asking me to try this at home and I was very reluctant. But you know what, he tried it by himself and prepared this for me for a Mother's Day. It was a surprise lunch for me and here is the picture from 2010. So it became like a tradition from that point onwards – Kung Pao Tofu for Mother's Day.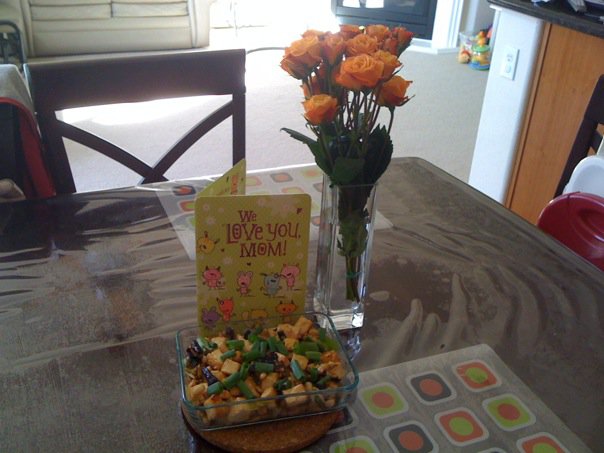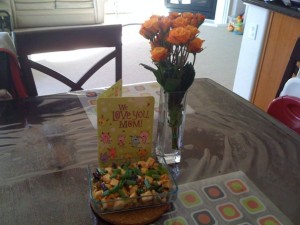 In chinese it is transcribed as Gong Bao and this is originated from South-Western China and this dish is named after official called Ding BaoZen. [Referred here] His title was Gong and hence the name. But according to CNN this dish is popular in china as it is in western countries. People have a love-hate relationship it seems. Interesting huh?
So what's this Kung Pao Tofu. (I am substituting chicken with Tofu here. The original recipe calls for chicken) – It's a stir fry dish with peanuts, tofus and sweet and spicy sauce.I think I have written enough. So now back to the recipe,
Kung Pao Tofu Recipe
Ingredients:
For Preparing Tofu
Extra firm Tofu – 1 packet (12 oz)
Corn Starch – 1/2 cup
All purpose flour – 1/2 cup
Baking powder – 1 tsp
Salt – 1/2 tsp
Luke warm water – 1/2 cup
Regular oil for frying tofu
Kung Pao Sauce
Soy Sauce – 1 tbsp
Vinegar – 1 tbsp
Chilli Sauce or Schezwan Sauce – 2 tsps (adjust according to your taste)
Sugar – 1 tsp
Peanut oil – 3 tsps
Red chillies – 12
Roasted peanuts – 1/2 cup
Green onions – 6-7 finely chopped
Black pepper corns – 1 tbsp
Cloves – 2-3
Steps:
Press the tofu and try to remove the excess water as much as you can and cut them into cubes.
Heat the oil for frying the tofu meanwhile, mix the APF, corn starch, baking powder and salt.
Slow add luke warm water and make it into a thick paste.
Dip the Tofu cubes in the batter and let it sit for couple of minutes.
Now fry them slowly in a batch of 5 and keep it aside.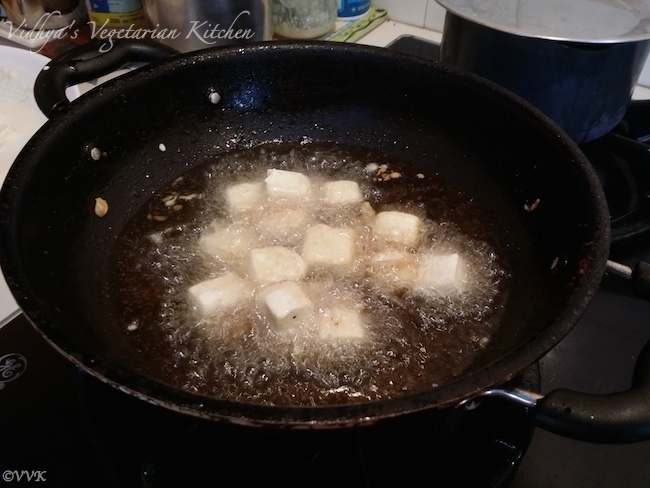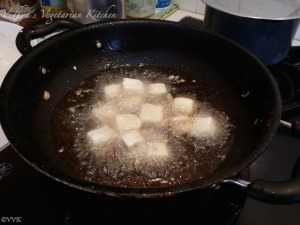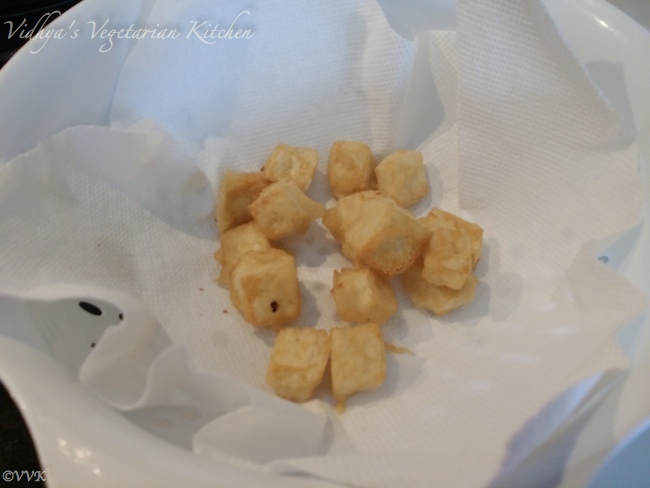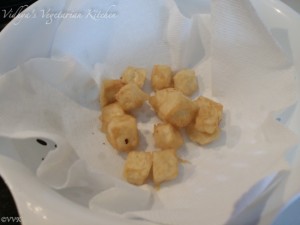 Note: Instead of frying you can also bake these tofu.
Mix the soy sauce, vinegar, Schezwan sauce and sugar and whisk them.
Chop the green onions and set it ready.
Now heat the pan or wok and add the peanut oil.
Once the oil is hot add the cloves and pepper corns.
Saute them for a minute and now add the red chillies and peanuts.
Mix them well and now add the green onions. Cook for couple of minutes.
Add the sauce mixture and let it cook for minute.
Now add the fried Tofu and mix well and let it cook for couple of minutes.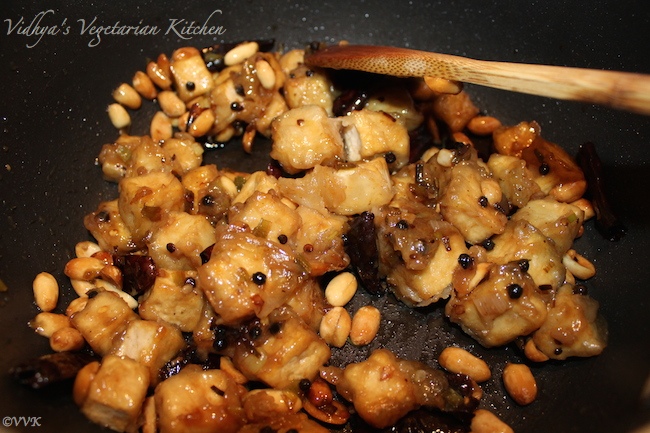 That's it . Yummy Kung Pao Tofu is ready.
Serve hot with the tofu. Check out the Jasmine Rice with Celery here.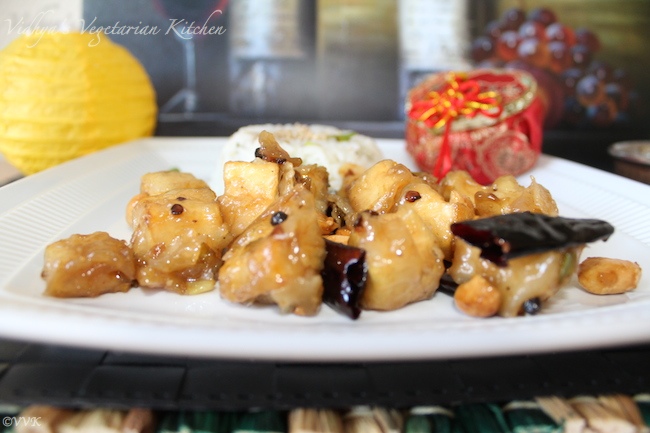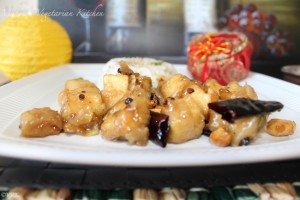 ---
Loading InLinkz ...
Check out the Blogging Marathon page for the other Blogging Marathoners doing BM# 56