Welcome to the 24th day of Baking Mania. When there is paneer recipe in the BM obviously there should be something with tofu too right?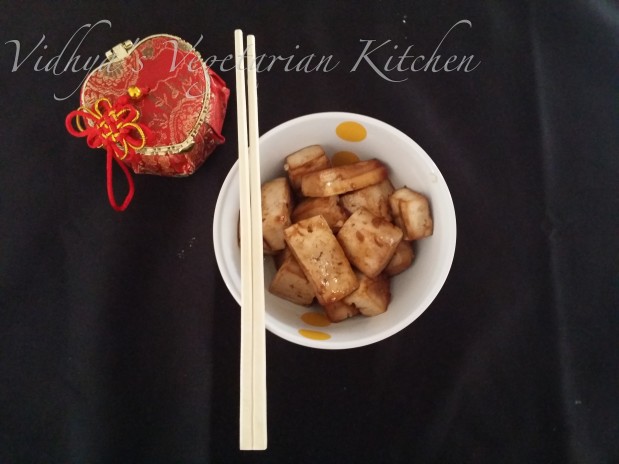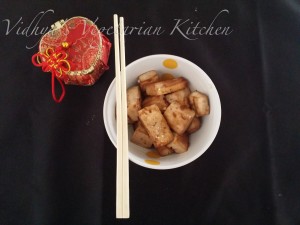 Like every other people I do substitute tofu in place of paneer. But somehow I prefer tofu with Kung Pao or in this Teriyaki. M is the Kung Pao tofu specialist. Will post that recipe soon. Coming back to today's recipe the base recipe is taken from "Peas and thank you" by Sarah Matheny. I received this book as my birthday gift from her. This is one of the cook books that I love and treasure. Its a simple recipe that goes well with noodles or fried rice or even with plain rice. You can red chili sauce to this but I am not adding. I just love the sour and sweetness of this dish. There is a soaking time for this recipe so plan accordingly.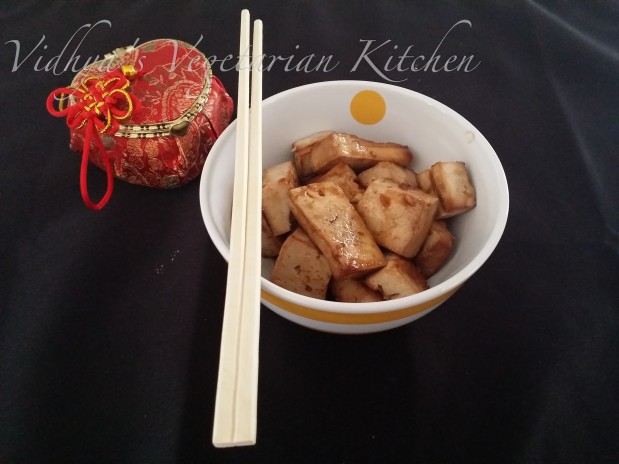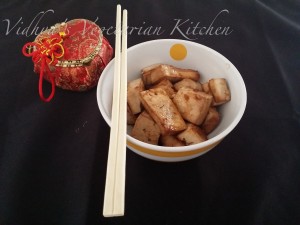 Baked Teriyaki Tofu
Ingredients:
Extra firm tofu – 1 16oz box
Soy Sauce – 1/2 cup
Water – 1/4 cup + 2 tbsps
Mirin – 2 tbsps (If you don't have mirin you can also use rice vinegar)
Minced garlic – 1 tsp
Minced ginger – 1 tsp
Brown sugar – 4 tbsps
Cornstarch – 1 tbsp
Steps:
Press the tofu and remove the excess water and cut them into cube sized pieces and place them in a shallow glass vessel.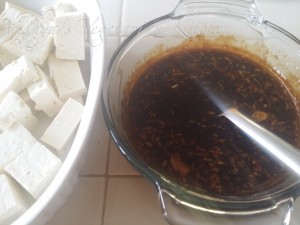 In a microwave safe bowl, mix the soy sauce, 1/4 cup of water, miring, garlic, ginger and sugar and microwave it for 3 minutes.
Now in a separate bowl mix the cornstarch and 2 tbsps of water and add it to the soy sauce mixture.
Again microwave it for 2 more minutes till it becomes thick.
Now pour the 3/4 of sauce over the tofu and save the remaining 1/4 of sauce.
Let the tofu marinate for 30 minutes at least. (Sometimes I have let it sit for even 8 hrs)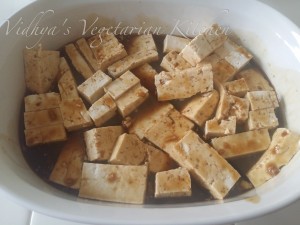 Preheat the oven in the broil mode. Broil the marinated tofu for 7 minutes on each side till it becomes crispy.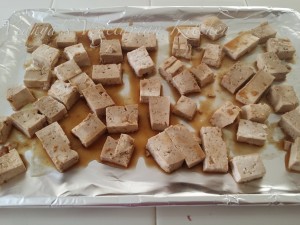 Thats it yummy Teriyaki Tofu is ready. Pour the remaining 1/4 cup of the sauce while serving.