I am happy to announce the next kid's delight event. In 2015 I picked pasta for kids as the theme, in 2016 it was cakes and cookies, and last year it was soups and stews. This time I went with a broad category and, the theme is "Kids friendly recipes with veggies sneaked in." Check out the details about the event and also how you can participate in this same.
We always look for ways to sneak in veggies in our kid's diet. I am sure many of you have terrific kids friendly recipes with vegetables. Let's share all those yummy recipes and spread it across. Now bring on your kid's friendly recipes with vegetables sneaked in. :-) All you need to do is send in your recipe link along with the picture to my email – daffodilshree@gmail.com. I will be doing a round-up post on or before Dec 25th. But there are few guidelines too.
Guidelines for the event:
From now until December 15th, you are welcome to join the "Kids delight event | Veggies Sneaked-In" that will make a kid happy!
The entries have to be vegetarian. Egg-based recipes are ok.

Multiple entries are allowed too.
You need to post the recipe between Nov 15, 2018, and Dec 15th, 2018. Sorry I am not accepting from the archives.
Kindly add these link –> Srivalli's Kid's Delight event, guest hosted by Srividhya themed on veggies sneaked-in
Non Bloggers can send in your entries too, mail me the recipe with an image at daffodilshree(at)gmail(dot)com | daffodilshree@gmail.com or to vidhya@vidhyashomecooking.com
Adding the below logo is highly recommended.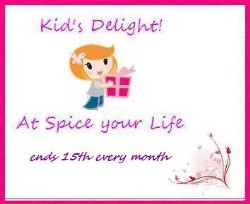 I am looking forward to your yummy veggie recipes. Thanks a lot.
Happy Cooking!
Srividhya