It's already November. Time just flies huh? So Diwali is right around the corner and we have already started to attend Diwali parties and this year I thought let me focus on sweets and savories for Diwali. Last year I spent all my time in preparing the Diwali Legiyam at home and I went easy with sweets and snacks. But preparing homemade Diwali legiyam was a huge project and finding all ingredient here in USA was yet another big task.
We usually prepare Onion Sambhar, Potato curry and kheer on the day before Diwali. On Diwali day which is usually Amavasya we don't add onion. So all the onion based dishes will be on the day before. Amma prepares crispy vellai appam on the Diwali day morning. We have the legiyam and this appam for breakfast and lunch will be a typical no onion no garlic meal with sambhar, rasam, dry curry and kootu with Diwali snacks and savories.
After coming to US couldn't travel back to India during Diwali time which means for the past 8 years I am celebrating (?) Diwali in US only. Mostly we work on the Diwali days and end up celebrating it on a weekend with friends who are our extended family here. I wrote about my Diwali memory here and let me not elaborate more about it.
I am participating in 3 day blogging marathon this month and the first week theme is Tea Time snacks which starts from tomorrow. I am planning to club the Diwali savory snacks under the theme. So I thought of posting a sweet today before getting into the savory ones.
The first recipe is the home made Kaju Katli or cashew fudge. I got this recipe from Cooking Light magazine. Instead of butter I went with ghee and also didn't go with their syrup consistency. When I was searching for the exact syrup consistency I couldn't find common answer so went with my own.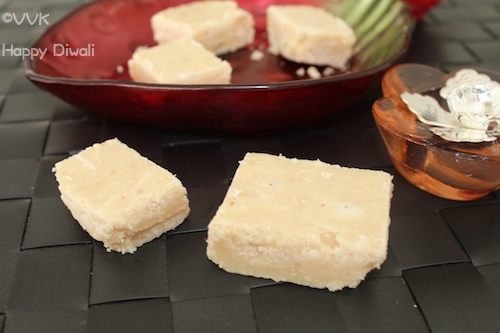 I won't say that this is the perfect kaaju Katli. It tasted really well and the texture was good too but the shape I couldn't get it.  Friends came over the weekend and this sweet was all gone within no minute. Thankfully I clicked the pictures before. I am yet to analyze my mistake. Probably I thought I am making mysore paahu back in my mind and went with these shapes.  As the Kaju Katli was soft, tasted well I couldn't add it to the disaster list. So posting it here but there is a lot of room for improvement and hopefully next year I can prepare perfect shaped ones.