A delectable Chettinad vegetable biryani platter that's hard to resist. Here is my Chettinadu biryani served with mushroom gravy, sauteed carrot, and onion raita, and microwave fruit custard.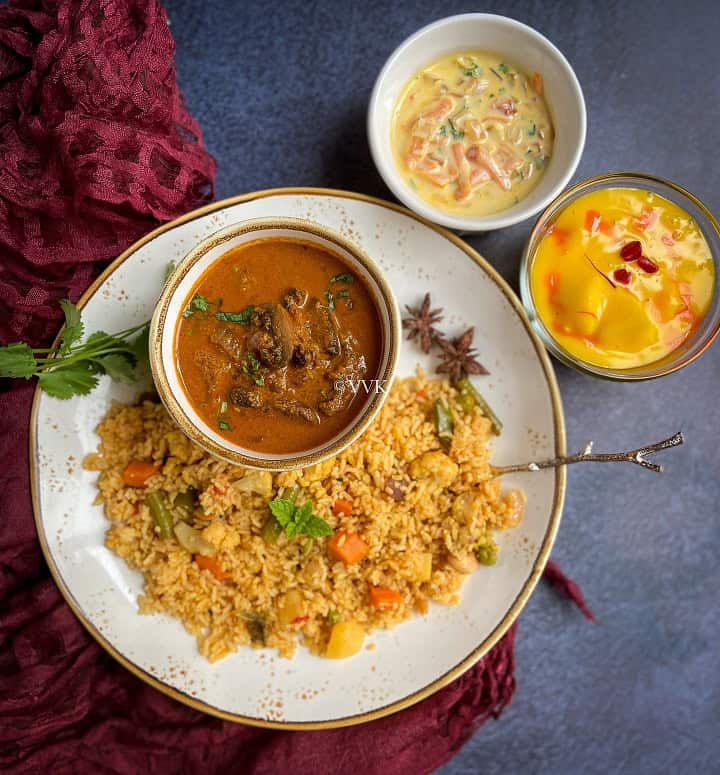 If there is one biryani that you can't go wrong, it must be the Chettinad veg biryani. It's my absolute favorite, and I always make a little extra so that there are some leftovers. Like sambar, biryani always tastes great the next day.
I first bought the seeraga samba rice for making this Chettinad biryani, and now it has become an essential ingredient in my kitchen. If it's biryani, it has to be with seeraga samba rice, and if its pulao, it has to be with basmati rice. And that's the new rule now!
You can serve the Chettinad biryani with onion raita, but a gravy always makes it great, and especially if you are inviting friends, an extra dish always helps a lot.
My Chettinad Veg Biryani Platter: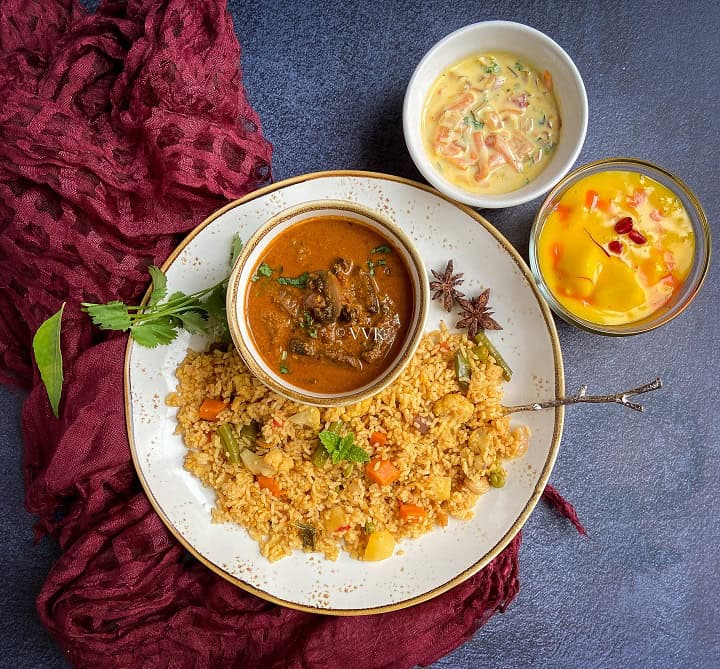 I have the delicious Chettinadu veg biryani with mushroom gravy or the kalan kuzhambu with raita on my plate. And for the dessert, I have the simple microwave fruit custard.
Now let's see the details behind the dishes.
Chettinadu Veg/Kaikari Biryani
I have discussed this biryani way too much in the related post so let me directly add the link. I can't thank Valli enough for sharing this recipe as a part of the Indian Cooking Challenge, and that's how I learned this recipe.
Mushroom Gravy | Mushroom Kuzhambu
This gravy loaded with coconut and coconut oil flavors and with the goodness of mushrooms is a perfect side for many dishes. And needless to say, it pairs well with this biryani. I made the biryani in the open-pot method and this gravy in the Instant Pot.
Sauteed Onions and Carrot Raita
I know I am repeating this, but I have to repeat it today as well. I made three of my biryani platters during the peak Salmonella outbreak in onions. Many onion recalls were happening, and as raw onions weren't safe to consume, I couldn't make plain raw onion raita or any salads or even as a garnish.
I made cucumber raita for the millet biryani platter and pulav platter, but I decided to make sauteed onion raita this time. And to add color, I included some grated carrots and cilantro. I made it more like my zucchini raita. This is how I made, (I don't have the recipe yet on my blog, so that I will share the recipe quickly here)
Heat 2 tsps of oil and temper some mustard seeds. Then add ⅓ cup of chopped onion and saute until it's soft and translucent.
Now add the carrots and cilantro and cook for a minute or two.
Then turn off the heat and let it cool. Then add the yogurt and salt. Garnish it with more cilantro.
This turned out delicious, but I missed taking pictures. I will be sharing it soon as a separate recipe. It's incredible raita for those who don't prefer raw onions.
Microwave Fruit Custard:
This fruit custard is a simple and quick dessert that you can make in no time. But it does need some chilling time. So plan accordingly. I have this recipe on my blog. I made it with vanilla custard powder, and this time I used mango custard powder hence the yellow color.
PS: If you try this biryani combo please don't forget to comment and rate this recipe. If you have any questions, please leave a comment, and I will get to it asap. Follow me on Instagram or join my Facebook Group for more gardening and recipe updates. Make sure to follow me on my Pinterest for more healthy and delicious ideas!
Check out the Blogging Marathon page for the other Blogging Marathoners doing BM#116
You are invited to the Inlinkz link party!Click here to enter