Is your work week crazy? Are you looking for a manageable meal planner for your busy week? Then you are in the right place. Check out my meal planner that is perfect for those busy weeks.
Last week, I shared easy-to-make kind of meals in the meal planner. This week also I am following the same suite. Are you wondering why? It's going to be a busy week for me, both at work and life front.
I don't want to give up on my homemade meals because of my crazy schedule. So, I planned simple, yet healthy meals. I am not going with two veggies a day, but planning to use mixed vegetables for all my dishes.
Staple Vegetables in my Refrigerator:
Every week, I buy carrots, zucchini, cucumber, and brinjal/eggplant. Zucchini and eggplant are easy to chop, and you can whip up quick curries, or they are great in soups and pasta too. Carrots and cucumbers are perfect for salads, and I can make curry or kootu with them. I make sure to keep these four vegetables always.
And this week, I am planning to buy these four and also some cabbage, cauliflower, and potatoes.
With these vegetables and paneer, I have planned this week's menu. Now let me share the prep-work and the recipes in detail.
Even though the menu for the meals is different, they are effortless to make, and they are mostly homemade too. Now without any delay, here is this week's meal planner.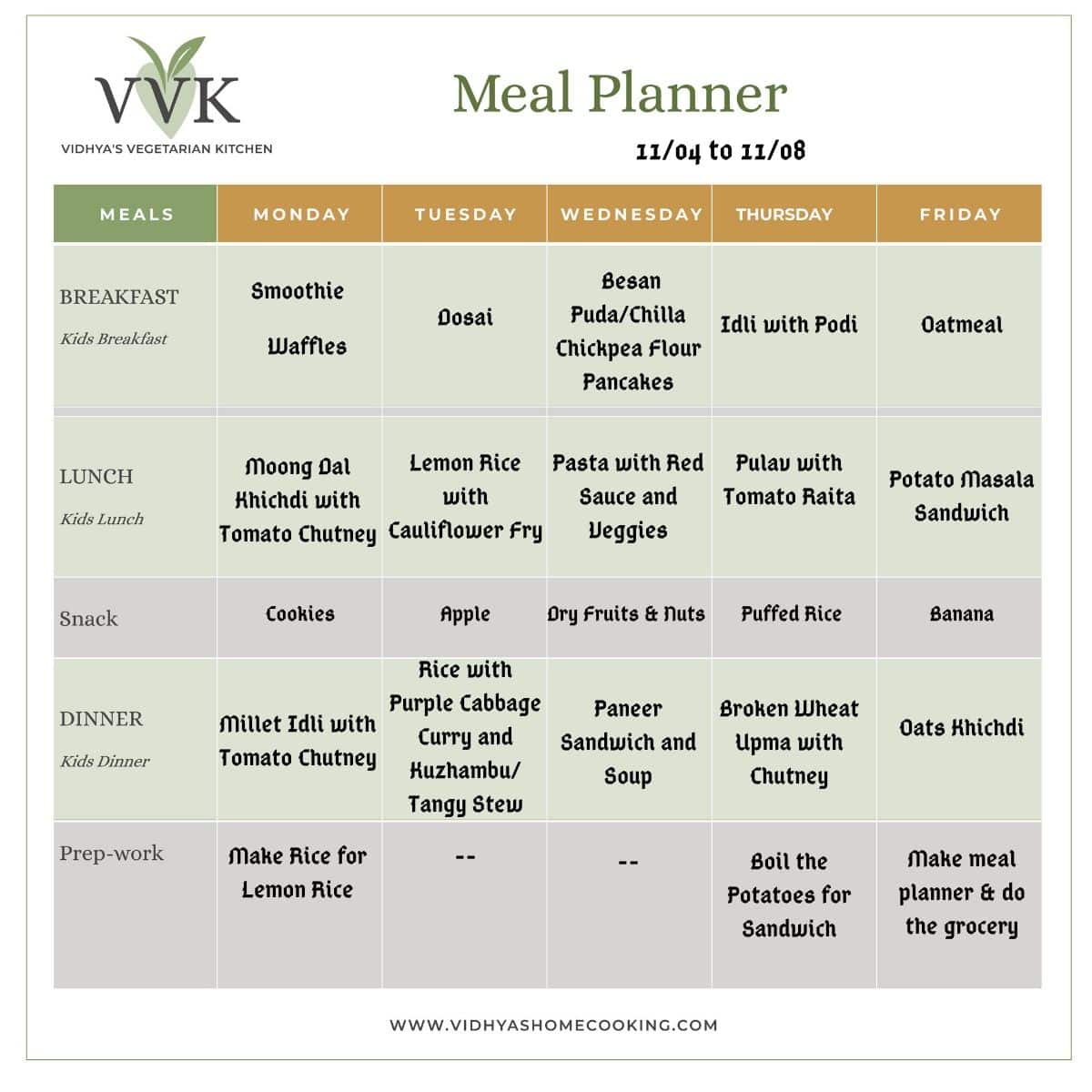 Prep-Work:
Menu For This Week:
Monday:
Tuesday:
Wednesday:
You can check the updates on my Instagram. But you can find quite a few soup recipes on my blog.
Thursday:
Friday:
I hope this menu planner helps, and you all can draw some inspiration. If you have any questions, please leave a comment below. I will share the daily updates on my Instagram and my FB group. So stay connected!