French Fries – No one can eat just one :-) I love both potato and sweet potato fries. This is one of the perfect sides for Burgers. Be it Burger King or McD or In and Out, when you order the burger you get fries as a side. For the today's international combo I am going with baked fries and burger instead of regular fried fries.
Also, I wanted to try very crispy matchstick fries like hers. I hope I got it I think. You guys got to say. :-) I went with red potatoes, but you can go with any potato variety you have in hand. Without any delay here is the baked fries recipe,
Ingredients:
Red Potatoes – 3 (You can find the variety that you have in hand)
Salt – ½ tsp
Olive oil – 1 tbsp (as required)
Black pepper powder – ½ tsp
Steps:
Preheat the oven to 450 degrees F.
Cut the potatoes into Julienne.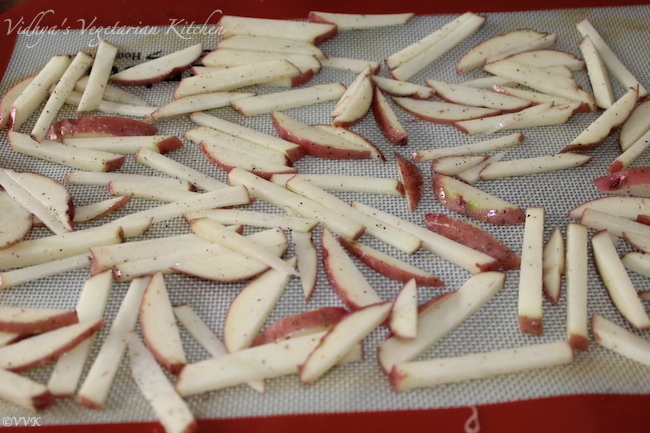 Place them on the baking tray and drizzle the olive oil.
Add the salt and pepper and mix well.
Bake them for up to 30 minutes or until they crisp.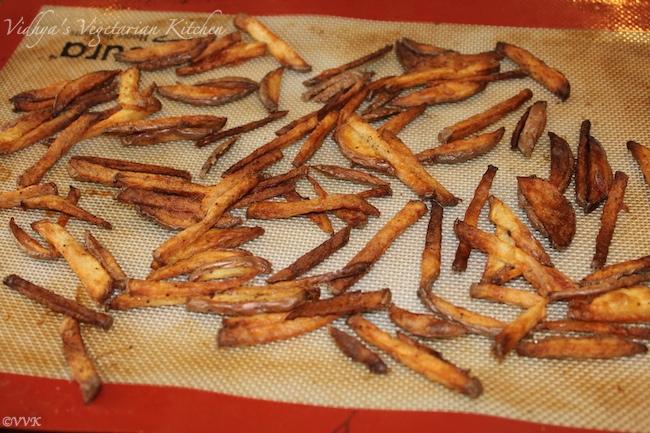 I served this along with the burger, and you can find the recipe here.
Check out the Blogging Marathon page for the other Blogging Marathoners doing BM# 56