Biryani – The word itself makes us drool right? According to wiki, even though the origin of biryani is not known the term is derived from persian language. There are zillion varieties and versions of biryani. Each and every household have their own version of biryani. I love biryani with coconut in it. Somehow the addition of coconut makes it more rich and enhances the taste. Also for this type of biryani I let the rice to cook well and be little sticky.
After many trail and error , I finally got a perfect(??) recipe that M and kiddo loves. The masala is pretty much same as vegetable kuruma recipe It is easy and one pot meal. Hope you all like it too.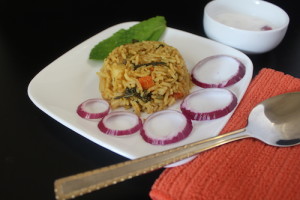 Ingredients:
Basmati rice – 2cups
Oil – 1tbsp
Saunf (Big jeera) / Fennel Seeds – 1tbsp
Ginger Garlic paste – 1 tbsp
Medium sized onion – finely chopped
Tomatoes – 3 finely chopped
Mixed veggies like beans,carrot, peas, cauliflower, potatoes – 2 cups chopped in same size
Dhaniya powder – 2tbsps
Red chilly powder – 1tbsp
Turmeric powder – 1tsp
Pudina / Mint leaves – ½ cup
Coriander leaves – ½ cup
Salt – as per taste
Grated coconut – 1/2 cup
Preparation work:
Wash the rice and soak it in water.
Grind the coconut into coarse paste by adding water and keep it aside. (Coconut gives an unique flavor)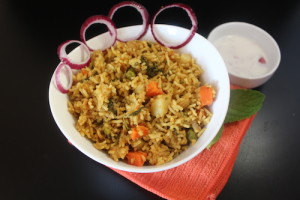 Steps:
In a pressure pan or cooker or kadai, heat oil . Add Saunf.
Once the Saanf starts spluttering, add the mint leaves and sauté them till the raw smell goes.
Now onion and ginger garlic paste and sauté them till the raw smell goes.
Add tomatoes and cook them till they are soft.
Once tomatoes are cooked, add all the vegetables and sauté them for 5-7 minutes.
Now add salt, turmeric powder, Dhaniya powder and red chilly powder.
Once the oil gets separated, add the washed rice. (Drain the water)
Add the coconut paste also. Let it get mixed well the vegetables and Masala.
If you are using kadai, transfer the contents to pressure cooker and add 4.5 cups of water, 2:1 ratio,2 cups of rice so 4 cups + 1/2 cup for vegetables. (coconut mixture also has 1/2 cup of water) Pressures cook it for 2 whistles.
Before serving add chopped cilantro serve hot with raita.
To make it more healthy, try using brown basmati rice. It comes out really well.
0