A couple of weeks ago, Vaandu asked me to pack veggie dumplings with toothpick (???) for his lunch. I don't remember him trying out veggie dumplings before. Not sure if any of his friends bought it for lunch. Anyways when he asked that for lunch, I told him that I will try it once for dinner before packing it for lunch. With Navratri, I couldn't try that at all. This weekend he started asking for it again and I realized I cannot postpone anymore. I have postponed already for two weeks. I was very tired this Sunday and I didn't want to do everything from scratch. So when I browsed for shortcuts, the first recipe that came was Alton Brown's steamed dumplings. I love semi-homemade recipes. I have already written enough about the puff pastry sheets and how they save a lot of time on weekdays or when you don't have time to start from scratch, especially for puffs. Wanton wraps fall under the same category. It's a great ingredient to have in your fridge.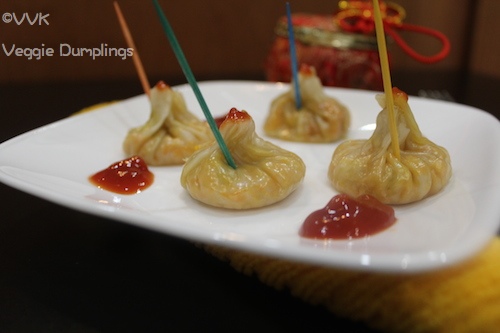 I took a quick glance at that recipe and forgot the fact that the recipe called for tofu and scallions. I forget to buy those and came back only with wanton wraps as I had cabbage and carrots. But then I decided to try with what I have and it turned out pretty good. We paired this up with my BFF N's Chinese fried rice. Her daughter and Vaandu enjoyed and loved the dumplings. So here is a recipe that was approved by two kids,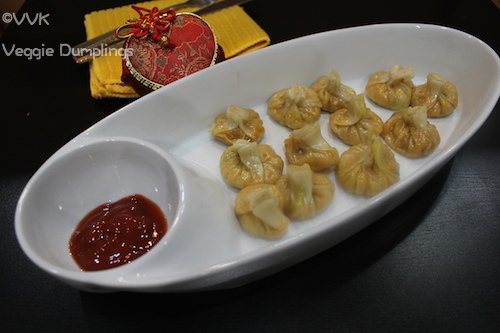 Ingredients:
Store Bought Wanton Wraps – as required (I used 30)
Shredded cabbage – 1 cup
Shredded carrots – 1 cup
Green chili – 1 (Finely chopped)
Finely chopped onion – 2 tbsps.
Soy sauce – 2 tsp.
Rice vinegar – 1 tsp
Salt – 1 tsp
Oil – 1 tbsp.
Ginger – garlic paste – 1 tsp.
Water for steaming
Steps:
Heat the pan or wok and add oil.
Once the oil is hot add the chopped onions, green chillies and ginger garlic paste.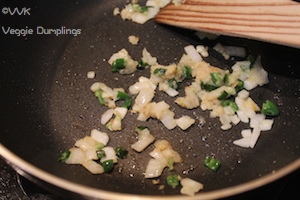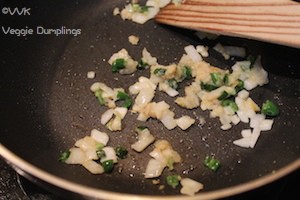 Cook till the raw smell goes. Now add the shredded cabbage and carrots.
Add salt and cover and cook for 3-4 minutes.
Now remove the lid and cook till the water evaporates.
Once the water evaporates add the soy sauce and vinegar.
Mix well and turn of the heat.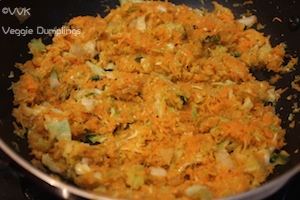 Now place about 1 to 1.5 tsps. of this veggie filling in the center of the wanton wrap and form mothak shape by pinching the edges or close the edges to form semi-circle like our regular kozhukattai.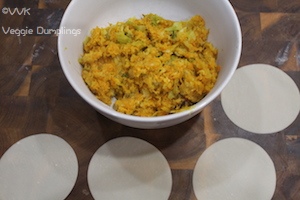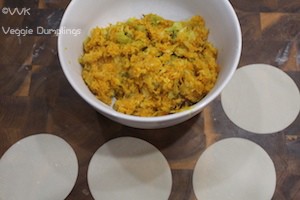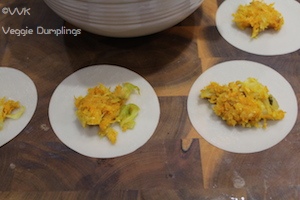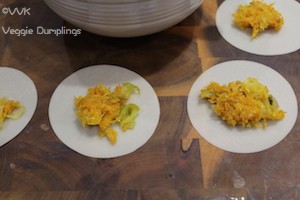 I used idly plates to steam them. Add required water for the cooker and place these dumplings in the idly trays and steam them for 10 minutes.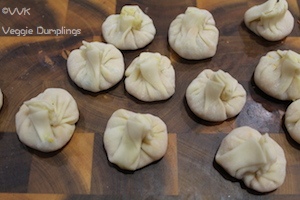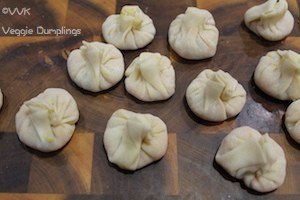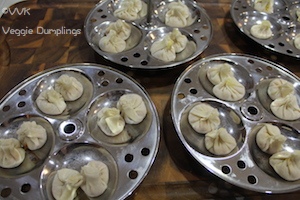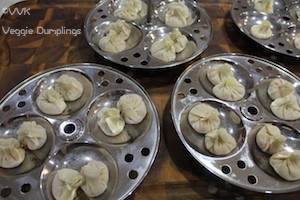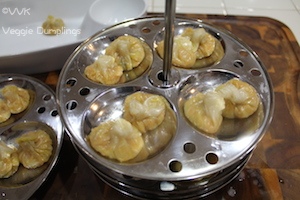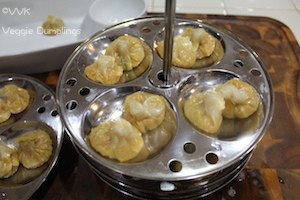 That's it. Veggie dumplings are ready. I served it with ketchup.
Variations:
You can also use tofu and make it protein filled.
Instead of onions, scallions can be used.
Adjust the veggie quantity and you can also add other veggies according to your taste.