Earlier submitted this recipe for one of the Facebook event called #FFHTeatime. I would like to have munchy and crunchy savory snacks along with tea. I like explore tea with different condiments. You can find about it here. Tea time becomes much more fun when friends are with you. These bite sized bhel cups are mess free and easy grab snacks too.
This is a semi home made dish. When you have to prepare something yummy within short notice semi home made is always the best. That's what happened with me too. All I had was Multigrain tositos cups (tortilla chips in cup shaped), murmura some home made sweet chutney and pani puri paste. Bought some sprouted moong dhal and here is the recipe that prepared within 15 mts.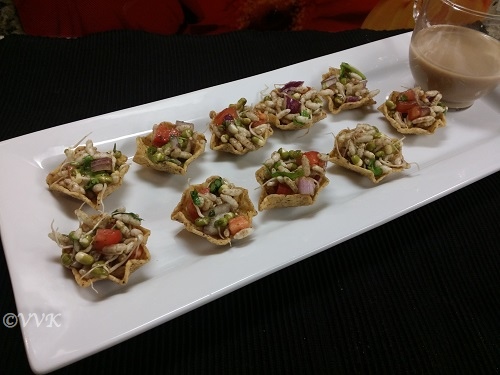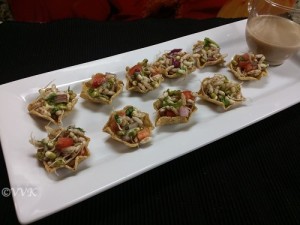 Instead of using green chillies I went with pain puri paste.
Ingredients:
1) Sprouted Moong dhal – 1 cup
2) Murmura – 2 cups
3) Finely chopped onion – 1/2 cup
4) Fine chopped tomatoes – 3
5) Tamarind-Dates Chutney – 2 tbsp
6) Pani puri paste – 1 tbsp (adjust according to your spice level)
7) Finely chopped cilantro – 2 tbsp
8) Multi grain Tostitos cups – as required
Steps:
1) Combine the first 7 ingredients together and mix well.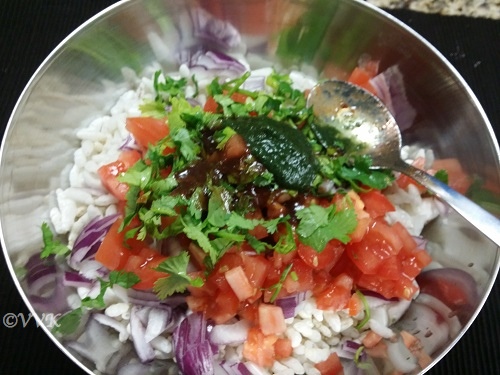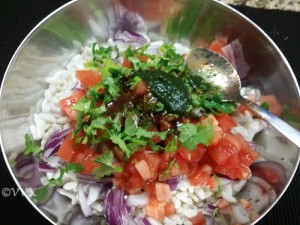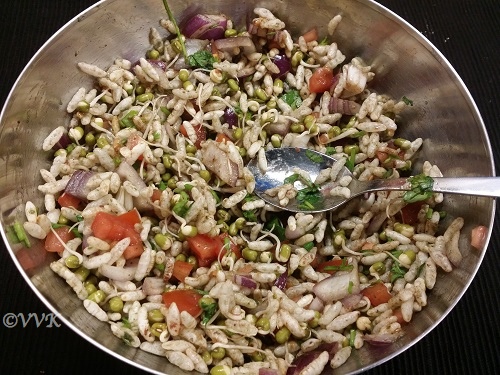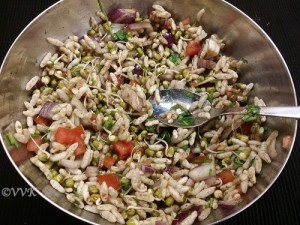 2) Check for spice level and adjust the sweet chutney and pain puri paste accordingly.
3) Place 1 tbsp of this mix in the tostitos cups and thats it.