Indian cuisine is a common term given to the food from India but in a larger picture it encompasses all the regional cuisines within India. India is known for its cultural diversity; also the cuisine is highly influenced by the region, traditions and occupation. The early invaders of our country, be it Greek or Mughals or Europeans have played a major role in shaping up our modern Indian cuisine. I have already discussed about the history of our food in the book talk – The Story of Our Food by KT Achaya.
Can I explain about Indian Cuisine in one single post? No. Generalizing becomes very difficult here. Each and every state in India has its own cuisine. Each and every district/region within the state has its own cuisine. The diverse regions, geographical locations and religion, culture, occupation all plays a major role in defining the regional cuisine. Then comes the fusion food like Indo-Chinese, Indo-Italian, Indo-American and this list keeps growing as the Indian diaspora keeps growing.
Today I am just going to share a few things about Tamil Nadu Cuisine. Tamil Nadu is one among the 29 states of India and it lies in the south most part of Indian Peninsula and the capital city is Chennai / Madras. Tamil Nadu is known for its classical music, art, temples, literature and the Dravidian architecture.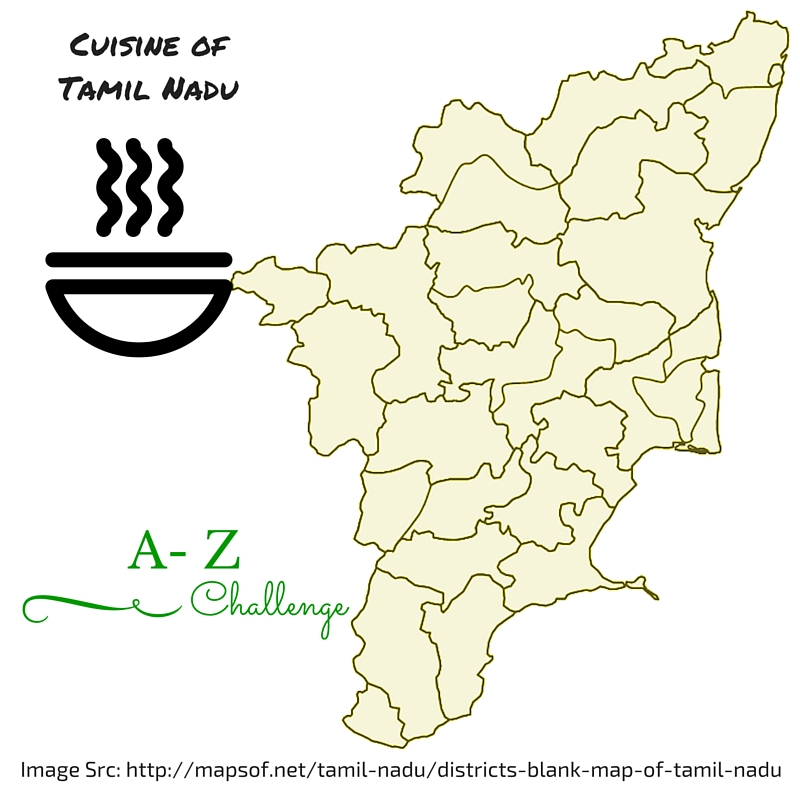 Coming back to the cuisine, Tamil Nadu is known for both Vegetarian and Non-Vegetarian recipes. I am just covering the vegetarian part here. Rice being the staple of TN, it's known for the idlys, dosas, pongals, idiyappams and of course for the full meals or as we say in Tamil – Sappadu. The full meals or sappadu cannot be complete without a sambar, a rasam, a dry curry or Poriyal, a gravy curry called kootu, buttermilk or curd/yoghurt , a pickle, a pappad or applam and of course a dessert. This is a very basic meal. You can add zillion other recipes to make it into a feast. Then there are variety rice like biryanis, lemon rice, tamarind rice and other different gravies.
Tamil Nadu cuisine has its own regional cuisine, (this is not the entire list)
Chettinadu Cuisine
Nanjil Nadu Cuisine (Nagarcoil, Kanyakumari Area)
Kongu Cuisine
Madurai and southern side cuisine
And of course Chennai has its own flavor.
So why am I talking about Indian Cuisine and Tamil Nadu Cuisine? – Starting from tomorrow, I will be posting A to Z recipes of Tamil Nadu. It's the "Journey through the Tamil Nadu Cuisine". It's April and Yes,I signed up for yet another blogging marathon (even after a difficult Jan BM) You will be receiving recipes from me every day this month. The talk about A-Z food challenge started in Jan and the blogging bug bit me again. I signed up right away. The theme was quite challenging. We should post A to Z recipes and we can pick any one cuisine or 4 cuisines for 4 weeks but the alphabet continuity should be maintained. My Amma pitched in at the right time and started helping me out. We started discussing recipes from all the cuisines and Amma was asking me to write down all Tamil Nadu recipes first before proceeding to any other cuisines. M joined in too and then finally I realized that I haven't posted a lot of recipes from Tamil Nadu itself. There is a great saying, "katrathu kaialavu kallathathu ulagalavu" (What you have learnt is a mere handful, What you haven't is like the world in its size) which means "Known is drop whereas unknown is an ocean".
I had my list ready by February and when we visited our friends during long weekend I was discussing about this blogging marathon and she suggested and modified a couple of recipes and reminded me the recipes that I haven't posted. I would like to thank JV for all her suggestions and encouraging me.
So you will be seeing A to Z recipes from Tamil Nadu and all these are day to day simple recipes. I will be explaining more about Tamil Nadu cuisine in the individual recipe posts. Hope you all enjoy this BM and hop on, let's learn ABC via food. As this is A to Z challenge, I am joining in this challenge too. :-)