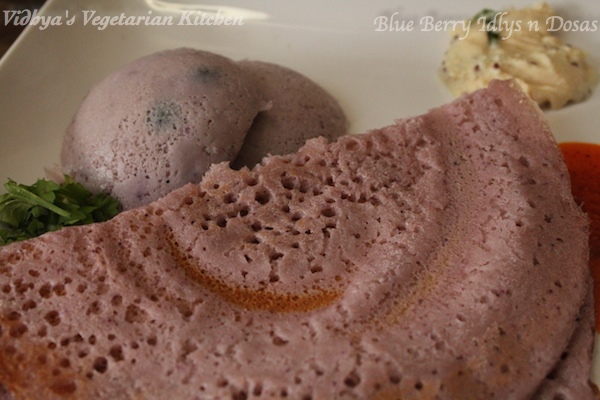 I have been posting in Euphoric Delights FB group for the past 2 years. Earlier it was known as Epicurean Delights and now its Euphoric Delights. But lets call as ED group as everyone calls it. This is a FB group which has 50K + members which is not only a group for foodies but as they say it's for connecting and sharing. When they announced this SFO meet up one of our friend asked me to attend and I was reluctant initially as I wasn't sure about hubby's travel which would make group cooking difficult. But at the same time I wanted to attend as I post a lot in this group and get good feedback.
Finally I bought two tickets and pulled my BFF N also. I didn't even ask her if she wanted to join. I took her for granted and informed her that she has to join. ;-) We both enjoy food and dance so this was a perfect party.
So what was this meet all about? Its a fund-raising plus socializing event. Basically its a potluck party with food and dance. We were supposed to take bite sized food. Can you believe 450 people signed up and showed up too. The hall was over crowded and so much food. Loads and loads of sweets and savouries. They had contests and dance towards the end. Unfortunately we had to leave early so missed the dance. But one thing I realized was, after that heavy food, dance would have been really difficult. Bite size vada pavs, dhoklas, ice creams especially paan ice cream, juices, chana chat, bhel puri, pani puri and what not? So many delicious dishes and well organized event/party/meetup.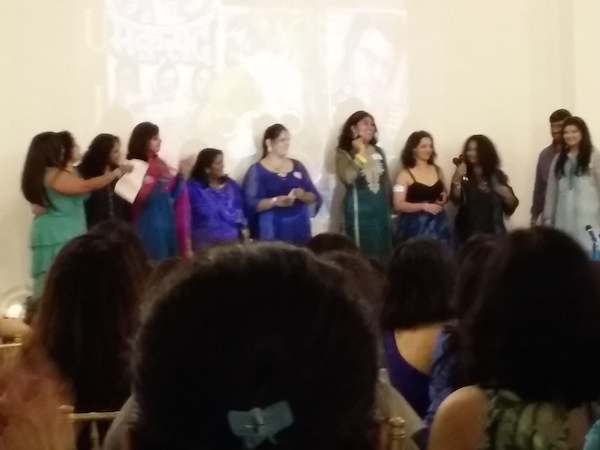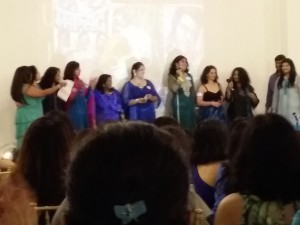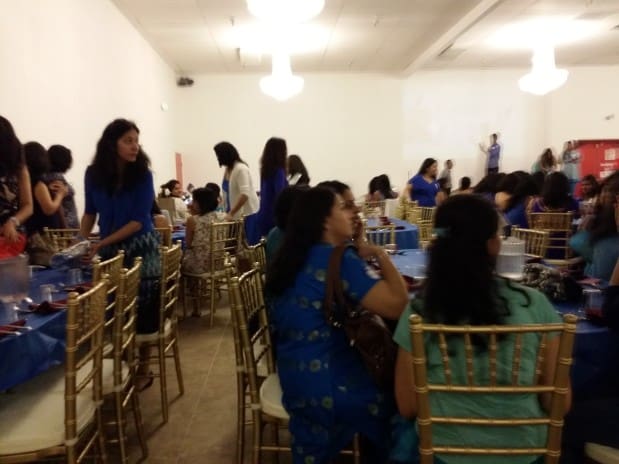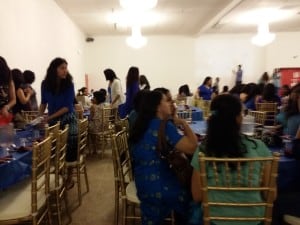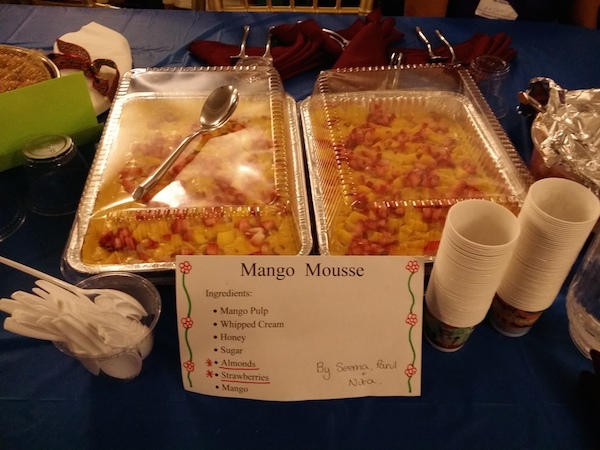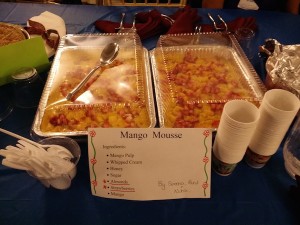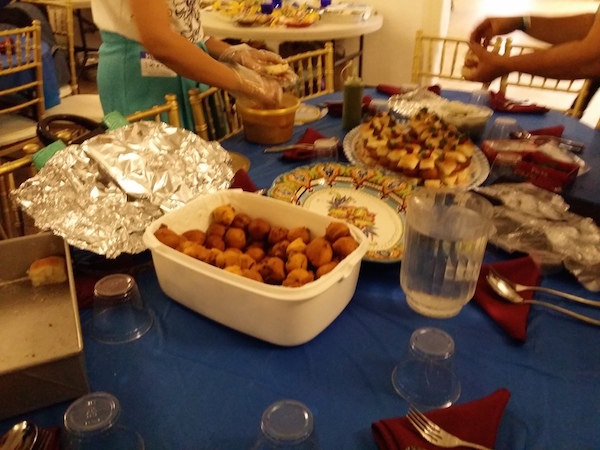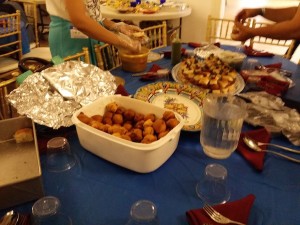 Got a chance to meet lot of people and also the admin of the group Shalini Ramachandran. She was very nice and lovely. I still wonder how she manages this bring group.
So what did we prepare?
Blue Berry Idlis
Blue Raspberry Jello
And my friend N prepared brownies with blue icing.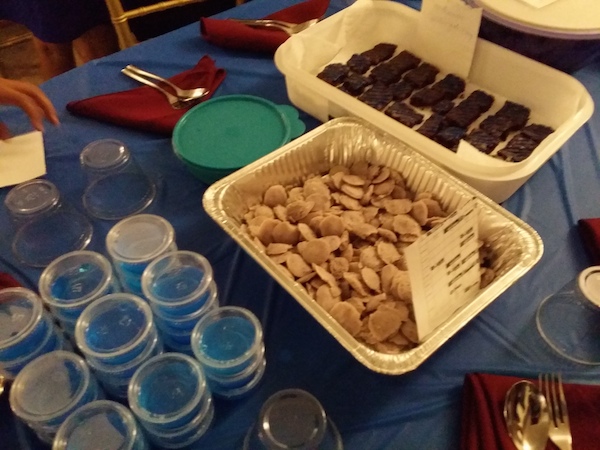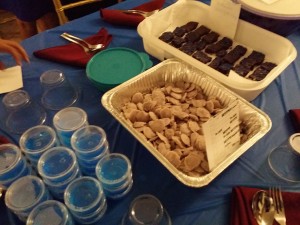 Why blue blue blue? Coz the theme was blue and we were asked to dress up in blue and I went a step further and decided to prepare my food also in blue color. ;-) ;-) When I told N and my hubby that I am going to prepare blue berry idlys they both thought that I went really crazy and backed up from being my scape goats. But they dint have a choice? I tried this recipe before the event and made them taste and they approved. To be true the dish came out really good. The subtle sweetness of blue berry was there but it didn't over power. Its pretty simple recipe. All I did was adding fresh blue berry puree to the batter prepared mini idli.
Blue Berry Idli Recipe:
Idly Rice: 2 cups
Urad dhal – ½ cup
Methi seeds – ½ tsp
Fresh Blue berries – 6 oz packet or 170 gms (Make sure they are sweet)
Salt as required
Steps:
Soak the dhal, methi and rice for at least 4 hrs and wet grind them.
Add salt and let it ferment.
Before preparing the idlys, wash the blue berries and puree them.
Add the puree to the batter and mix well.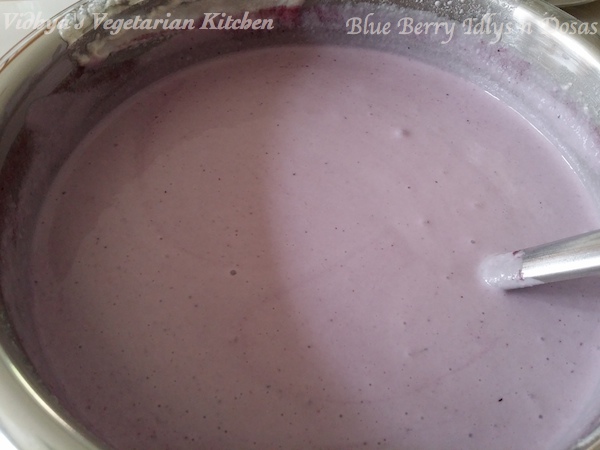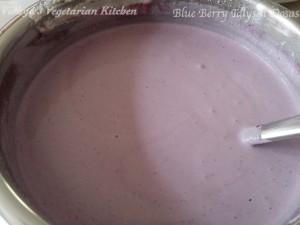 That's it. Steam the idlys in your preferred way.
I tried preparing dosa with the same batter and it came out really good. :-)