Here is my all-time favorite postpartum thali or the pathiya sapadu. Even though it's for lactating moms, I make it once in a while, especially after a decadent feast.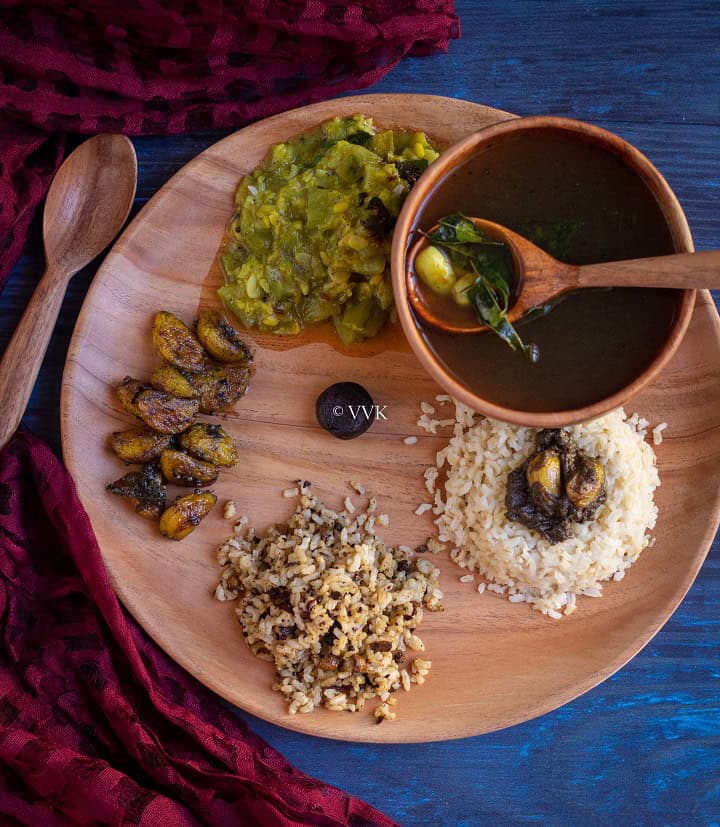 Growing up, during the weekend, especially on the oil-bath days, mom always used to make jeera-milagu rasam or poondu rasam. Sometimes she adds neem flower rice or vepampoo sadam also to the menu. Initially, I was planning to share that menu, but then as I was browsing through my archives, I realized I didn't add any exclusive postpartum thali, so I decided to make that instead.
Pathiya Samayal-
As mentioned on my ridgegourd kootu post, pathiyam means "restricted" samayal means "cooking." Pathiyal sapadu is a restricted but well-balanced diet that helps you to recover fast from the ailments. And there are different kinds of pathiya samayal like the postpartum diet given for lactating moms or people recovering from some ailments. The food varies accordingly.
We firmly believe that the postpartum diet helps in better digestion for lactating moms, which prevents colic in babies. I strictly followed the postpartum diet for 50 plus days.
I have shared my pregnancy story and the initial medicines that we gave to Raghav in the postpartum diet page, and you can check it out.
Postpartum pathiya samayal-
In today's thali, I have shared some simple recipes that I regularly had. And guess what, they are delicious, and even today, I crave it sometimes.
Disclaimer – These practices and the diet followed differs from family to family. So please check and follow accordingly. I am sharing what we follow and what I had.
These are some general rules that we follow during postpartum.
For lactating moms, we avoid food that induces body heat, and that causes bloating, etc. And we include food that increases the milk supply more.
As a general rule, in pathiya samayal, we don't use red or green chilies but use black or white pepper a lot. Chilies induce body heat, and we all know it is spicy. So when our body is healing, it is recommended not to consume chilies.
Also, we use dried turkey berries, black nightshade berries, dried neem flowers, and garlic more. And dal/lentils and legumes consumption is significantly less.
Pathiya Sapadu Menu-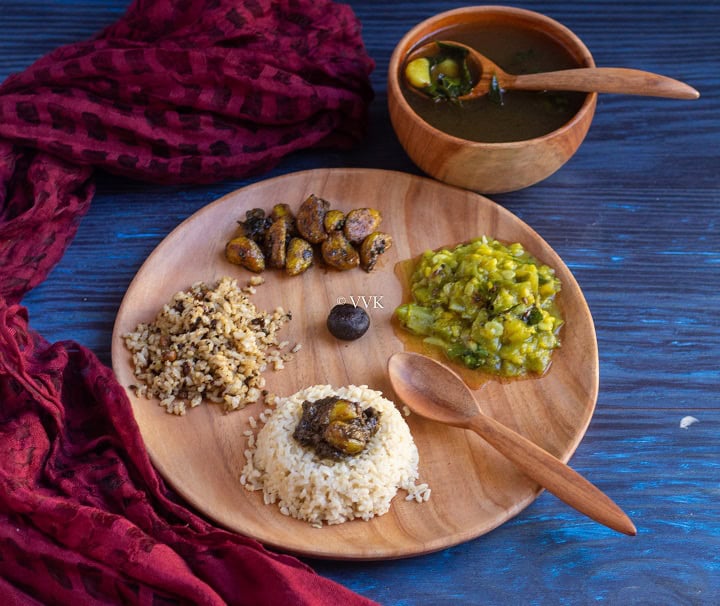 With that in mind, let's see what's on today's thali.
Rice with milagu kuzhambu or pepper gravy. You can also swap with pathiya mor kuzhambu.
Sauteed garlic – We heat some ghee and temper mustard seeds and curry leaves. Then add garlic, salt, turmeric, and pepper powder. Cook until the garlic turns tender and soft. We usually have it as a side or mix it with rice.
Rice with turkey berries and black nightshade berries – We shallow fry the dried turkey berries and black nightshade berries in ghee and mix it with rice.
PS – I have a garlic rice recipe on my blog, which is a combination of the above recipes. I would have used dried chilies in that recipe, and during postpartum, we don't use it. And I am linking that in the round-up below.
Prasava legiyam – It is a special medicine for lactating moms. That's the first thing I used to have in the morning. I don't have a recipe for that. My MIL used the store-bought powder and made it for me during my postpartum. It is similar to Deepavali legiyam, but it has more herbal products than the Deepavali legiyam. And in today's thali, I have the Deepavali legium in the center – the small black round ball.
Lunch Menu List-
PS: Follow me on Instagram or join my Facebook Group for more gardening and recipe updates. If you try this pathiya sapadu lunch combo, please don't forget to comment and rate this recipe. If you have any questions, please leave a comment, and I will get to it asap. Make sure to follow me on my Pinterest for more healthy and delicious ideas!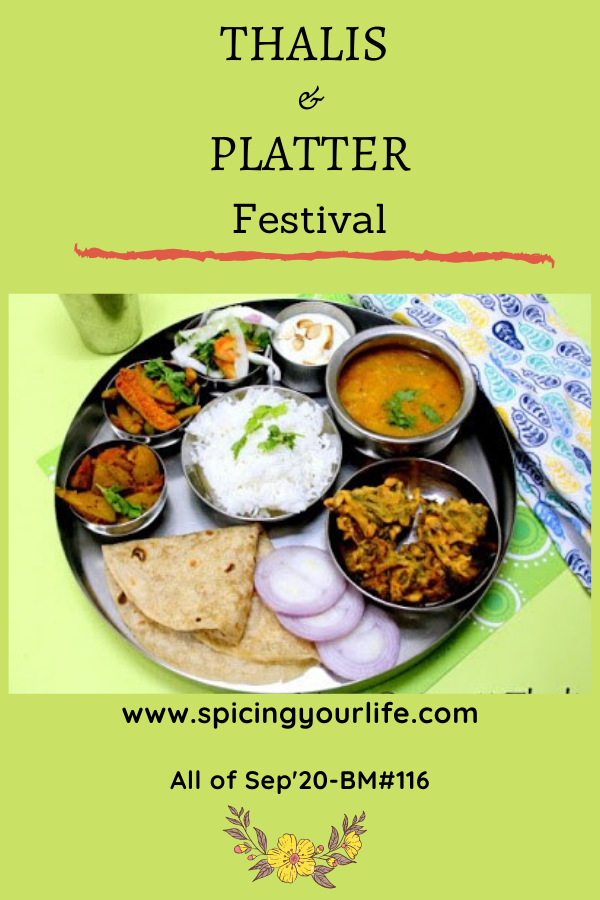 Check out the Blogging Marathon page for the other Blogging Marathoners doing BM#116