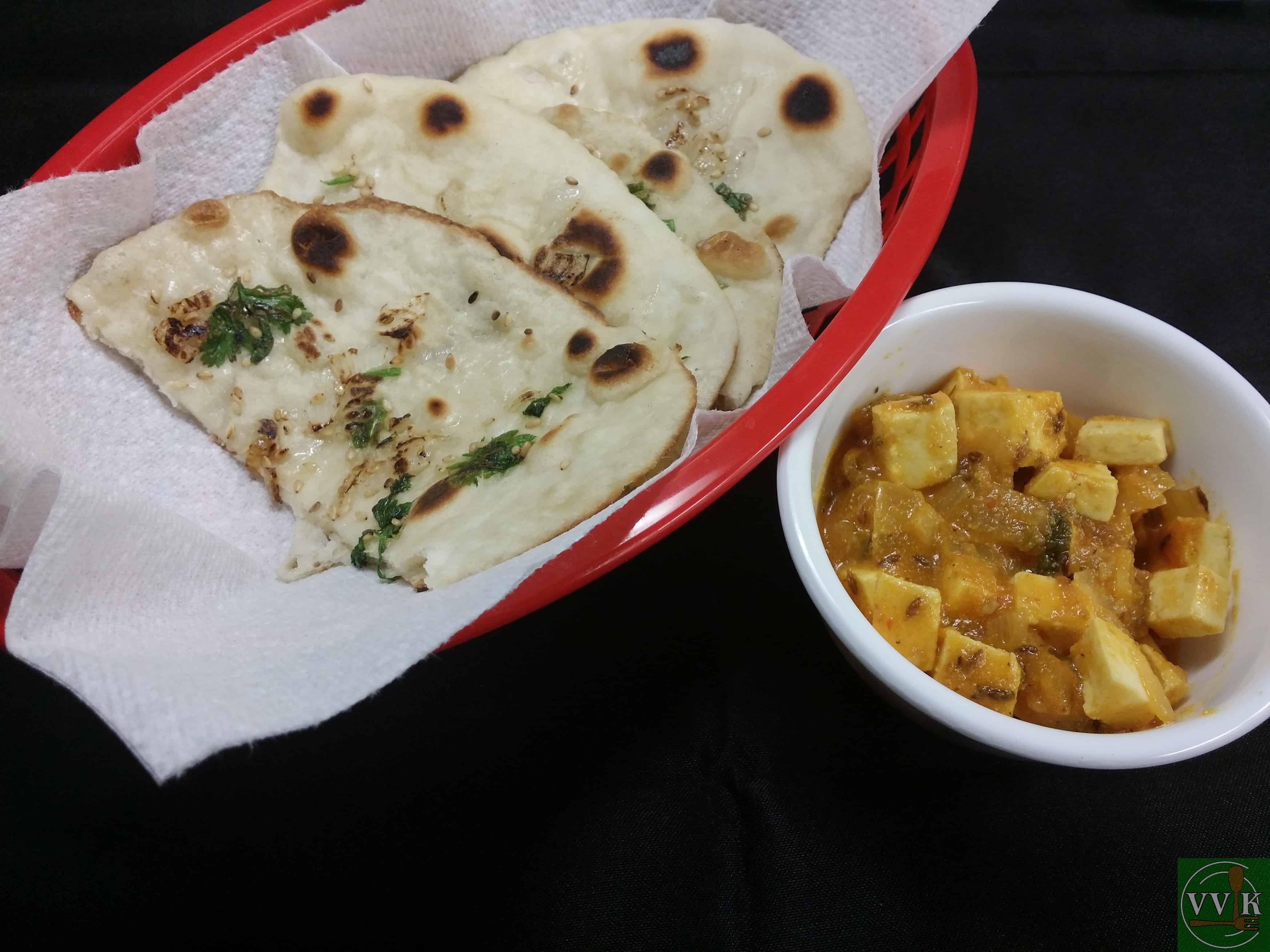 For the third day for the bread stubs, I am preparing kulcha.  Instead of plain kulcha, I thought of preparing onion kulcha. I love kulchas as they are easy to make at home. Its pretty much like bhatoora dough but with less curd and addition of milk. I usually let it sit for 4 hrs and I have used active yeast when I don't have baking soda and baking powder. It comes out well. I have tried with and without yeast.
Onion Kulcha
Servings: 10-12
Difficulty: Medium
Ingredients:
All purpose flour/Maida – 2 cups + 1/2 cup for dusting
Curd/yogurt -2 tbsp
Milk – 2 tbsp
Water – 1/4 cup
Salt – 1 tsp
Sugar – 1 tsps
Baking soda –  1/4 tsp
Baking powder – 1/4 tsp
Oil as required for making kulcha
For Sprinkling:
Onion – finely chopped 1/4 cup
Cilantro – finely chopped 1/4 cup
Roasted sesame seeds – 1/4 cup
Steps:
Mix the flour, sugar, salt, baking soda, baking powder and 2 tsp of oil nicely.
Add the 2 tbsps of milk and yogurt and mix well. It will like corn meal.
Now slowly add water and mix the flour to form the dough. Make sure the dough is not soggy.
Let it sit for 4 hrs.
Make balls from the dough and roll into round shape. Now sprinkle a little of onions, cilantro and sesame seeds and roll it one more time so that they all stick together.
Now heat the tawa and cook the kulcha as usual like roti. The only thing is spread the oil nicely on the top of the kulcha while flipping them. You can use butter also.
Thats it, yummy kulcha is ready.
Serve hot with your favorite gravy.
Submitting this post for Blogging Marathon #48 – A 3 day marathon for 4 weeks
Blogging Marathon page for the other Blogging marathoner doing BM#48