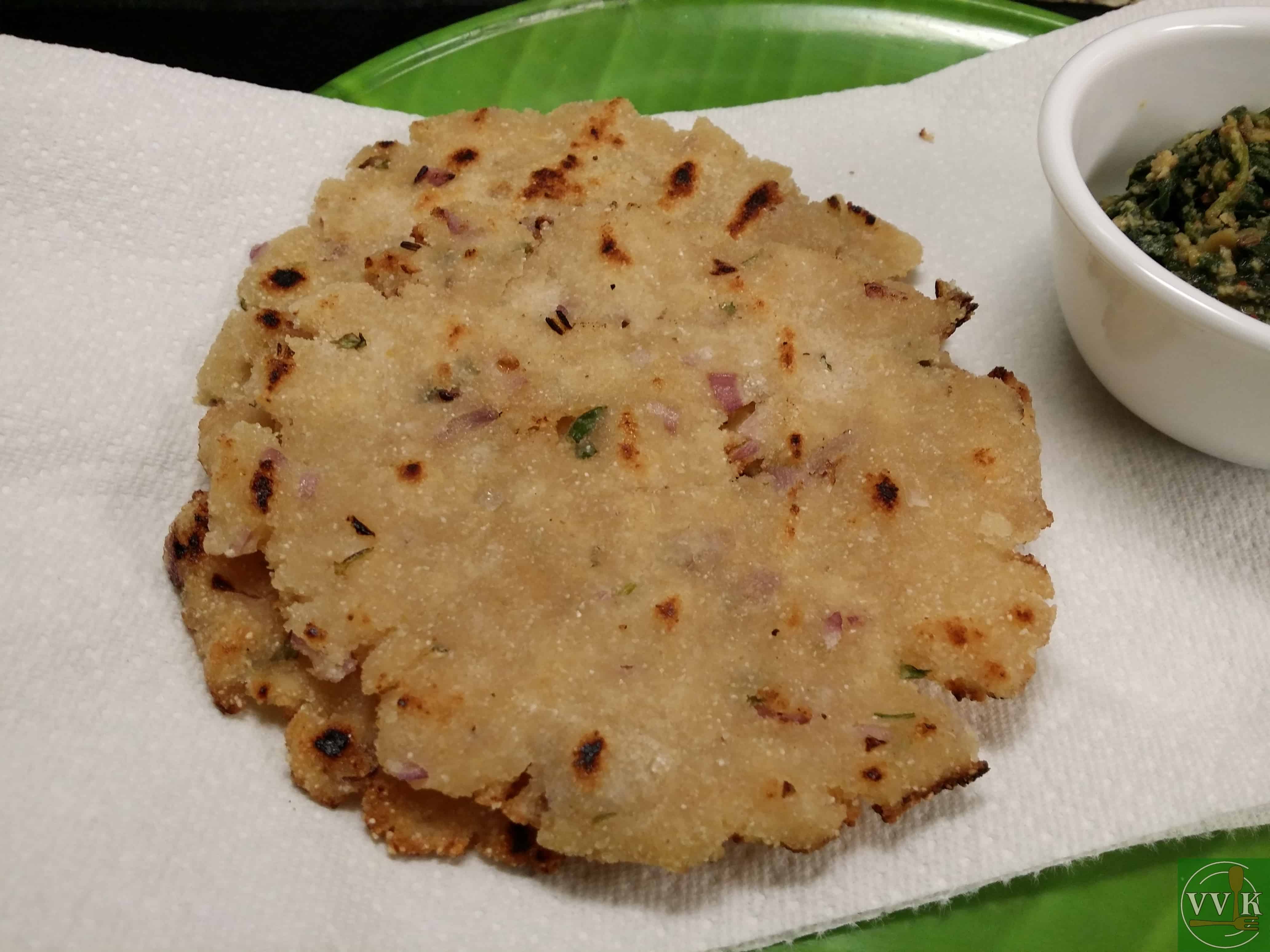 The second bread stub that I am doing is Makki Di Roti in South Indian Style and using white corn meal. I usually get white corn meal for dusting for pizza stone. Apart from corn bread and pudding, I use it for making this roti. I make it similar to ragi roti. Usually we have this with Sarson ki Saag, but as I am making this in south Indian Style, the side dish is also South Indian style spinach curry :-)
Makki di Roti using white corn meal
Servings: 10-12
Difficulty: Medium
Ingredients:
Corn meal (white or yellow) – 1.5 cups
Wheat flout – 1/2 cup
Salt – 2 tsps
Small onion / Shallots – 5 (finely chopped)
Green chillies – 2 (finely chopped)
Cilantro – 2 tbsp (finely chopped)
Oil for making roti
Water – 1/2 cup (as required).
Steps:
Mix the corn meal, salt and wheat flour nicely.
Now add the chopped onions, green chillies and cilantro and mix well.
Now slowly add water and mix them well to form a dough.  (Good thing about this roti is it doesn't need to sit for a long time)
As I don't get banana leaf, I go with zip loc for rolling process. Apply some oil in the zip loc cover.
Make small balls from the dough and press it in the zip loc and spread it out into thin roti as much as you can.
Heat the tawa and cook the roti in a usual way by applying oil. Usually this roti takes 1.5 to 2 minutes to get cooked.
Thats it, yummy and crispy roti is ready.
Serve hot with butter and saag. As this roti has onion and chillies, you can eat it with pickle or ketchup too.  
Submitting this post for Blogging Marathon #48 – A 3 day marathon for 4 weeks
Blogging Marathon page for the other Blogging marathoner doing BM#48