Today I am sharing the lunch boxes I have used and still using for my son.
This post is about lunch boxes for kids to take to school. Hop on to read about all the lunch boxes I have used and our most favored ones.
PS – This is not a sponsored or paid post. I purchase all these lunch boxes, I have been using the others for five-plus years. (Vaya is the recent purchase)
Jump to:
My son started going to home daycare when he was around 14 months. Since then, I have been packing his lunch boxes. At his daycare and preschool, they preheat the food for kids, so I never explored any specific kids' lunch boxes for him.
I was using pyrex glass bowls and Tupperware to pack the food. Usually, I pack the reheatable food in pyrex glass bowls and snacks in Tupperware. As we carried the lunch bags and handed them over to the attendants, I never worried about sending food in heavy bowls. But once he started elementary school, I started exploring some lunch boxes that keep the food warm, and that's when I bought this Thermos and LunchBots. 
What I pack for my son
Before talking about the lunch boxes, let me share what I packed for my son once he started school. I don't pack anything fancy, and not a lot of varieties. It's always one meal and a snack. It's simple and regular meals like idli, mini dosa, rice varieties, pasta, quesadillas, roti, and paratha. You can check out my A-Z lunch box recipes for kids.
These lunch boxes have always worked for me because it's just one meal and snack.
Lunch boxes that keep food warm/hot
I packed lunch around 6:30 / 7 AM, and the kiddo's lunch was around 11:30 AM to 12 PM, and it varied according to the grades. It is usually between 11:30 AM to 12:30 PM. When I looked for lunch boxes that keep food warm, the most recommended one was Thermos, and I went with the same. They come in 12oz and 16oz, and I bought the 16oz jar. The product is fantastic; no wonder so many recommendations. It keeps the food warm without prepping, like adding hot water. I don't have time in the mornings for prep work, so I added the hot food directly, which has worked well.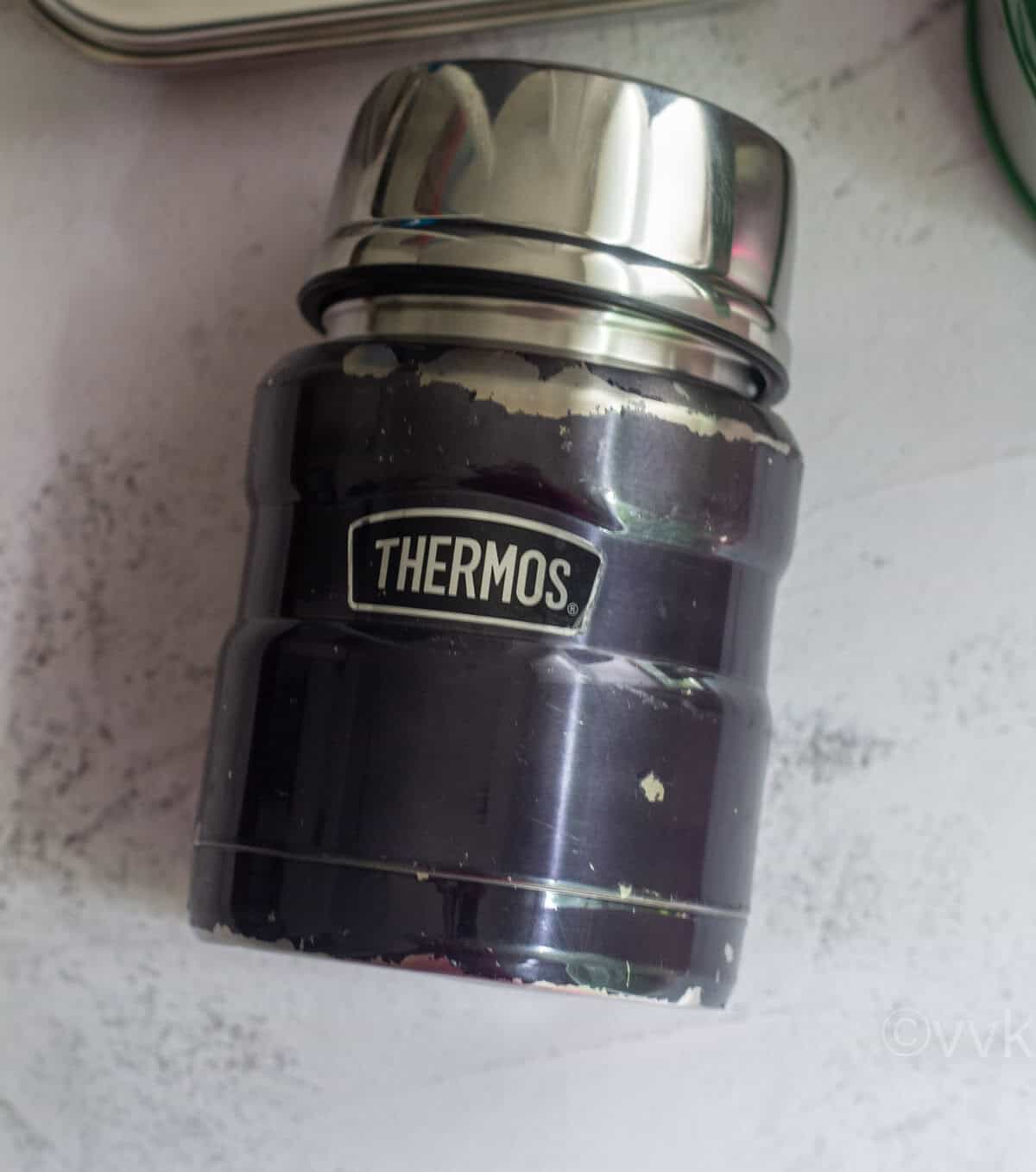 Apart from Thermos, I was looking for an alternative one that got these insulated LunchBots. To date, these two are our favorite ones. I bought these two lunch boxes in 2014, and we have been using them till now without any issues. Both these lunch boxes keep the food warm. They are leakproof and easy to open and close. Elementary school graders can easily handle them.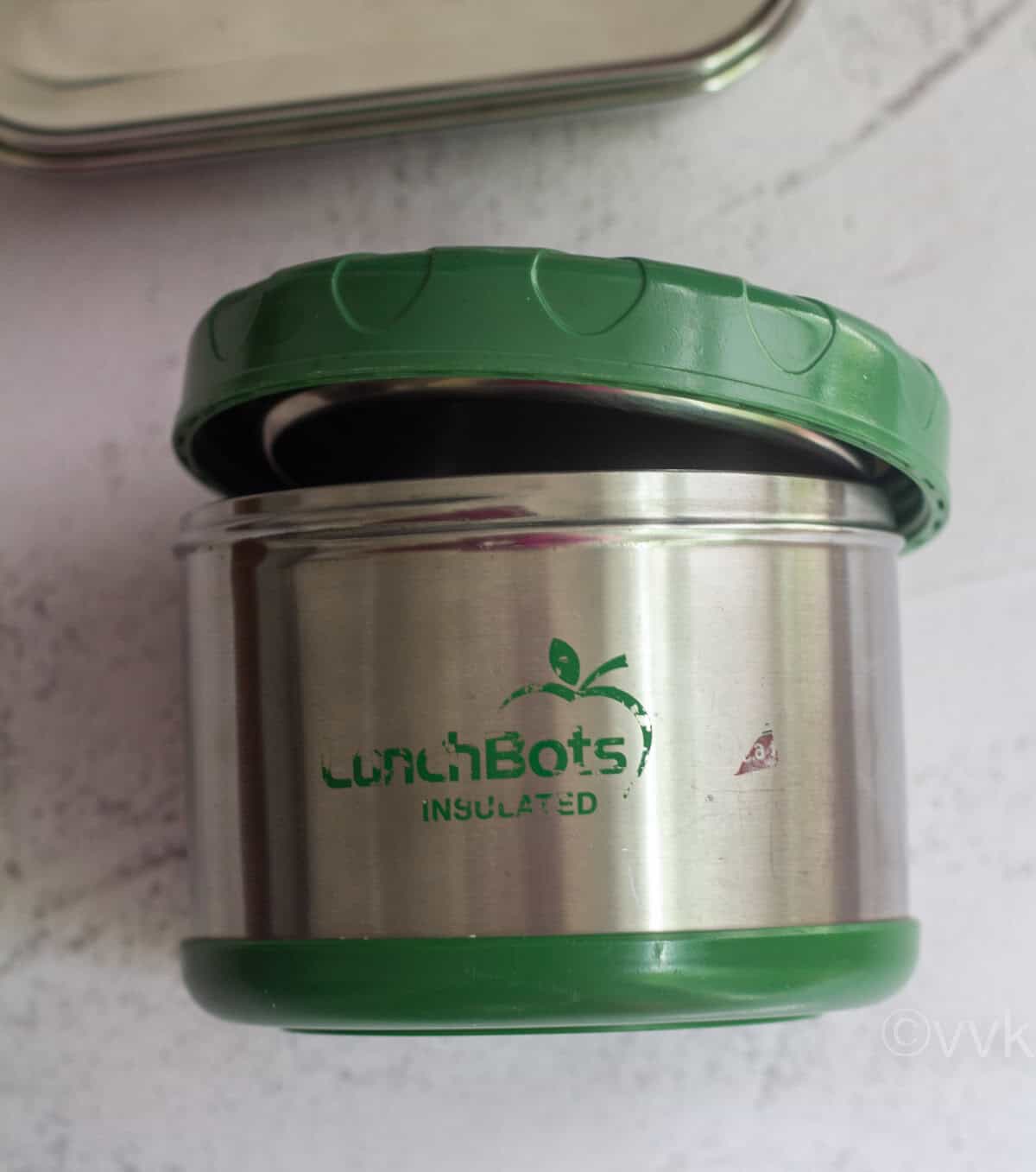 It's hard to find the same insulated LunchBots bought in 2014. But there are other models, and you can find them on amazon online. I bought both thermos and LunchBots from amazon online. 
Waterbottles
I use a hydro flask water bottle for the kiddo, and we (husband and I ) use a Thermos flask, and I take tea in Thermos travel tumblers.
While I bought the hydro flask from their website, I got all the thermos water bottles and travel cups from Costco. 
Small ones for sauces and dips: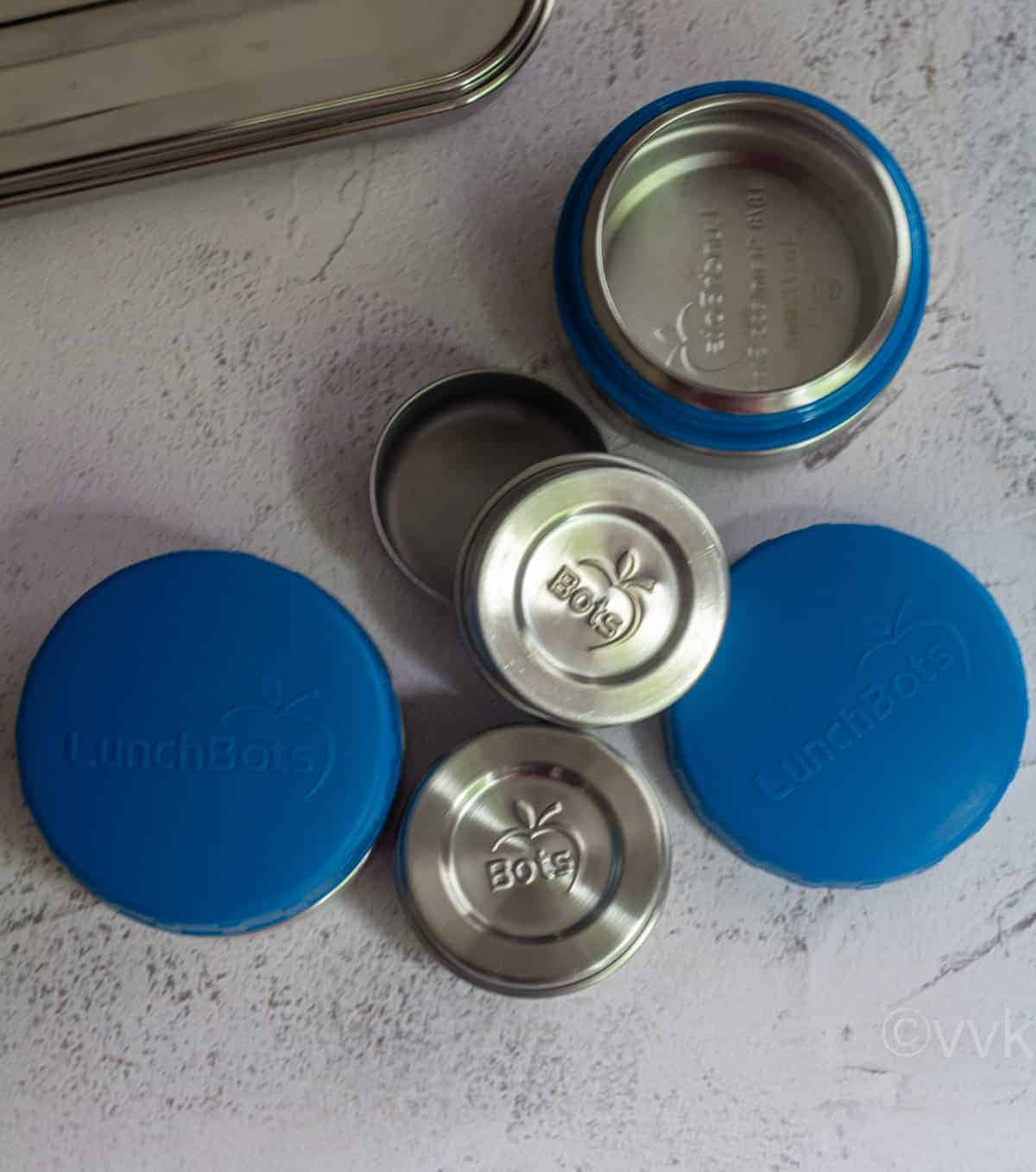 I pack the dips, sauces, and some dry curries separately and use these small LunchBots. These are not insulated ones, though. 
Other lunch boxes that I explored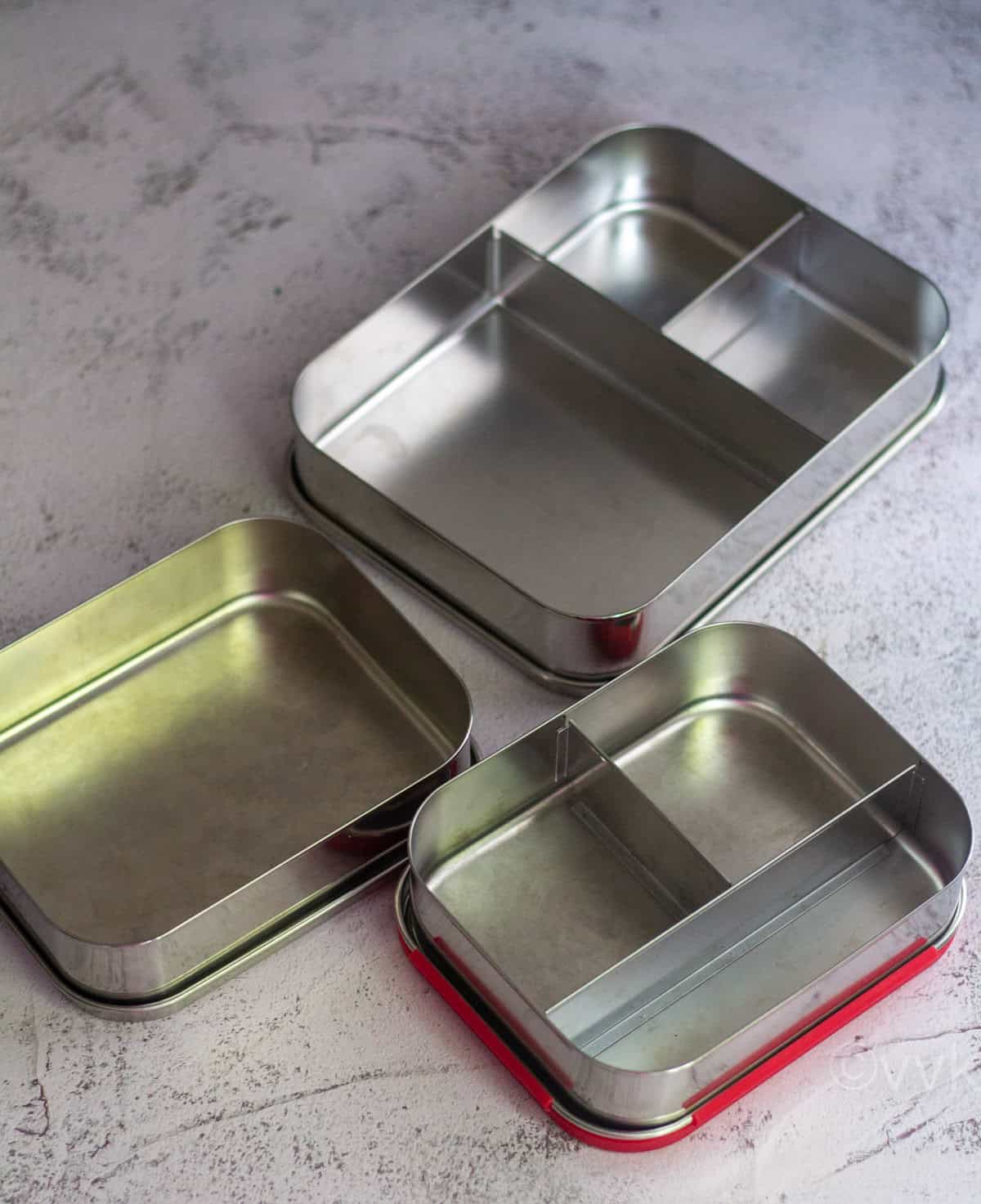 My love for stainless steel and partitioned lunch boxes made me buy these LunchBots, stainless steel ones with partitions more like bento boxes. These are not insulated ones.
Let me talk about the big one with partitions. The small LunchBots containers fit in these partitions, but they are too small for curries and gravies. So I started keeping dry curries and rice or roti and gravies, but it was getting mixed. Also, the kiddo used to swing the lunch boxes, and personally it didn't work for us. This is just my opinion; 
But I use the non-insulated LunchBots without partition, especially for packing roti, paratha, quesadillas, and sandwiches. And the other is small for snacks. 
Our favorite ones are Thermos, insulated LunchBots, and stainless-less ones without any partitions. These three are the most used ones. 
Lunch boxes that I did not explore
There are many insulated bento boxes, but as I am not packing wide varieties, I didn't explore them much. Also, I haven't explored insulated lunch bags. As we were happy with the above boxes, I didn't venture out until now.
The new lunch box that I am planning to try this year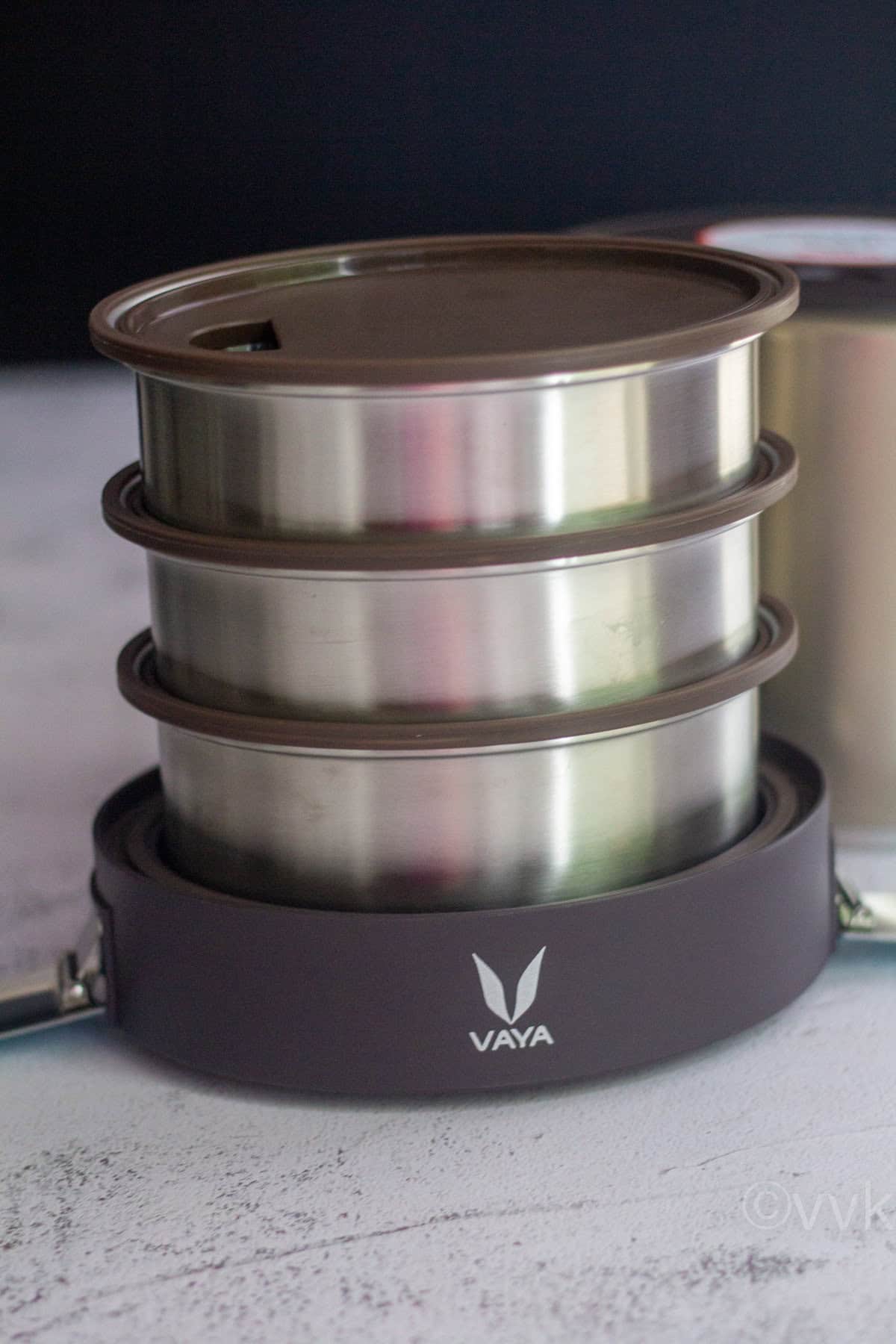 A few years back, I learned about these Vaya lunch boxes available in India. I have heard mixed reviews, and I was a bit skeptical. But this year, during the India trip, I decided to try it and bought it from the Vaya store. (VR Mall, Anna Nagar, Chennai)
I bought the three containers, and my husband, who already used them, said the food stays warm and the container size is also perfect. I will update the post with the kiddo's verdict as well.
All the lunch boxes that I have mentioned are dishwasher-safe. Ok, I should say I have loaded them in the dishwasher. They are leakproof and can be handled by kids easily, especially Thermos and LunchBots. 
Links
While I have shared all the links above, I am sharing them again in this section for easy navigation. These are amazon affiliate links.
I hope this post helps you, and I have shared the same video on my Instagram. If interested, please check, and if you have any questions, please share them via comments.
Happy cooking, and wish all kids a great academic year.
Vidhya