I am back with another easy Indian vegetarian meal planner with a few one-pot recipe options! I hope this menu planner helps, and you all can draw some inspiration.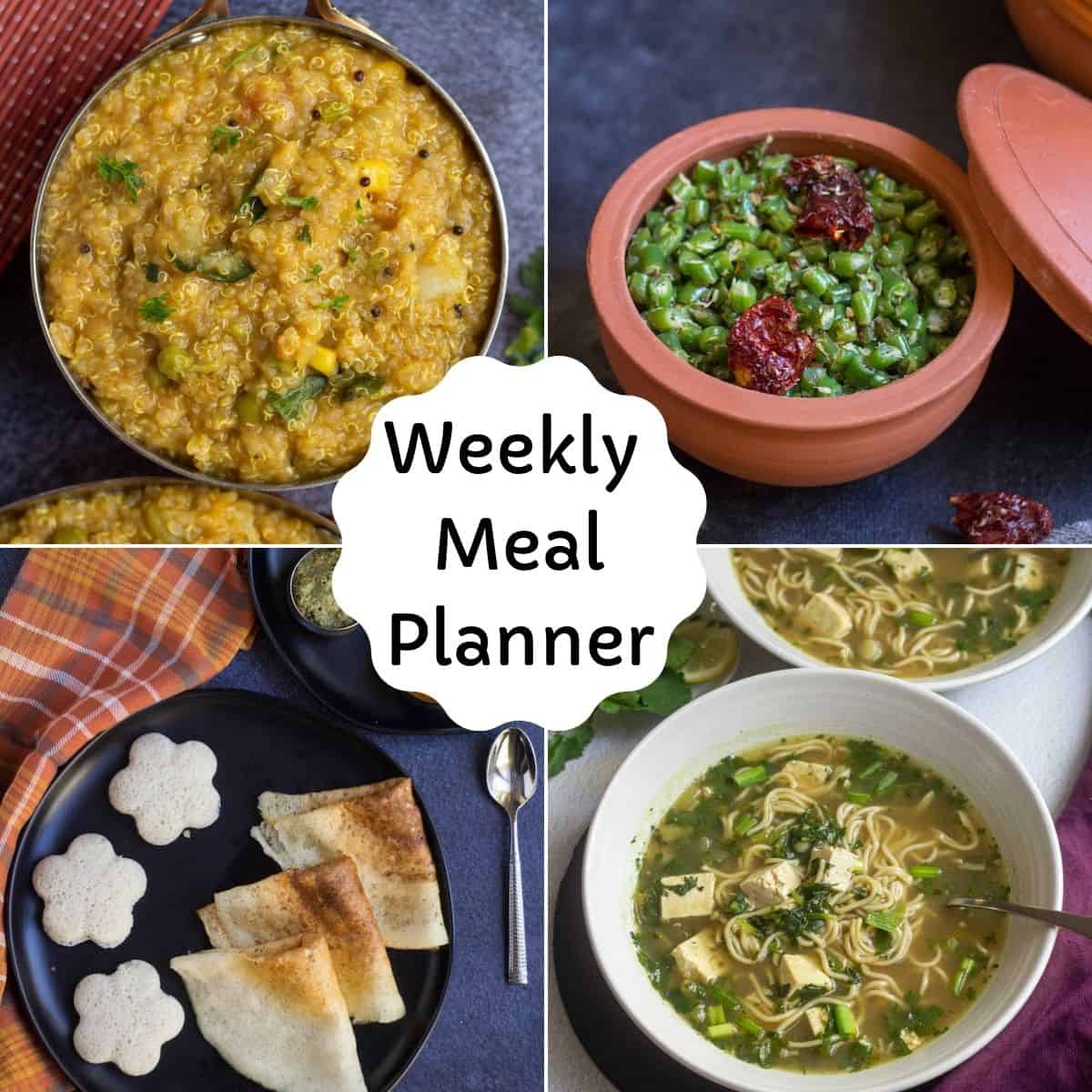 Are you new to meal planning and prepping or looking for new ideas?
I have been sharing 5-day weekly meal planners for the past two years, and I have over 45+ Indian vegetarian meal planners on my blog. You can check them out all under the "meal planner" category. Please share your thoughts and feedback in the comment section.
In my previous meal planners, I had shared why to plan meals, the advantages of meal planning, what happens if I follow my meal plan to T, and I shared about freezing food. This week, let me share what goes in my mind when I plan my meals and decide the recipes!
Before planning my meals, I first check my weekly calendar. My meal plan is entirely on my schedule and my son's classes. I see how much time I have each for preparing the meals, and based on that, I plan my meals. Then I think about varieties and healthy options, semi-homemade options. That's why I keep repeating this in all my meal planners – You can do the prep work over the weekend or batch cook every alternative day. It all depends upon your work schedule. Opt for the one that works the best for you.
This week's meal planner
I rely on some quick one-pot recipes and simple stir frys this week. Let's talk about the individual recipes and planning and prep work.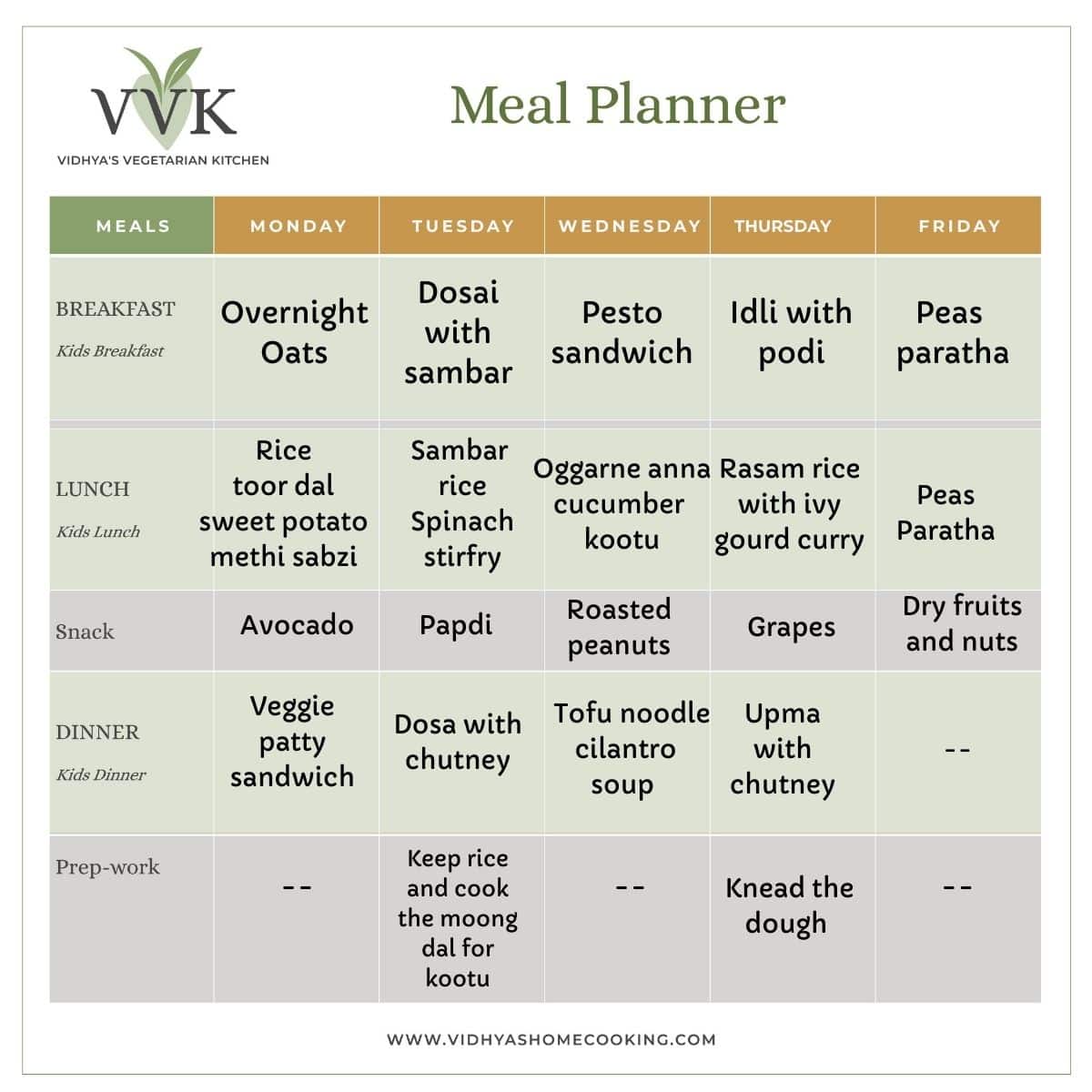 Prep-work
Prepare the idli-dosa batter during the weekend.  
Chop the required vegetables, especially veggies like green beans and ivy gourd. You can quickly chop cucumbers and spinach as needed. 
Knead the roti dough in bulk and knead the day before. 
Note – Use the grain of your choice. Instead of rice, you can use millets, quinoa, or brown rice. Also, you can make multigrain roti or quinoa, or ragi roti too.
Without any further ado, here is this week's meal planner. Please check the recipe links below. 
Monday Menu
I have overnight oats for breakfast, and lunch is leftovers from our Sunday lunch. I don't have sweet potato methi sabzi on my blog, hope to share soon. For dinner, it's a semi-homemade recipe with a store-bought veggie patty. It's easy to put together. I will share the recipe on my Instagram. 
Breakfast – Overnight oats.
Lunch –  Rice with dal and sweet potato methi sabzi.
Dinner – Veggie patty sandwich.
Tuesday Menu
I have dosai with sambar for breakfast and dosai with chutney for dinner, and for lunch, it will be the same sambar but with rice and spinach stir fry. Tip – buy washed and cleaned spinach pack so that you can chop quickly and make a quick stir fry. You can also opt for one-pot sambar rice and pair dosa with chutney or other sides. Frozen store-bought chutneys also come in handy in these scenarios.
Breakfast – Dosai
Lunch – Sambar rice and spinach stir fry. 
Dinner – Dosai with chutney 
Wednesday Menu
Oggarne means tempering, and it's simple rice with basic tempering and onions. Leftover rice works well in this recipe. The effort is minimal, so you can very well make kootu. If you can cook the moong dal the day before, it would make the process much easier. And for dinner, I have the simple tofu noodle soup.
Thursday Menu
I am starting the day with idli podi, and most of the days, I pack the same for the kiddo. But with the winter weather, more than idli slightly mushy rice varieties work well for packing. So I am going with rasam rice and oven-roasted ivy gourd curry. For dinner, it's the humble upma.
Friday Menu
There must be some peas paratha when fresh peas are in season, right? I hope atleast this season, I can blog. Yup, the recipe is not yet on my blog.
Breakfast – Peas paratha.
Lunch – Peas paratha. ]
As I mentioned before, I hope this menu planner helps, and you all can draw some inspiration. If you have any questions, please leave a comment below. I will share the daily updates on my Instagram and my FB group. So stay connected!
Stay Safe & Happy Cooking!
Vidhya