I am hosting this event for two more weeks. So please if you are planning in to send recipes you can still send it. I will be doing the round up on Dec 16th. :-)
I know I posted about this event on November 1st. But as I am hosting these coming two weeks thought of doing a reminder post again and with some more information on pasta.
Pastas:
Pasta is the staple of food of Italy but they have crossed borders and it has become everyone's delight, especially kids favorite. According to Wiki, "Both dried and fresh pasta come in a number of shapes and varieties, with 310 specific forms known variably by over 1300 names having been documented. In Italy the names of specific pasta shapes or types often vary with locale. For example, the form cavatelli is known by 28 different names depending on region and town." Interesting huh?
I am happy to announce I would be hosting my blogger friend Valli's event : Kids Delight from 15th Nov – 30th Nov 2015. The theme would be "Pastas For Kids". This is the first time I am hosting an event and I would like all your support and of course recipes. I have already heard for few of blogger friends. Thanks a lot and looking forward for your recipes.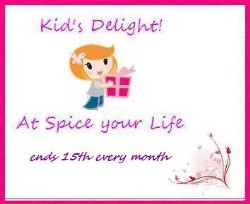 Why Pasta For Kids??
Pastas are everyone's favorite. Like every other mother, I have the same worry in my mind too. "What to cook for my kid? Will he/she eat that? Will they like it? etc etc etc". Color and shapes always fascinate kids and the same concept goes with food too. Colorful and different shaped food appeals a lot and with pastas we can incorporate all these and at the same time we can make it healthy too with the flavorful sauces and veggies.
So bring on your pasta dishes.
Be it Penne, Spaghetti, Fusili, Rigatoni, Fettuccine, Cavatappi, Farfalle, Macaroni or any others.
Be it stuffed like Ravioli or Tortellini.
Be it whole wheat or white or quinoa based.
Be it red sauce or white sauce or pesto sauce or squash sauce.
Be it just with veggies and basil.
I can keep adding to this list. Sky is the limit. Let's get into our kitchen and get started. I know October is the National Pasta Month but lets extend it to November too. Please send in your recipe link along with the picture to my email which is daffodilshree@gmail.com. Will do a round up post on Dec 1st.
Some important guidelines to follow when you publish your recipe,
1) It can be baked or non-baked dish , but has to be vegetarian / Vegan
2) Alcohol / meat are not allowed
3) Entries need to be posted in your blog between 15th Nov and 15th Dec 2015.
5) A Non Blogger can send in your entries too, mail me the recipe with image at daffodilshree(at)gmail(dot)com | daffodilshree@gmail.com.
6) Bloggers can send in their recipe url (that got published with the above guidelines point 1 to 4) with image to the same email address.
Looking forward to your pasta recipes. Thanks a lot.