Madelines are small shell-like shaped light and airy cookies. These French Staple butter and sugar cookies melts in your Soft and white on one side and crisp on other side. Here is my eggless version of it.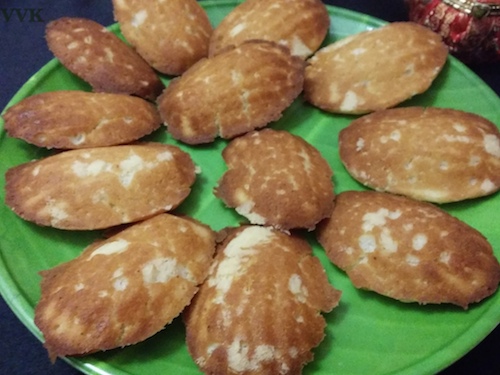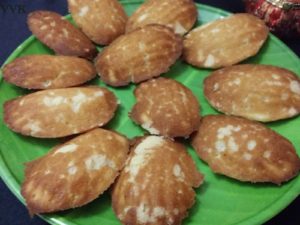 Whenever we go to Costco, we bring back a big box of Madeleine (Pronounced as Mad-Helens, h silent). Its kiddo's favorite snack. These cookies are his daily school snacks. So thought of trying it at home. Found this recipe and with this recipe as the base, I tried these cookies with APF ignoring lemon and of course sour cream. We loved it and it became a staple at our home. You can use APF or cake flour. Of course cake flour yields soft cookies but with APF you get good ones too.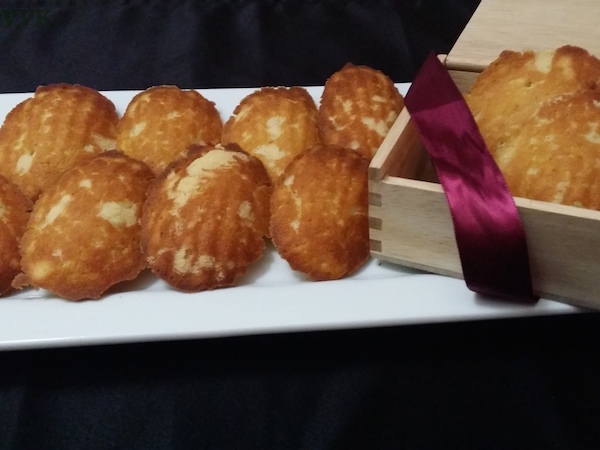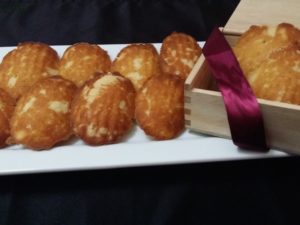 For this recipe I am using APF only.I didn't use sour cream but went with greek yogurt instead. And for this recipe you need the Madeleine tray. As its kiddos favorite I didn't mind buying this shell shaped baking tray.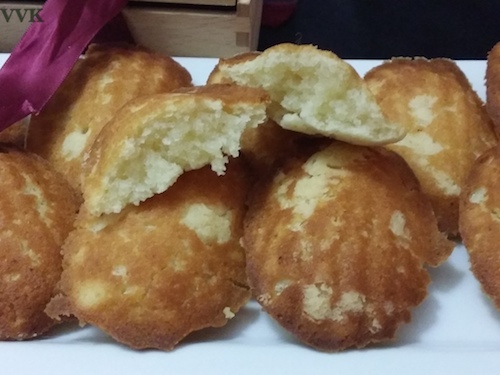 Ingredients:
Butter – 1.5 sticks
Greek yogurt – 2 tbsps
Corn starch – 2 tbsps
Milk – 8 tbsps
All purpose flour – 1 cup
Baking powder – 1 tsp
Salt – ½ tsp
Powdered sugar – ½ cup
Steps:
Preheat oven to 375 degree F.
Melt the butter.
Mix the corn starch, milk and yogurt and mix until fluffy. I used my hand mixer.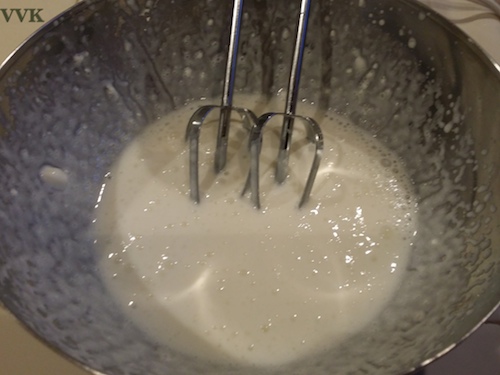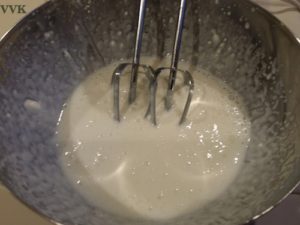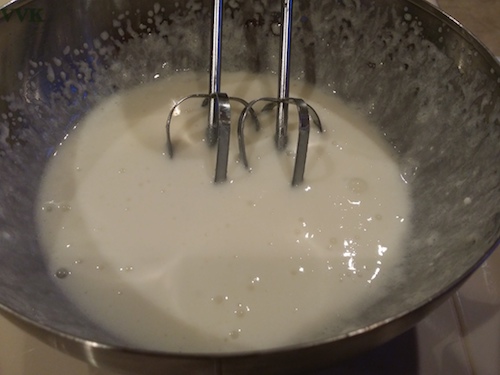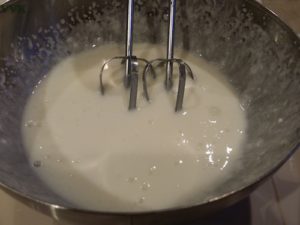 Start adding the dry ingredients and the butter and make sure everything is mixed.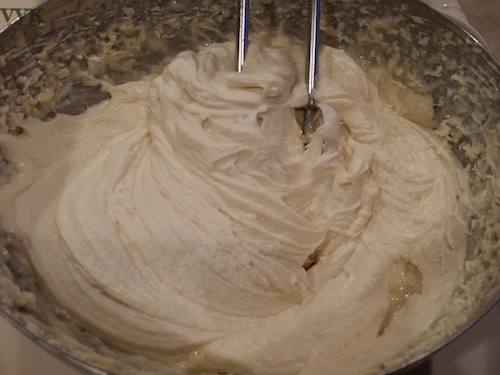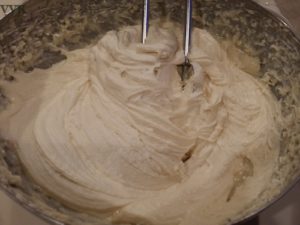 Now grease the madeleine tray and fill those shells with the batter. (1-1.5 tbsps)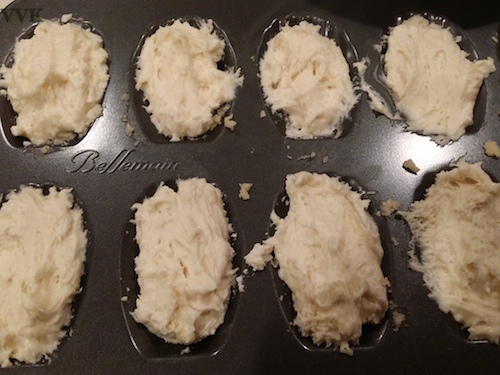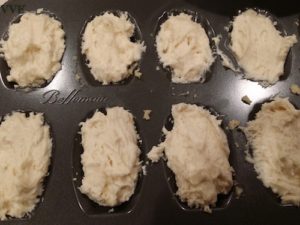 Bake in the oven for 12-15 minutes or until just golden brown around the edges.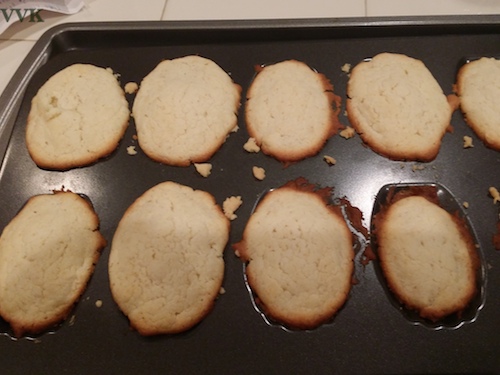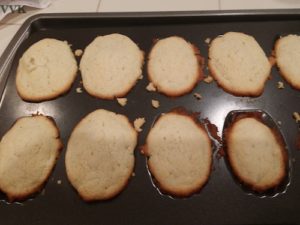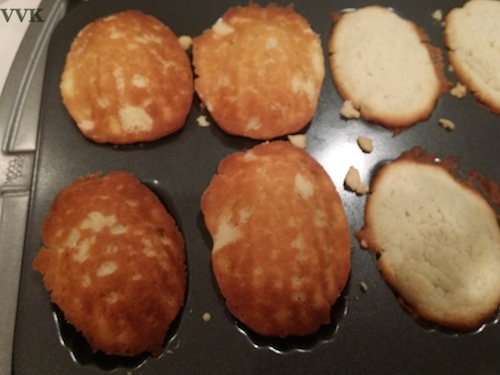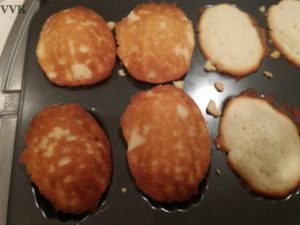 So basically these cookies will be brown on one side and soft and white on the other. :-)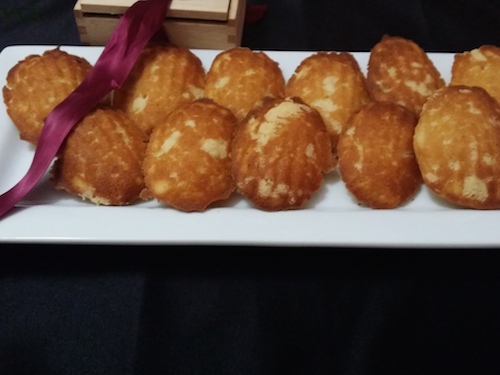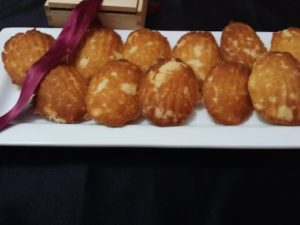 *APF – All Purpose Flour
Also sending this to Valli's anniversary event.