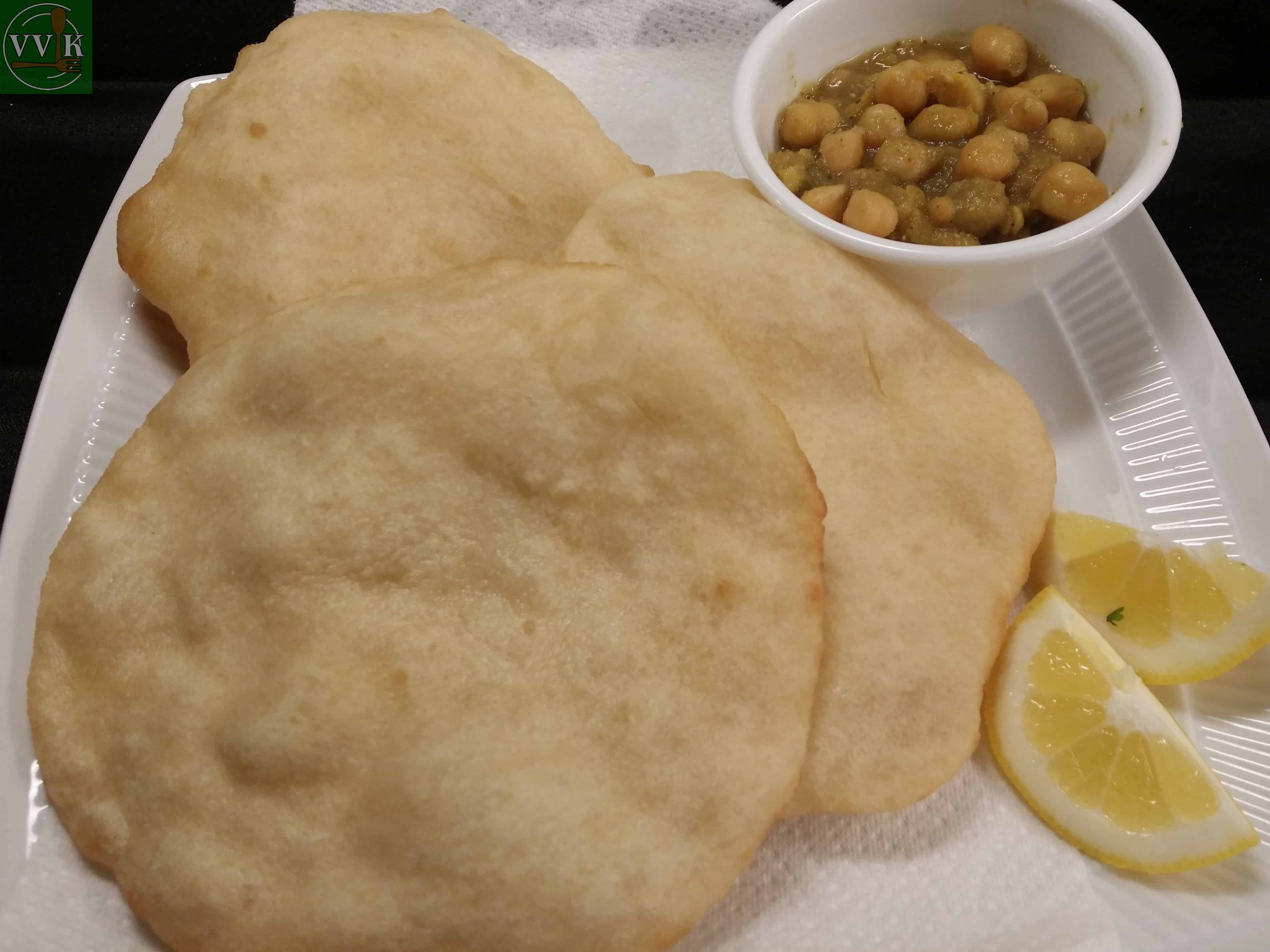 For the second week of Blogging Marathon, the theme is Bread Stubs and I need pick three from this wiki list. The first one that I am picking is Bhatoora. Bhatoora may sound difficult but its very easy and similar to poori. The only thing is you need to prepare the dough little ahead and leave for minimum 5 hrs. Vaandu likes poori very much. He calls bhatoora as white poori and the other one as brown poori :-) If I am planning to do this dish, I usually prepare the dough before going to work. So the dough sits for pretty much 8 hrs. Seriously, planning makes cooking very easy.
Bhatoora
Ingredients:
All purpose flour/Maida – 2 cups + 1/2 cup for dusting
Curd/yogurt – 3/4 cup
Water – 1/4 cup
Salt – 1 tsp
Sugar – 2 tsps
Baking soda – a pinch
Active dry Yeast – 1/4 tsp
Oil for frying.
Steps:
Warm the water and mix the yeast in it and let it dissolve.
Now mix the flour, baking soda, sugar and salt and mix well.
Next add the curd and mix them well.
Now slowly add the yeast water as required and mix the dough. (You might need less water based on your yogurt)
Make sure the dough is not soggy. Let it sit for at least 5 hrs.
After this its the usual poori making process.
Heat the oil for frying. Meanwhile form small balls from the dough and roll them out thinly (?? I never get round, so whatever shape you like ;-) )
Deep fry them as you do for poori and serve hot with channa.
As I mentioned in my other post, I usually make the channa masala in the South Indian Style. Here is the recipe for the channa.
Submitting this post for Blogging Marathon #48 – A 3 day marathon for 4 weeks
Blogging Marathon page for the other Blogging marathoner doing BM#48