Banana
splits is a simple recipe that can be prepared with less than 5 ingredients and within 15 to 20 minutes. Be it summer or winter this recipe is perfect for all the seasons.
Banana
splits is a combination of
bananas
, semi sweet chocolate and nuts. Add ice cream along if you are serving in summer if not the just serve hot with the ooyi gooyi chocolate.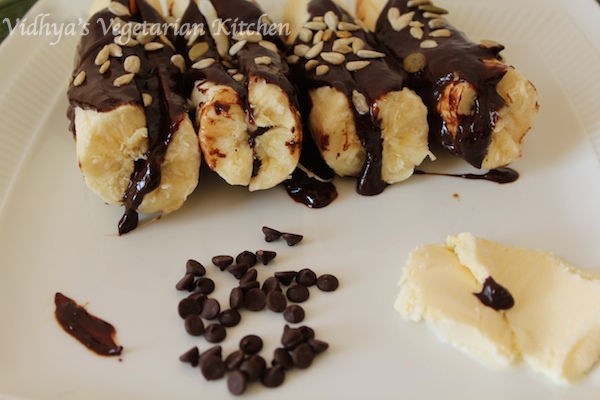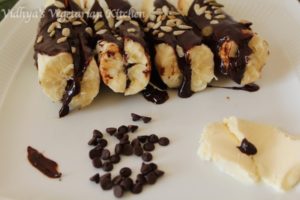 Simple yet frutilicious  recipe perfect for any occasion.
Ingredients:
Banana

– 2
Semi chocolate chips – 1/4 cup
Chopped nuts – 2 tbsps
Ice cream of your choice as required.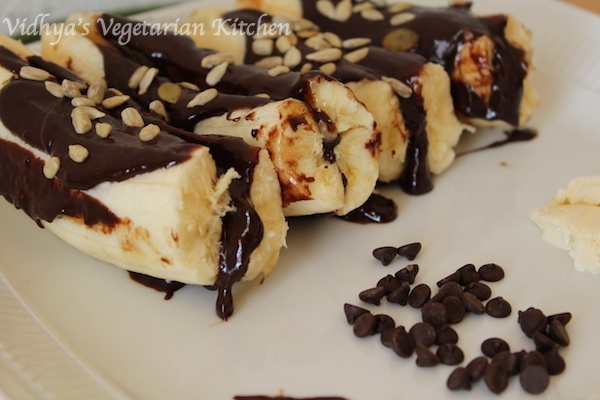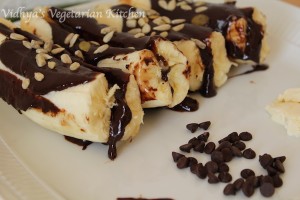 Steps:  
Melt the chocolate chips in the double boiler method. Boil water in wide vessel and once the water starts to boil cover it with a plate and place another vessel on top and add the chocolates.
The chocolates will start to melt in 3-4 minutes.
Once they start to melt, mix them completely and turn off the heat.
Meanwhile peel the

banana

skin and cut them into half. It its small

banana

you can keep as is.
Now slit in the middle and add the melted chocolate.
Drizzle the chopped nuts and serve with your choice of ice-cream.