Light yet delicious aval platter or poha platter perfect for an evening tiffin or supper. Check out the different recipes that you can make with aval or poha or flattened rice!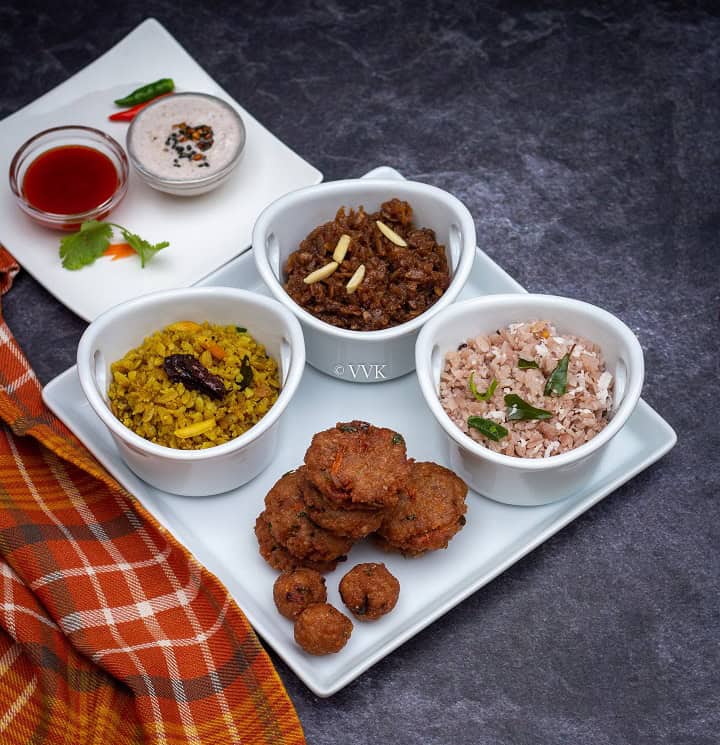 My Aval Platter-
My love for poha or aval by now is no secret. I have been posting a few simple aval recipes, and today I am going to share a poha platter with four different dishes in it.
Aval vadai | Poha fritters
While you can very well relish these without any sides, I served them with ketchup and coconut chutney. The vadai is simply fantastic with any chutney or ketchup.
What is aval or poha-
We call aval or poha as flattened rice or beaten rice in English. Rice is parboiled, and it is beaten or flattened thin, and it is dried. Based on how thin or thick it is beaten, we have different poha varieties like thin or thick.
Also, red poha is equally famous. You can use any poha -red or white, and depending upon the recipe, you can use thick or thin variety. I mostly prefer thick poha variety for all my recipes.
Ok, I am using the word poha and aval interchangeably. Both means the flattened rice or beaten rice. In simple words, it is the rice flakes.
In Tamil, we call it as aval, and in Hindi, it is poha. And in Kannada, we call it avalakki, and in Telugu, it is atukulu. I am stopping here, don't worry, I will not translate it in all the languages. :-)
Aval – must-have pantry ingredient-
I mentioned this on my thengai aval post but let me share it again. In my opinion, aval is a must-have pantry ingredient. As it's precooked, you can eat raw or soak it in milk and add some sugar and relish it, more like the western cereal. I am sure most of us would have relished aval with milk and sugar in our childhood. 
Be it a snack or upma; you can make it with aval in less than 30 minutes as there isn't much soaking involved. It is very light, and our body can digest it easily. Also, you can add it to your idli-dosa batter as it aids in fermentation.
Simple recipes with poha-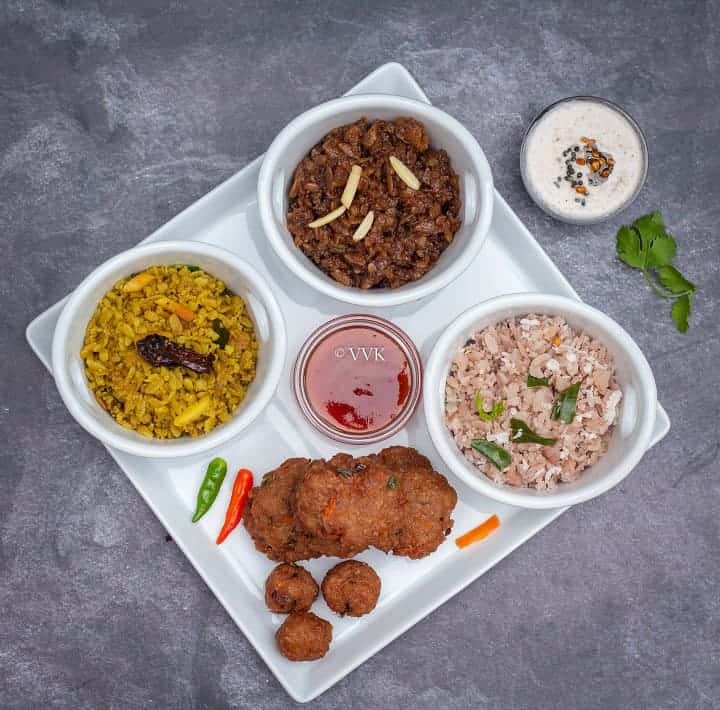 Now that I have shared enough about poha let's get back to them again. I have an appetizer with poha – the vadai and two upma recipes – thengai aval and puli aval and a dessert with poha – vella aval. Apart from these recipes, I have chivda and poha kheer as well on my blog. A few more coming up. So stay tuned.
Here are the individual recipe links. Click the button below to check the individual recipes.
PS: Follow me on Instagram or join my Facebook Group for more gardening and recipe updates. If you try these poha recipes, please don't forget to comment and rate this recipe. If you have any questions, please leave a comment, and I will get to it asap. Make sure to follow me on my Pinterest for more healthy and delicious ideas!
Check out the Blogging Marathon page for the other Blogging Marathoners doing BM#116
You are invited to the Inlinkz link party!Click here to enter