Vegetable Puffs – baked kids friendly snack, a guest post from my friend and a great blogger – Vidya from TMF. I have mentioned about her in my blog multiple times. Love her baked goodies and she inspired me to try baked murukku and thattai. I also love her toddler friendly snacks. Err.. I can keep adding to this list. I met her and Malar last year and I have recorded that in my blog. I would always thank this blogging world for introducing me this wonderful friend. Now over to Vidya.
I am so happy to write a post for my dear friend Sri. I happened to know Sri couple of years back, initially we spoke through our blogs, but within no time we developed a great rapport and started pinging each other regularly.  Sri is one friend with whom I have discussed A-Z about blogging, even shared details about my personal life. In these two years my blog has undergone many small transformations; Sri's help was there all the time in some ways.
I always adore her commitment towards blogging. In spite of her busy schedule she somehow squeezes time and be regular with her post.
Sri asked me to write a guest post few months ago but somehow I had lot of random reasons to delay. May be I took little advantage since it is her☺  I gave her few options for the guests post, she picked this Puff. Tasty, baked kid-friendly snack!!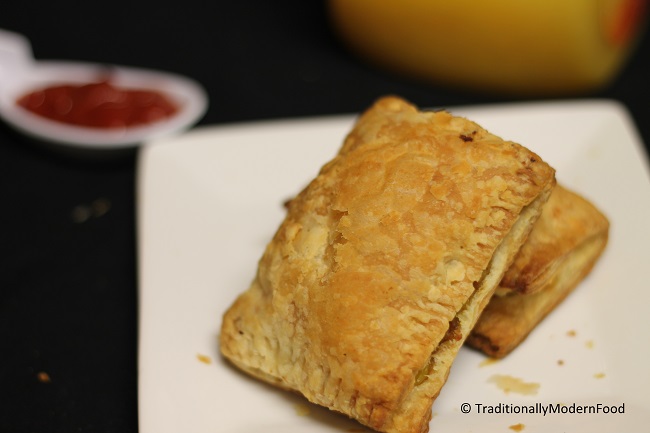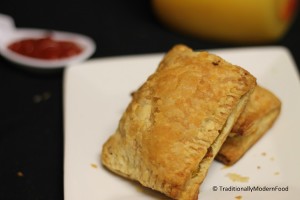 Ever since childhood days I love puff. It is one of my favorite bakery snacks. Puff with some ketchup, hmmmmm heaven is the word. I always thought making puff at home is a big deal until my friend told about Puff pastry sheet. Home cooking is always best but there are times we can go for few store-bought stuff, as it makes things simple and saves a lot of time. With a delicious stuffing this puff is definitely a winner recipe in any party.
Before getting into a recipe a small intro about my blog☺
I am Vidya, author of "Traditionally Modern Food" blog. I enjoy various Cuisines, and started trying my hand in preparing the food I loved. You can find a mix of vegetarian Indian and International recipes in my space. I have a 2 year old little one, so I prefer spending less time in kitchen, and most of my recipes reflect that. Snacks are something I cherish, but I get conscious of the calorie factor, so I also try to make traditional Indian snacks with minimal oil (Baking).
Here are my social links,
Ingredients:
Readymade puff pastry sheet – 1, thawed
Mixed veggies, chopped – ½ cup, finely chopped (I used beans, carrot, peas, corn)
Potato – 2, medium
Onion – 1, finely chopped
Ginger- garlic paste – ½ tsp
Cumin Seeds – 1 tsp
Red chilli  powder/ pav bhaji powder – 1 tsp + ¼ tsp(I used pav bhaji powder)
Coriander powder – 1 tsp
Cumin Seed – ¼ tsp
Garam masala powder – ½ tsp
Fennel seed powder – ⅛ tsp (optional)
Chat masala – pinch
Turmeric powder – ⅛ tsp
Oil/ ghee – As needed
Salt – as needed
Method   
Cook the potatoes in pressure cooker/ microwave and peel the skin; mash the potatoes
Add oil to the pan and heat it on medium flame. When the oil becomes hot add fennel seed powder and cumin seeds; let it crackle.
Add ginger garlic paste and sauté for 30 seconds. Add onion and sauté till it becomes translucent. Add garam masala, coriander powder, pav bhaji masala, turmeric powder and allow it to cook for 3 – 5 mins
Add the Veggies, 3 tbsp of water and salt; close the lid and cook for 6-8 min till the veggies are cooked. If required sprinkle extra water. Add the mashed potato and 1 tbsp of water; sauté for 2-3 minutes till the masala blends well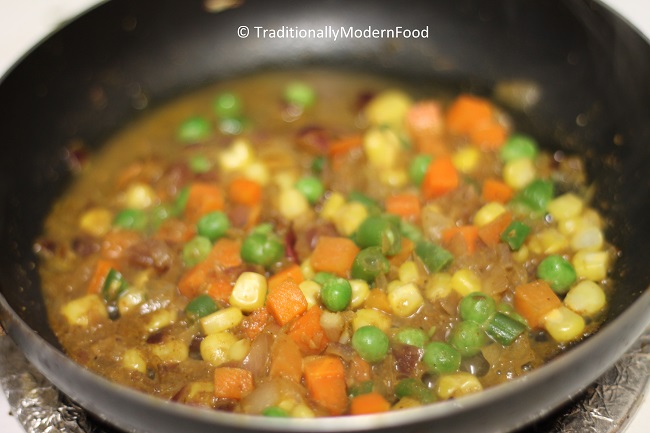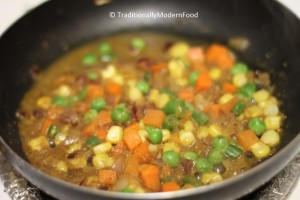 Pre heat the oven to 425 Degree Fahrenheit and line the baking tray with parchment paper/ aluminum foil; grease it with cooking spray/ oil
Thaw the pastry sheets as per the instructions on the cover
Cut into rectangles of the desired size and place it on the parchment paper
Put 2-3tbsp of filling on one of the sheets; fold and cover the stuffing. Seal the edges with fork marks. Repeat the process and grease the puff with oil/ghee
Bake for 15-20 mins, until golden brown in color. Let it cool for 2-3 minutes, enjoy the puff with some ketchup☺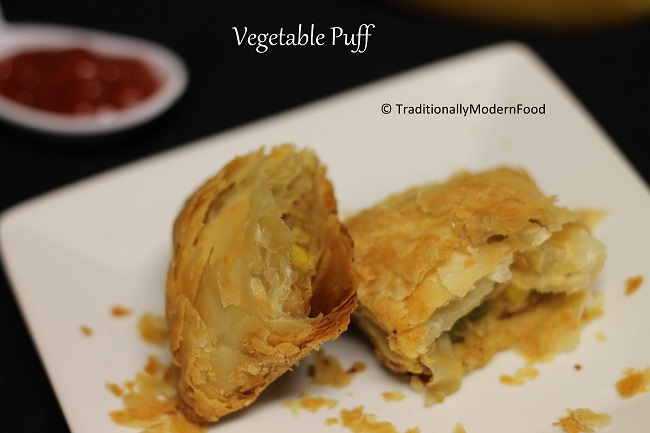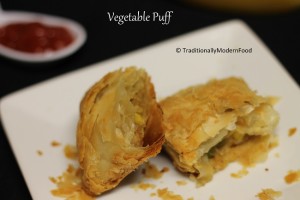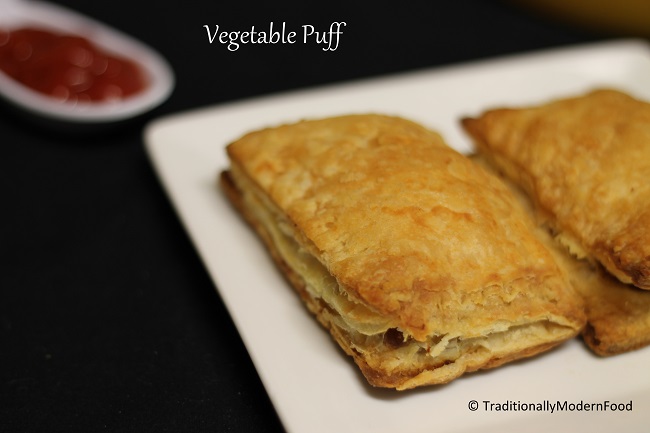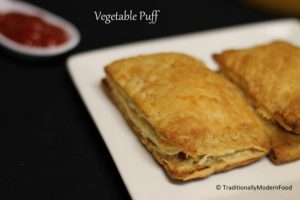 Notes:
Paneer/tofu, cabbage, capsicum etc. can also be added for stuffing
I stuffed the puff directly in the baking sheet instead it can be done in a plate and transferred
If you desired to cut down oil, grease the puff with egg wash
If you are consuming the puff after sometime, let it remain in the oven till you consume to retain he crispness