Some staples, some stews/soup, variety-rice recipe, and that's what today's vegetarian meal planner is all about!
Are you new to meal planning and prepping or looking for new ideas?
I have been sharing 5-day weekly vegetarian meal planners for the past two years, and I have over 46+ Indian vegetarian meal planners on my blog. You can check them out all under the "meal planner" category. Please share your thoughts and feedback in the comment section. 
This week's meal planner
This week, I am opting for some quick and easy recipes that you can make in less than 30 minutes of active cooking time. There is a little disclaimer here; make sure to do all the prep work a bit ahead. :-) You can find easy lunch and dinner ideas in this week's menu, and let's get straight into it.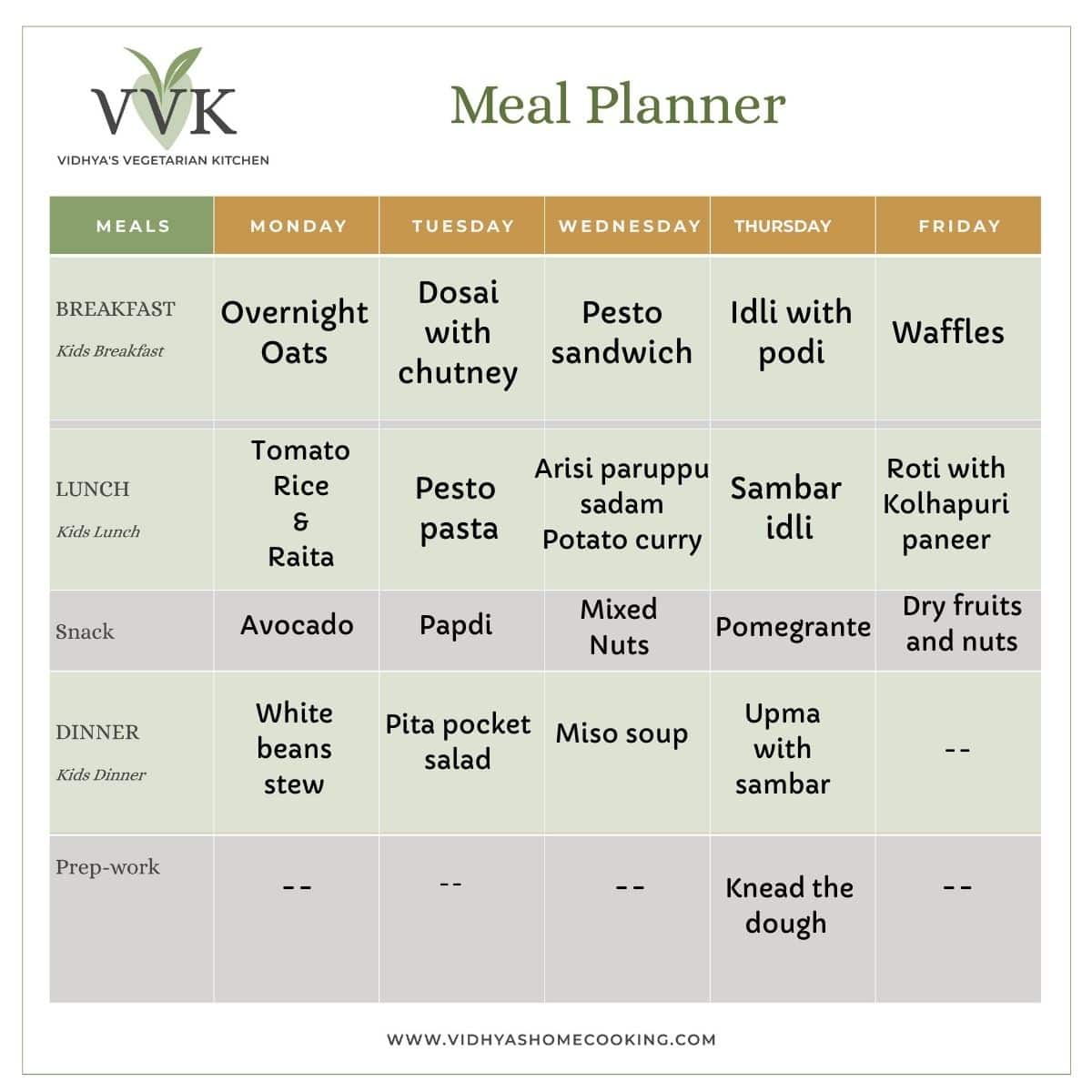 Let me talk about the prep work and planning each day and each recipe individually. Without any further ado, here is this week's meal planner. Please check the recipe links below. 

Note – Use the grain of your choice. Instead of rice, you can use millets, quinoa, or brown rice. Also, you can make multigrain roti or quinoa, or ragi roti too. 
Monday Menu
For breakfast, I have overnight oats, which of course, you can plan and prepare the day before. I have recently shared overnight chocolate oats, and you can check it out.
It's our favorite tomato rice with raita for the lunch box. You can prepare the tomato rice masala the day before, and on Monday morning, you can make the rice, saute the masala and add the cooked rice. Leftover rice works well too. 
And for dinner, I have the White beans stew, the Moroccan loubia, which freezes well. You can prepare it over the weekend or whenever you make it, make it in bulk and freeze, and it comes in handy for dinners. You can serve it with rice or other bread varieties. 
Tuesday Menu
I have one of our staple breakfasts for Tuesday, it's dosai, and I am pairing it with coconut chutney. You can switch the sides and serve it podi or thokku etc.
And for lunch, it's the pesto pasta. You can make the pesto before as a part of your weekend meal prep or use store-bought pesto. 
For dinner, I have an easy-to-assemble pita pocket salad. I am planning to use store-bought pita bread and canned chickpeas. Of course, you can use homemade chickpeas. 
Wednesday Menu
I have a pesto sandwich for Wednesday's breakfast using the leftover pesto from Tuesday. I don't have a detailed recipe on my blog, but it's pretty simple to make. Smear some pesto on the bread, place mozzarella slices or chunks, and grill it on a pan or panini grill. 
For lunch, I have the humble pressure cooker arisi paruppu sadam, and I plan to pair it with air fryer potato curry. I will soon share the potato curry recipe made in the air fryer. For arisi paruppu sadam, there isn't much chopping involved, and you can make it quickly.
For dinner, I have a simple miso noodle soup. With store-bought miso paste, it's easy to make this soup. Again, I plan to share this recipe soon, so stay tuned.
Thursday Menu
As always, Thursdays are my no-onion, no-garlic days. I have humble idli with podi for breakfast and the same idli but with sambar for lunch. And I am planning to use the sambar for dinner by pairing it with upma. If you have cooked dal, it's easy to make a sambar, or opt for an easy pressure cooker sambar with masoor dal. 
Friday Menu
I have waffles for breakfast. I recently shared one with quinoa flour, and you can check it out. 
For lunch, I have roti with Kolhapuri paneer. You can opt for store-bought rotis or fresh roti. You can knead the dough well ahead, and I need to start making rotis in bulk which I haven't done so far. I will soon start sharing my tips and tricks. 
As you can see, I am not using many vegetables this week, and I am okay with that. Some weeks are like that, and I accept it. :-) From the above menu, here is the weekend meal prep that you have to do for this week.
Weekend meal prep
Prepare the tomato masala.
Prepare idli-dosa batter.
Knead the dough for roti or just the day before.
Prepare the pesto and cook the chickpeas if you plan to use homemade chickpeas for the pita pocket salad.
I hope this vegetarian meal planner helps, and you all can draw some inspiration. If you have any questions, please leave a comment below. I will share the daily updates on my Instagram and my FB group. So stay connected!Stay Safe & Happy Cooking!Vidhya