Papaya trees are very common in my native and green papayas or the raw papayas are commonly used in cooking. We can prepare regular kootu, kai/poriyal with the green papaya. Papaya is known for its Vitamin A content and here is a simple kootu. Raw papaya tastes pretty much like chow-chow/Cayote. And I prepare this kootu same like spinach or chow-chow kootu. The only difference here is that I add onions. But that's completely optional.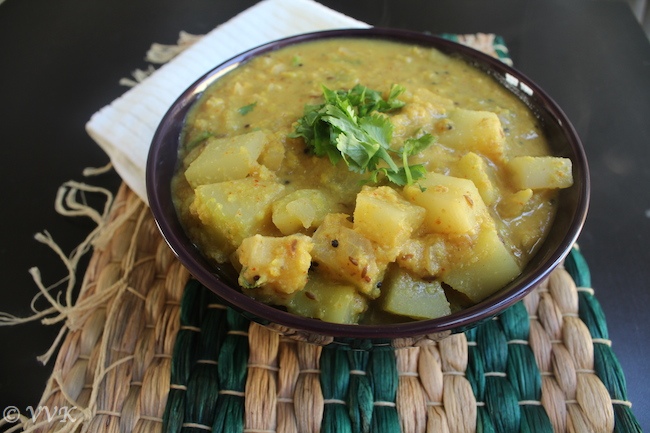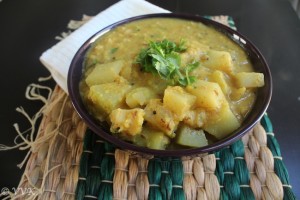 Amma used to prepare this often when we were in pannaipuram. We had 3 papaya trees in our back yard. Yeah it's the same Pannaipuram – the native of maestro Illaiyaraja. Appa got transferred there and I spent 3 most memorable years of my childhood there. I did my 1st to 3rd grade. Here is where I learnt my proper Madurai slang and I got to see the standard festivals that comes in Bharatiraaja movies. During Kaali temple festival, they have the Mulaipari. Mulaipari is navadhanyam (9 grains) grown in a pot/unique vessel. They will be kept in temple and daily women sing kummi and songs by coming around it. And on the last day (not sure if its last day or day before), they carry the Mulaipari to nearby river or pond and dissolve it there. I have carried one too. And then pouring Manjal Thanni (Turmeric water). It's like Holi, but played only with turmeric water. But none sang like in 16 Vayathinile movie. Along with these they have other functions too. But Mulaipari and Manjal thanni is the standard festivals shown in village background movies. Pannaipuram is located under the foot of Western Ghats and during rainy season, floods coming down from hill is a very common sight. They call Oda thanni. It drains within couple of hours. I was so amazed by that. I am really glad that I could spend my childhood there. But I didn't go back after we relocated back to Periyakulam. Should visit sometime.
Ingredients: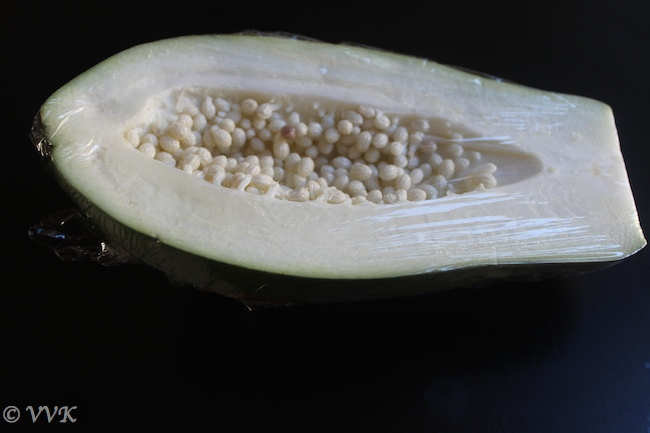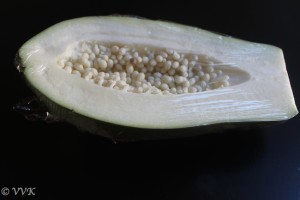 Half of raw papaya as shown above, chop into small cubes
Salt – 2 tsps or as per taste
Moong Dal – ¼ cup
Turmeric Powder – ½ tsp
Finely Chopped Half of one big onion.
Cilantro – few sprigs
For Tempering:
Oil – 2 tsps
Mustard Seeds – 1 tsp
Cumin Seeds – 2 tsps
Hing – ½ tsp
For Grinding:
Grated Coconut – ½ cup
Cumin Seeds – 1 tbsp
Dried Red Chillies – 3
Ginger – 1 inch piece
Steps:
Grind the coconut, cumin seeds, red chillies and ginger into a smooth paste by adding water.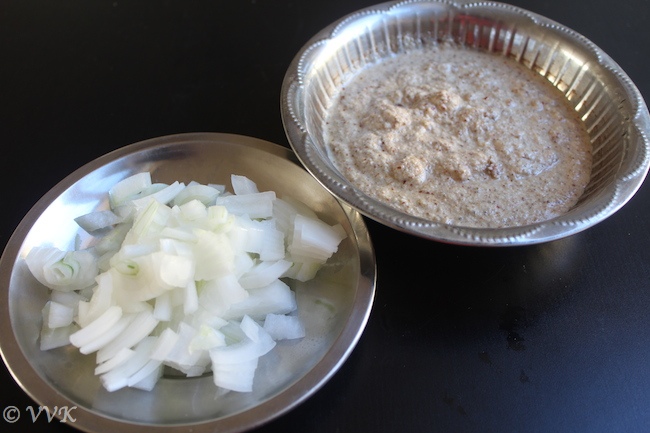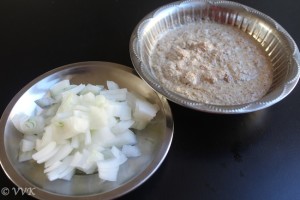 Pressure cook the moong dhal and raw papaya along with the turmeric powder. ( If using pressure cooker 2 whistles is enough, we don't want to over cook the papaya. The other option is pressure cook moong dhal alone and microwave green papaya for 12 minutes or steam cook it)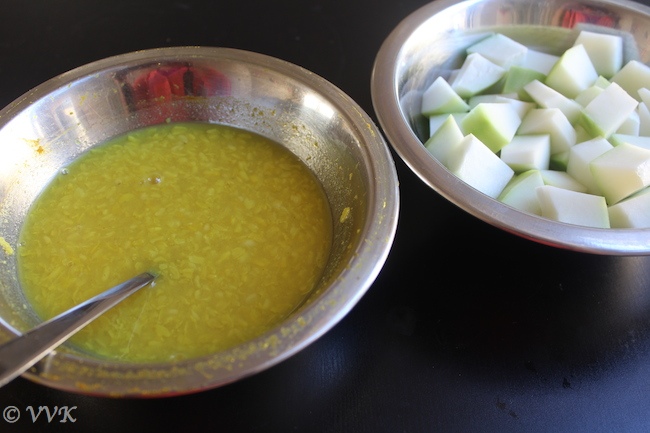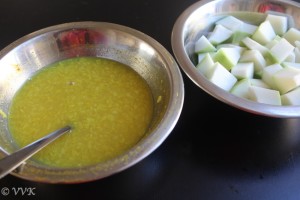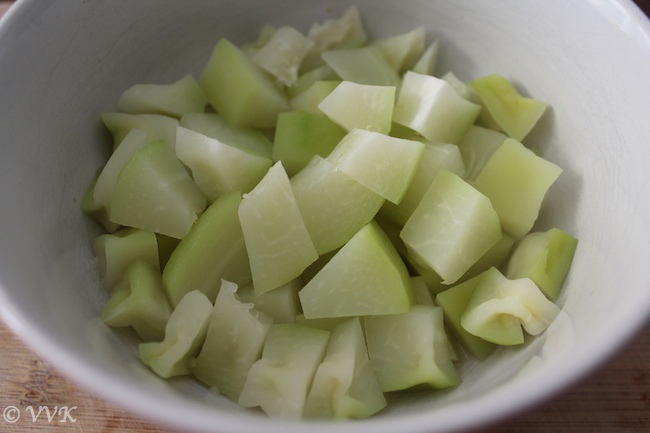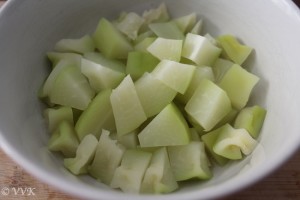 Heat the kadai and add oil.
Once the oil is hot, add the mustard seeds, jeera and hing.
As they start to splutter add the chopped onions and cook till the onions turns translucent.
Now add the veggie and coconut masala. Mix well and let it simmer for couple of minutes.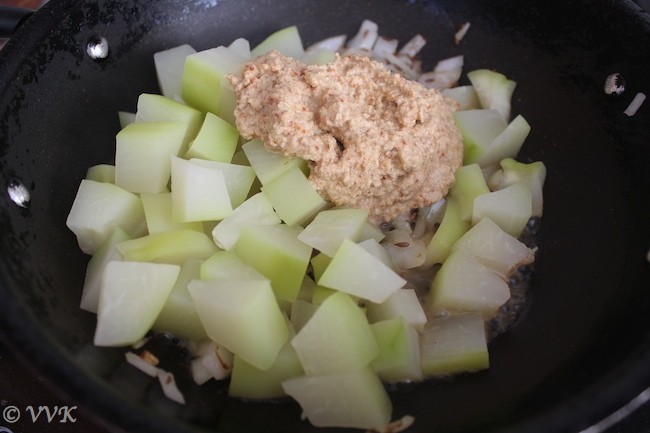 Then add the cooked moong dal and chopped cilantro.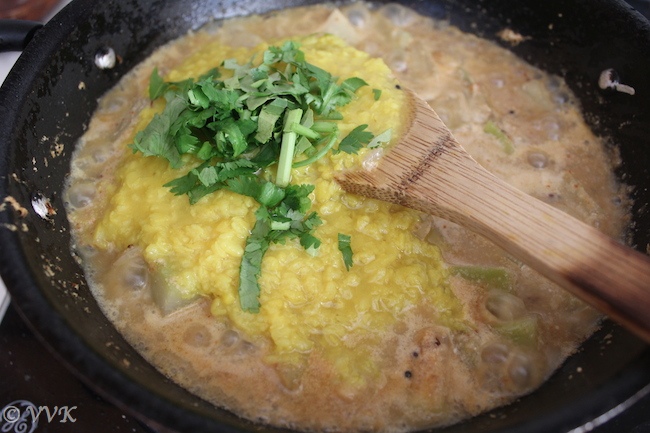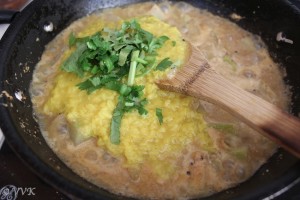 Add salt and mix well.
If you want thin consistency add more water, if not let it boil for 5 minutes.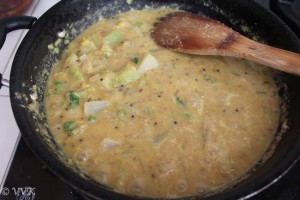 That's it. Raw papaya kootu is ready. Serve hot with rice.