PS: I think I will be the first one to add PS in the beginning of the Post. Recollected how it all started. Adding this on Nov 27th 2015. I just created a blogger account and created this space – vidhyashomecooking. This was my first post and without any big intro or anything I started typing couple of lines, the ingredients and the steps as mom was telling me the recipes . I didn't start with a sweet but went with a chutney and first set of posts were only chutneys and thuvaiyals. Wanted to keep this as is and its good to see these recipes back again.

We can do lot of dishes with toor dhal. Being a vegetarian, I need to rely on dhals for protein. When you don't feel like preparing sambhar, this could be your choice – Paruppu / Toor dhal chutney. A simple dish which goes very well with rice and ghee or could be side dish for rasam and curd rice too.
Ingredients:
Toor Dhal – 1/2cup
Red Chilli – 3
Black Pepper – 1/4 tsp
Salt – 3/4 tsp
Coconut – 1/4 cup
Hing – 1/4 tsp
Water – 1/4 to 2/3 cup
For Tempering:
Oil – 1 tsp
Mustard seeds – 1 tsp
Steps:
Dry roast toor dhal, red chillies, black pepper and hing together till the toor dhal turns brown.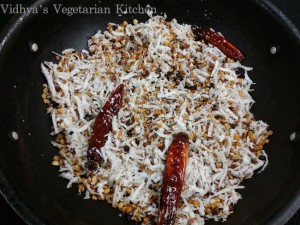 Now turn of the heat and add the coconut. Let it cool down.
And grind it along with water.
Now do the tempering and add it to the chutney.
Thats it yummy chutney is ready :-)
Serve it with hot rice.
Notes:
Less water, more shelf life.
Start adding less salt and depending upon the taste add more.
0