This month guest blogger at VVK is Kushi from cookwithkushi.com.  I came across kushi's blog via FB groups and we slowly started interacting via blog comments and groups. I love all her recipes especially her Konkani ones and chaats. (Read Ragda pattice) Her presentations are also unique and her recent coriander almond chutney click was super awesome. When I asked her for guest post she happily agreed and sent me the recipe couple of weeks ago. It's me who is posting late. I think she read my mind and she sent me a Konkani recipe err recipes. She sent me the main and the side also. Can't wait to try it out.
You can check out more recipes here at her site and here are her social media links.
Twitter : @kushigalu
A big hello to all the readers of this wonderful VVK blog. Vidhya and I became friends through social media, and one of the main reasons for us getting to know each other is due to our same passion for food. Vidhya is a very talented food blogger and is an expert of traditional Indian recipes. All her recipes are easy to follow and are healthy. She also writes excellent review posts on products that she has used and about books she has read. Recently I prepared pineapple rasam using the recipe from her blog as it was very innovative. The rasam was tasty and my family simply loved it. I have also bookmarked her brussels sprout paratha and I am planning to try it soon. Thank you so much Vidhya for giving me this opportunity and sharing your space with me. I am really honored.
As I am Konkani, I thought it would be most appropriate to share a popular dosa recipe from Konkani cuisine.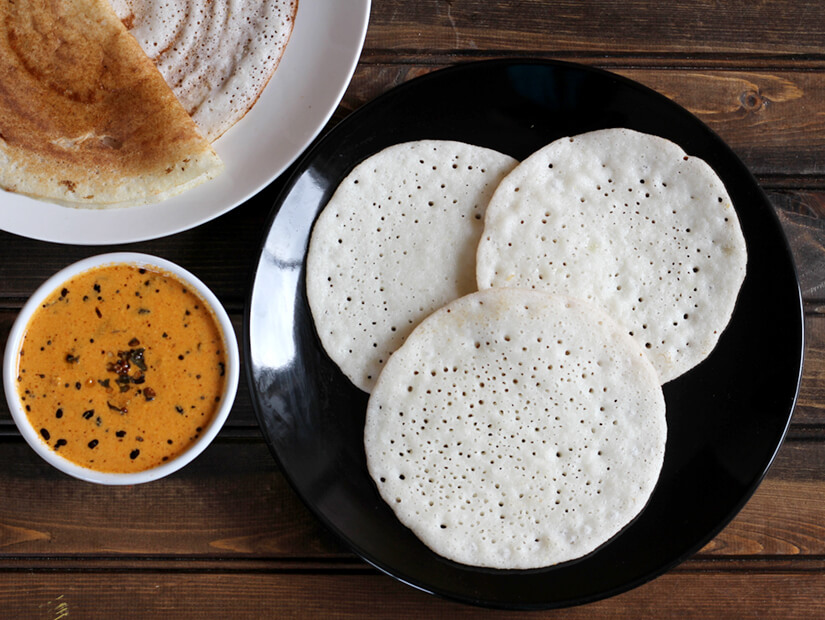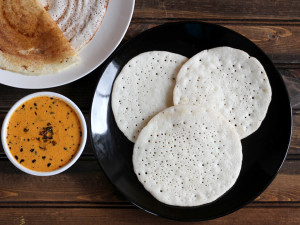 Mushti Dosa is a very soft, nutritious and tasty dosa recipe prepared using rice, poha / beaten rice and grated coconut. In Konkani this is known as mushti polo, where mushti means 'handful or fistful' and polo means dosa, "Handful of nutrition".
In this dosa recipe, except for rice, all the other main ingredients (urad dal, coconut, and poha) are handful measures :-) When the dosa batter is ground to a smooth consistency and properly fermented, you can make perfect mushti dosas every single time. Traditionally mushti dosa is thicker than other South Indian dosas and is cooked only on one side. A perfect mushti dosa should have lot of holes on its surface. The addition of coconut and poha when grinding the batter makes this dosa extremely soft and airy at the top, and gives it a crispy bottom when cooked on one side. However, when I prepare this at home I make both thick dosas, as well as thin crispy versions. Mushti polo / dosa tastes the best when served with hing chutney that is prepared using dry red chillies.
Preparation time : 30 minutes
Fermentation : overnight
Serves : 15 dosas
Ingredients for Mushti Dosa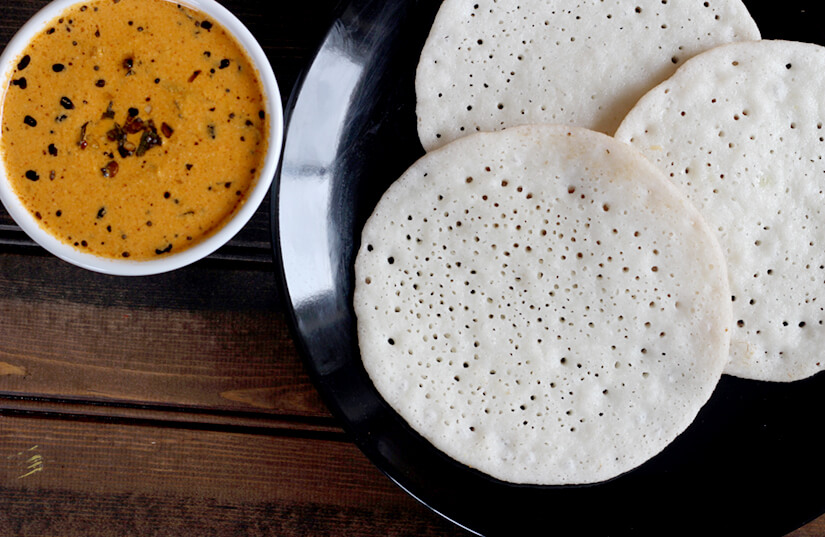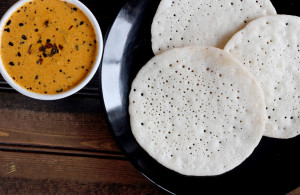 Raw rice – 2 cups
Urad Dal – 3 tbsp
Methi seeds – ¼ tsp
Poha / Flattened rice – 1 cup
Grated coconut – ½ cup
Coconut oil / vegetable oil – for cooking dosas
Salt – to taste
Steps to prepare Mushti Dosa
Step I
Wash and soak rice, urad dal and methi seeds together for 4 hours and drain them.
Wash the poha or beaten rice just before grinding the dosa batter.
Now grind together the soaked ingredients along with poha and grated coconut by adding water little by little to form a smooth batter.
Transfer this to a big bowl and allow it to ferment overnight.
Step II
Next morning, add salt to the batter and mix well.
Heat the tava / pan on medium heat. Grease it with little oil if using cast iron tava.
Once the tava is hot and on a medium flame, pour a laddle full of batter and allow it to spread by itself. Drizzle oil around the edges. You will see the holes appearing on the top surface.
Just cover it with a lid and cook for 2 minutes or until the dosa develops a nice golden color at the bottom.
Repeat the process for remaining batter.
Mushti Dosa is now ready. Serve hot with hing chutney and enjoy.
Tips for dosa
If the weather is cold, then grind the batter using warm water or preheat the oven to 150 degree F, switch off the oven and rest the batter overnight.
As mushti polo is traditionally prepared as a thick dosa, do not spread the batter once you pour on a hot tava – like you would generally do with other dosas.
I have cooked this dosa in both non-stick and cast iron tava. If the batter is prepared as instructed, these dosas are very easy to handle.
Kids generally like to eat crispy dosas, so feel free to take thin crispy dosas using the same batter.
Because you are adding poha, dosa may turn black soon if cooked in high flame.
Except for rice, try to use fistful measurements for coconut, poha and urad dal.
Ingredients for Hing Chutney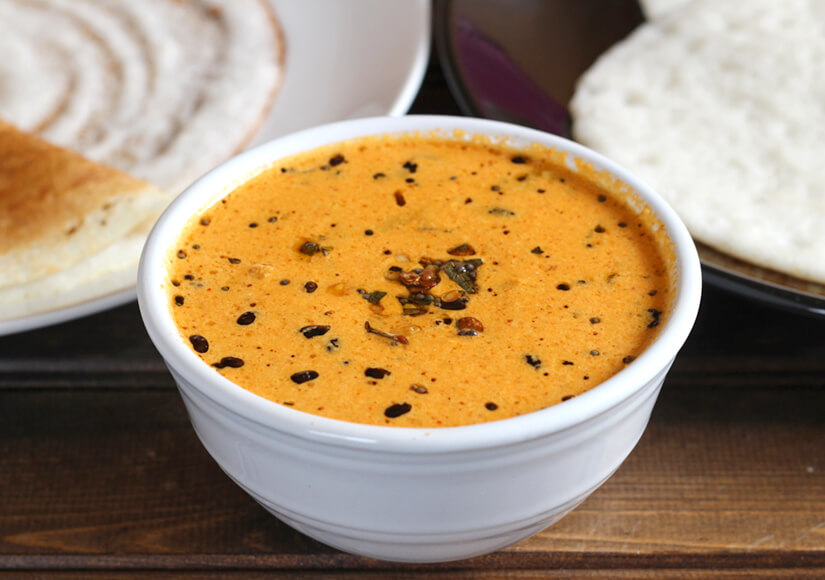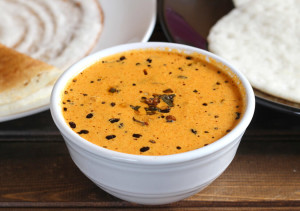 Grated coconut – ¾ cup
Dried red chile / red chile powder – 3 or 1 ½ tsp
Cashews – 1 tbsp
Coconut oil / Vegetable Oil – 1 tbsp
Asafoetida / Hing – ¼ tsp
Mustard seeds – 1 tsp
Urad dal – 1 tsp
Chana dal – 1 tsp
Curry leaves – 6
Salt – to taste
Steps to prepare Hing Chutney
Grind together coconut, dried red chilli / chilli powder and cashews adding little water to form a smooth paste. Let this chutney be of medium consistency. Transfer this to a bowl, add salt and mix well.
Heat oil in a pan. Add mustard seeds, and when they start to splutter add urad dal, chana dal, hing and saute till it becomes golden in color. Now add curry leaves and switch off the flame.
Add this tempering to the chutney and mix well.
Hing Chutney is ready. Serve with mushti dosa and enjoy.
Tip for chutney
Vary the amount of dry red chilli or chilli powder as per your taste.
Depending on how strong or mild the hing is vary the amount in the recipe.