Thokku – I was trying to find the exact word/meaning in english. But so far no luck. Thokku can fall under pickle family when we prepare it with Mango or Gooseberry. And the same thokku might be classified as chutney when we prepare it with tomato, onion or cilantro. Interesting huh? Mango season is about to start. Luckily I found some raw mangoes in Indian store. So here comes mango thokku, which goes very well with curd rice.
If you notice, I am using Methi or Vendiya powder instead of seeds. Its just my personal preference. Also I use equal amount of red chilly powder and methi powder. Salt, Red chilly powder and methi powder completely based on the sourness of the mango. Taste the mango and adjust these accordingly.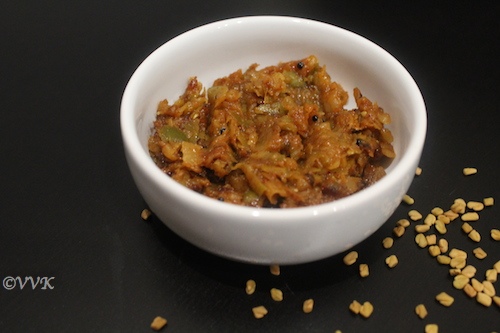 Mango Thokku
Mango Thokku - Grated raw/green mango pickle which is great accompaniment for curd rice.
Ingredients:
Raw Mango (green one, any variety) -1
Mustard seeds – 2 tsps
Vendiya podi / Methi powder / Fenugreek powder – 2 tsps
Hing – 1 tsp
Turmeric Powder – a pinch
Mustard seed powder /Kadugu podi(optional) 1/2 tsp
Red chilly powder – 2 tsps (according to taste)
Salt – as per taste
Oil – 1 tbsp + 1 tbsp
Steps:
Peel the mango skin and grate the pulp part. Check the sourness of the mango. If its too sour, you can add little more salt and chilly powder.
Heat the kadai and add 1 tbsp oil.
Once the oil is hot, add mustard seeds. As they start to splutter add the methi powder and hing.
Let it fry for half a minute and then add mustard seed powder. (Mustard seed powder is just used for preservative purpose)
Now add grated mango, salt, turmeric and chilly powder.
Mix it well and let it cook for about 10 minutes. (Do not cover).
Now add another 1 tbsp of oil and mix well. Let all the moisture evaporate.
Once the oil gets separated, turn off the heat.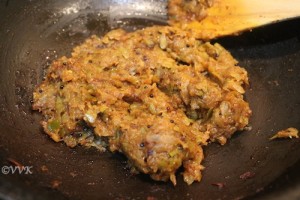 Yummy thokku is ready. :-)