It's the time of the year where I host the Kids Delight event. And this year the theme is "Baked Dishes" – including both sweet and savory bakes, of course eggless. Check out how to participate on the event below.
Kids Delight Event:
If you are new to my space, let me tell you about this event. Srivalli of Spicing Your Life blog started this event, and every month, one of us from the blogging marathon group host this event. I am hosting this event from 2015. And here are the themes that I picked earlier.
In 2015 I picked pasta for kids as the theme, in 2016 it was cakes and cookies, and in 2017, it was soups and stews. Last year, I chose veggies sneaked-in, and this year, it is the baked dishes. Check out the details about the event and also how you can participate in this same.
Baked Dishes:
It's the holiday season, which means it is baking season also. And we bake so many savory and sweet bakes for school parties, extra-curricular class parties. So bring it on folks. Share all those kid-friendly yummy bakes, and let's spread it across. All you need to do is send in your recipe link along with the picture to my email – daffodilshree@gmail.com. I will be doing a round-up post on or before Dec 25th. But there are few guidelines too.
Guidelines for the event:
From now until December 15th, you are welcome to join the "Kids delight event | Baked Dishes" that will make a kid happy!
The entries have to be vegetarian and eggless.

Multiple entries are allowed too.
You need to post the recipe between Nov 15, 2019, and Dec 15th, 2019. Sorry I am not accepting from the archives.
Kindly add these link –> Srivalli's Kid's Delight event, guest hosted by Srividhya themed baked dishes.
Non Bloggers can send in your entries too, mail me the recipe with an image at daffodilshree(at)Gmail(dot)com | daffodilshree@gmail.com or to vidhya@vidhyashomecooking.com
Adding the below logo is highly recommended.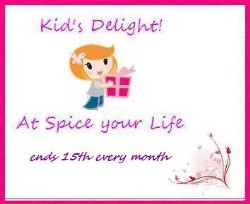 I am looking forward to your yummy bakes. Thanks a lot.
Happy Baking!
Srividhya