I posted the sweet kuzhi paniyaaram in 2013 and I had this kaara paniyaaram in my draft for this long. I don't know why I kept it this long but finally here it is coming out of my draft with new pictures. This week's DFT is also a paniyaaram recipe so that also pushed me to get this out my draft. :-)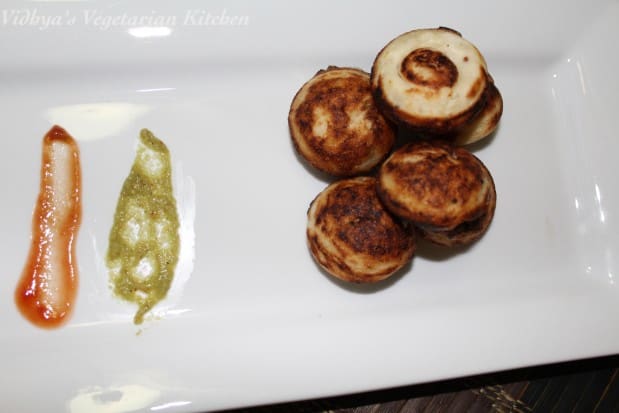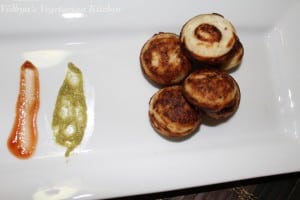 As I mentioned in the sweet kuzhi paniyaaram, the batter is same. I usually prepare the batter and use one half for sweet and the other half for savory. So here is the batter recipe again.
Ingredients for the batter:
Raw rice (Patchai arisi) – 1 cup
Boiled rice (Puzhungal arisi) – 1 cup
Urad dhal – 1 cup
Sago (Javvarisi) – 3 tbsps
Methi seeds – 1 tsp
Salt – 1 tbsp
Steps:
Soak both the rice and urad dhal along with methi for 4 to 5 hrs.
Soak sago for 30 to 45mts.
Grind them together (idly consistency) and add salt.
Let it ferment.
Ingredients for savory paniyaaram:
Oil – 2 tsps + oil for making the paniyaarams
Mustard seeds – 1 tsp
Urad dhal – 1 tsp
Channa dhal – 1 tsp
Cilantro finely chopped – 1 tbsp
Curry leaves – ½ a strand
½ of medium size onion finely chopped.
Red chilly – 1
Green chilly – 1
Salt – ¼ tsp
Steps:
Heat the kadai and add 2 tsps of oil.
Once the oil is hot add the mustard seeds, urad dhal and channa dhal.
As they start to splutter add the curry leaves, the red chilly and the green chilly.
Let it cook for a minute and then add the finely chopped onion.
Add the cilantro and salt.
Cook till the onion turns translucent.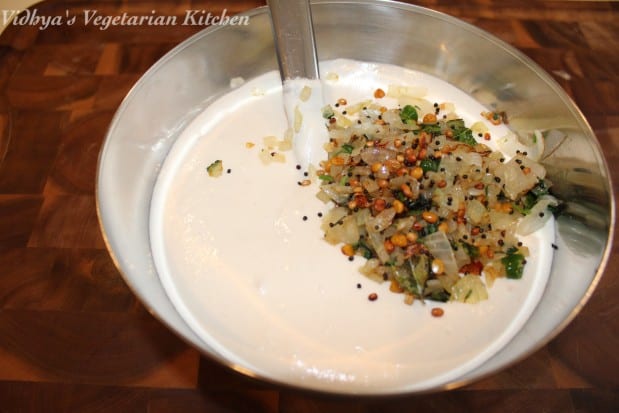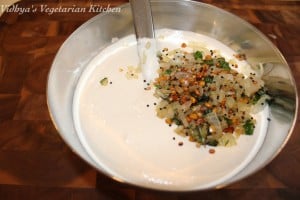 Thats it the masala for savory paniyaaram is ready. Now mix this with the batter.
Making the Paniyaarams:
Heat the paniyaaram pan.
Add little oil in each of the kuzhi's or the holes.
Fill ¾th of the kuzhi's with the batter. You need that space because the paniyaaram will rise.
Allow it to cook for 1 minute.
Using the paniyaaram stick, flip the paniyaarams and let it cook for 1 mt.
Thats it. Yummy paniyaaram is ready. Serve it with your favorite chutney.