We all know Indian cooking is quite popular around the world, but at the same time, it is very diverse. Indian cuisine calls for a lot of dry spices, ground spices, lentils and legumes and what not? Fret not, here is a simple guide that covers the bare essentials to build you Indian pantry and get started with the Indian Cooking.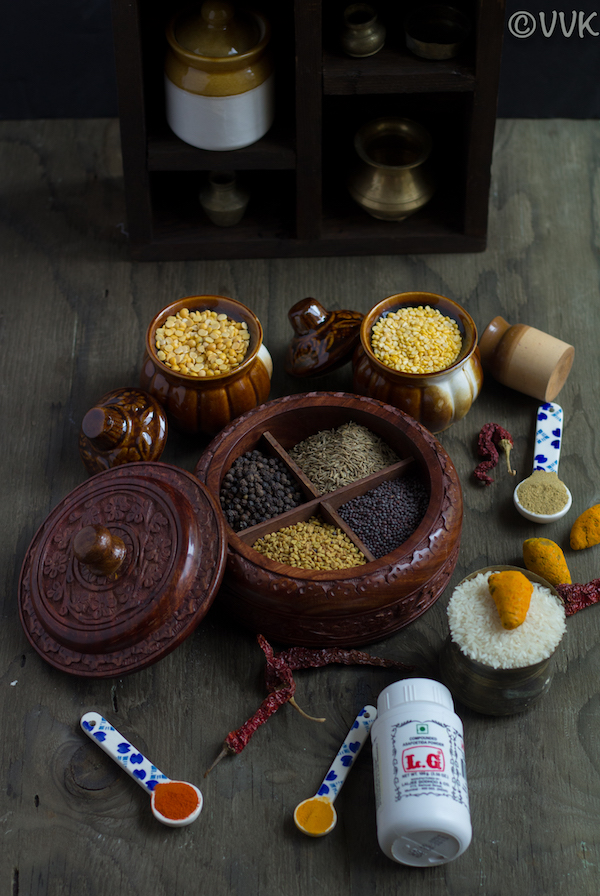 As I mentioned above, Indian cuisine is diverse, and every region in India has its signature spices and specialties. Covering all the spices required in one single post is hard.  So I am going to split them into several posts. If you a beginner setting up your Indian kitchen for the first time and wondering what all the spices to buy for everyday cooking? Or if you are new to Indian food and wondering where to start with the spices? Then you are in the right place.
In this post, I am going to cover the fundamental ingredients that will help you to make most of the Indian dishes. In future posts, I will cover regional specific ingredients.  So let's get started.
PS: I am from Tamil Nadu, South India, and our main staple is rice and rice-based mains like idli, dosa, and lentil based gravies and soups like sambar and rasam. The ingredients listed here reflects that, but these ingredients are sufficient to get started with Indian cooking.
You can find all these ingredients in the local Indian grocery store, but these days you can find them on Amazon online as well.  I have added the links as well. (These are affiliate links)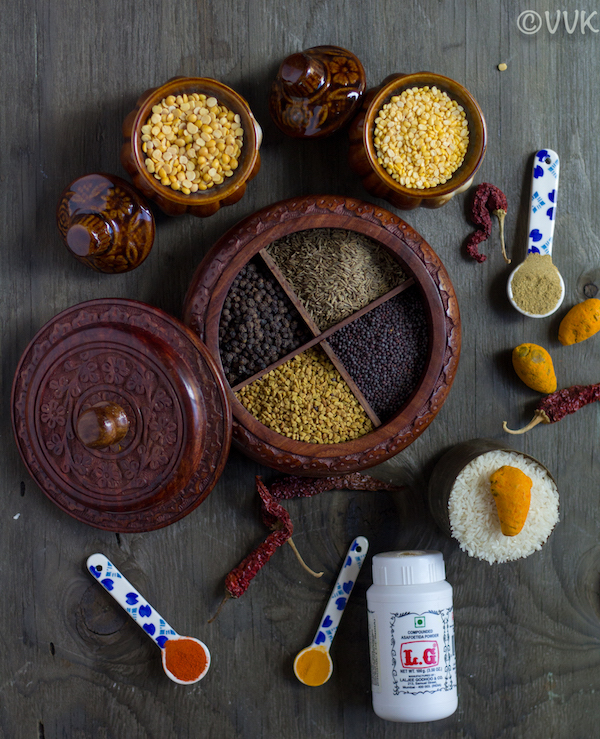 Rice & Wheat:
Rice – Rice is the staple in South India, and there are different varieties of rice like sona masoori, basmati, etc. We prefer sona masoori for daily consumption and use basmati only when making pulav and biryanis. But you can pick either basmati or sona masoori or brown rice varieties depending upon your preference.
Wheat Flour –  For making any Indian flat-bread be it roti or paratha, you need a good quality wheat flour.
Lentils & Legumes:
Toor Dal or the Split Pigeon Peas–Toor dal is one among the widely used dal in Indian cooking. It is also known as the arhar dal. Be it for the South Indian Sambar or Rasam or simple dal tadka; we need toor dal.
Yellow Moong Dal– The second next lentil that I use mostly after toor dal. In South Indian cooking we use it for making vegetable gravies called kootu with moong dal. Also, you can make simple khichdi (rice and lentils), pongal, other dal dishes with yellow moong dal.
The other two main dals are urad dal or the white dal and the channa dal or the black gram dal. In South  Indian cooking few recipes call for urad dal and channa dal for tempering, but you skip them and use cumin seeds instead. For the bare minimum, you need toor dal and moong dal. As you build up your kitchen, you can stock the other two dals.
Legumes:  Being a vegetarian, I always rely on dairy and plant-based proteins like legumes and lentils.  So have two beans like chickpeas and kidney beans always come in handy.
Fats & Oils:
Ghee- You can temper spices in ghee or the clarified butter. You can buy store-bought ghee or make your ghee with store-bought butter. If you want to keep the dish vegan, then you can skip ghee and use oil instead.
Oil- I prefer neutral oil with a high smoke point for Indian cooking and frying. I opt for corn oil, but you can use canola or any vegetable oil or coconut oil too.
Tempering Spices:
Tempering is an essential step in Indian cooking. I will explain more about its importance in a separate post.
Black Mustard Seeds – I used mustard seeds to temper all my dals, rasam, sambar, kootu and other gravies.
Fenugreek Seeds – I mainly use fenugreek seeds or methi seeds while preparing the tempering for sambar and kuzhambu varieties along with mustard seeds.
Cumin Seeds – I mainly use cumin seeds to temper rasam and kootu along with mustard seeds.
Peppercorns– I use whole black pepper for savory pongal, but I ground them add it to the dishes.
Dried Red Chilies – We do add dried red chilies while tempering but not always. I use dried red chilies for making fresh spice powders. There are lot varieties out there, but my favorites are byadgi variety and the Kashmiri red chili variety. You can opt for either one. Both types are mild but add that fiery red color to the dish.
Asafoetida – It is a dried latex, and we use it as a digestive aid. It has a pungent smell, but it adds a lot of flavors too. Because of its health benefits, we do add it to all the recipes. It does contain gluten, so if you are gluten intolerant, you can skip asafoetida. Here is the hing that I have,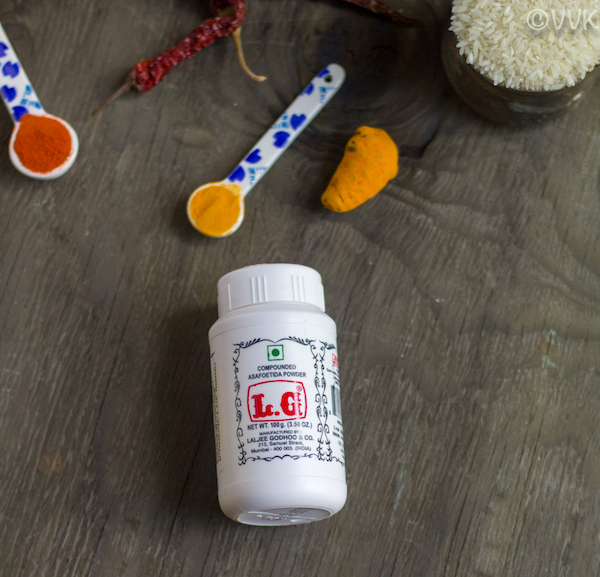 Spice Powders:
I cannot imagine Indian food without these spice powders. I know rasam powder and sambar powder two primary spice powders used in South Indian Cooking, especially the Tamil cuisine. But you can replace it with the combination of red chili powder and coriander powder. These spices are required for all the curries, gravies and for spicing up the dry vegetables too.
Turmeric Powder– Pretty much all the Indian dishes call for the turmeric powder. A small packet comes a long way.
Red Chili Powder – I would recommend the milk Kashmiri red chili powder variety for this.
Coriander Powder – It is one of the main spice powder used along with the red chili powder for all the curries.
Garam Masala – I love garam masala, and I use it to make quick one rice dishes like onion rice and even biryani. A handy masala and a small amount can enhance the flavor of any meal.
Misc:
Salt – Food is bland without salt and spices. You need a good quality of salt, and I prefer sea salt. But you can opt for the fine salt too.
Sugar – When I talk about salt, I need to talk about sugar as well. I know we need sugar for our tea and coffee but adding a half a teaspoon of salt to curries and gravies elevates the flavor profile. Give it a try, and you won't regret it. I like coconut sugar and raw brown sugar than refined white sugar.
Tamarind – You need tamarind pods or tamarind paste for South Indian cooking especially for rasam and sambar. If that's not the integral part of your meal, you can skip tamarind.
Semolina – When you want to whip up a quick meal, semolina comes in handy. You can prepare upma, dhokla (steamed semolina cakes), rava idli (steamed semolina cakes with veggies and spices) and other dishes.
Flattened Rice /Poha – Like semolina, this comes in handy too. I love to soak my poha in milk along with sugar and relish it as a quick breakfast.
Tea & Coffee:
I am both tea and coffee person. My morning doesn't begin without a hot cup of coffee and my evening doesn't end without a hot cup of masala chai. So I always have coffee and tea on my grocery list. In South India, we have instant coffee as well as filter coffee which needs special filter equipment. But you can always get the instant coffee to make a quick cuppa.
To sum it up, here is the essential ingredient list for those who are building up your kitchen pantry for the first time. I will soon share the next set of ingredients and spices.
Rice (sona masoori or basmati)
Wheat Flour
Split Pigeon Peas
Yellow Mung Dal
Chickpeas
Kidney Beans
Ghee
Oil
Mustard Seeds
Fenugreek Seeds
Cumin Seeds
Black Pepper
Dried Red Chilies
Asafoetida
Turmeric Powder
Red Chili Powder
Coriander Powder
Garam Masala
Salt
Sugar
Semolina/Rava
Poha
Tea
Coffee
Optional:
Frozen grated coconut
Tamarind
Vermicelli
Note – Instead of semolina, you can buy vermicelli too or both. Also, for Tamil cuisine, we use a lot of coconuts. You can get grated frozen coconut too. I know I haven't included dry coriander seeds or other whole spices like cardamom, cloves, etc. But as I mentioned above, this is a bare minimum list for the beginners who are starting to build the Indian food pantry.