Here is the easy Instant Pot vegetarian meal plan for the upcoming week where I have all the lunch and most of the dinner recipes made in Instant Pot. 
Put your Instant Pot to its full use and plan and prep your dishes quickly and easily!
PS – Substitute the rice/millet with grains of your choice.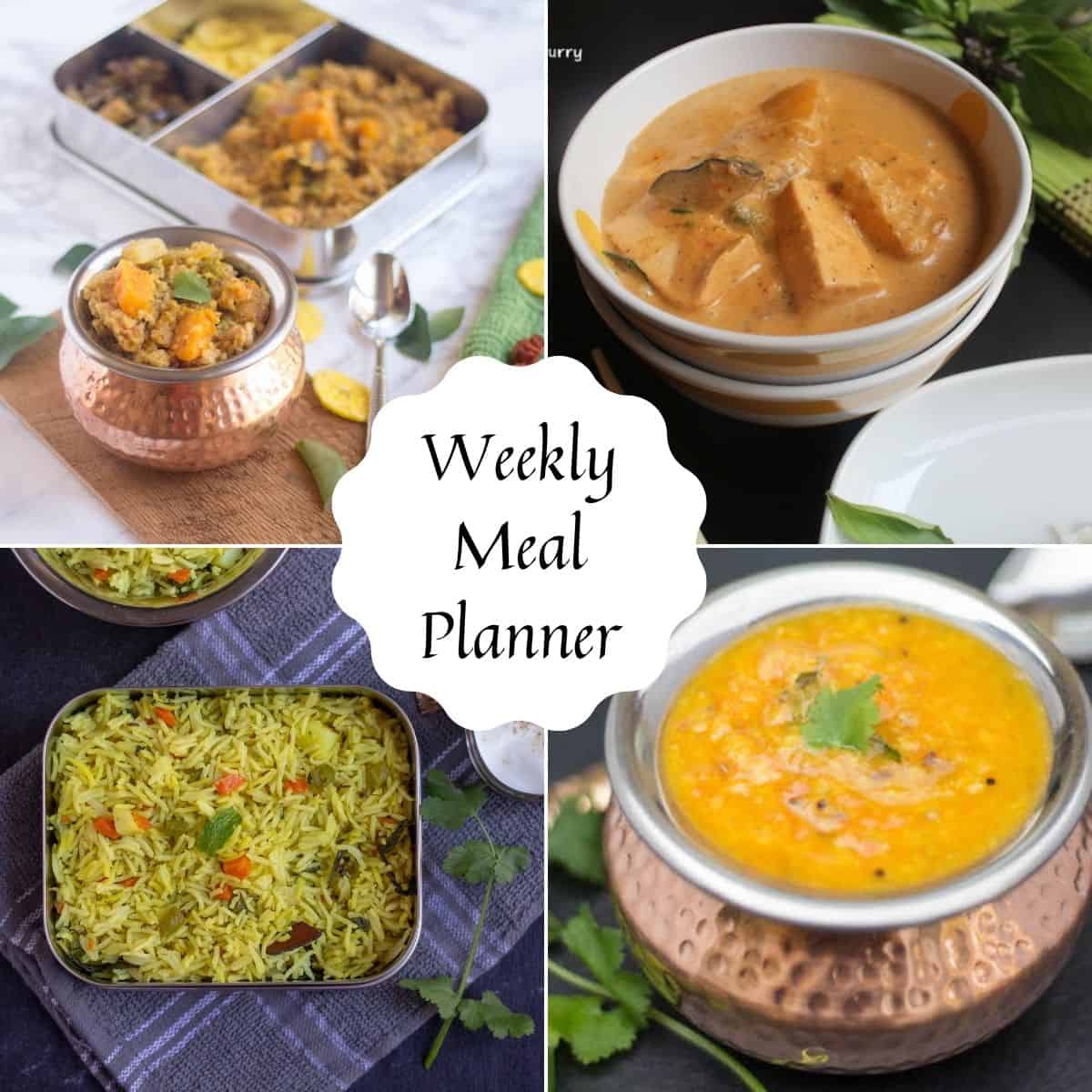 Are you new to meal planning and prepping or looking for new ideas?
Check out all my previous meal planners. I have been sharing some meal planners for the past two years. I have shared over 30+ Indian vegetarian meal planners, and you can check them out all under the "meal planner" category. All meal planners are unique, and I am sure you can draw some inspiration.
The Instant Pot Vegetarian Meal Plan
My husband and I have a crazy work week, so I am going easy with the meals this week. I am mostly repurposing what I cooked for lunch for dinner as well, and I am not opting for any leftover makeover meals.
Here are some recipes that you can easily make in your Instant Pot and air-fryer.
Spinach rice – I am planning to make it more like kootu rice. I have shared this recipe on my IG but yet to share it on the blog. I am planning to make the brinjal curry in the air-fryer.
Lemongrass jasmine rice with tofu curry: Both are semi-homemade recipes using store both lemongrass paste and red curry paste. I am planning to make the rice in Instant Pot and curry on the stove-top.
Tomato Dal: When it comes to lentil-based dishes, Instant Pot comes in handy, and I love the handsfree cooking part. You can either roast the beets in an air-fryer or steam it and make a stir-fry.
No-onion no-garlic veg pulav: This is my go-to pulav for Thursday as I opt for recipes without any onion and garlic. I have the recipe and video on my blog. Do check it out. I don't have the no onion no garlic kurma on my blog; I will share it soon.
Sambar rice: I have two different kinds of sambar rice on my blog, but both are stove-top pressure cooker versions. But you can easily convert it to Instant Pot. Depending upon how mushy you prefer, you can cook for 8 to 10 minutes at high pressure in the Instant Pot. While potato curry pairs well with sambar rice, I am going with chayote squash stir-fry. You can steam and make a quick stir-fry. 
This week's meal planner
While you make the main dish in the Instant Pot, you can make the sides on the stove-top or using an air-fryer. I don't have few recipes on my blog yet. But I will share them soon. Do follow me on Instagram, as I share the recipes there first. :-)
PS: As we have spring break next week, I am taking a break from sharing the meal planner. I will resume it again from the 2nd week of April.
Without any further ado, here is this week's meal planner.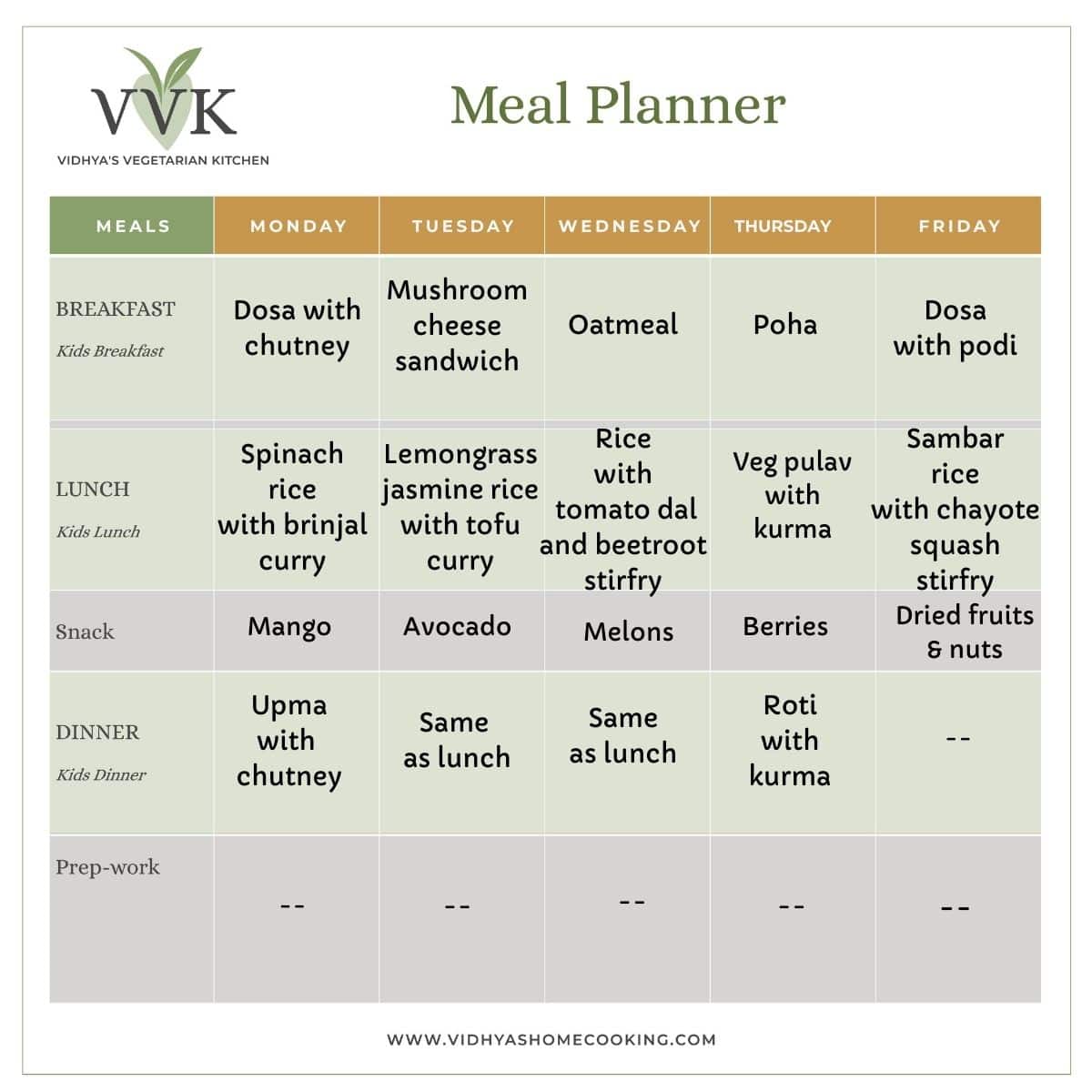 Monday Menu
Breakfast – Dosa with chutney
Lunch– Spinach rice with brinjal curry
Dinner – Upma with chutney
Tuesday Menu
Breakfast – Mushroom cheese sandwich
Lunch – Lemongrass jasmine rice with tofu curry
Dinner – Same as lunch
Wednesday Menu
Thursday Menu
Friday Menu
Breakfast – Dosa with podi
Lunch – Sambar rice with chayote squash stir-fry
I hope this menu planner helps, and you all can draw some inspiration. If you have any questions, please leave a comment below. I will share the daily updates on my Instagram and my FB group. So stay connected!
Stay Safe & Happy Cooking!
Vidhya