Like Paruppu Podi, Karuveppilai Podi is also one of the staple in my household. These podis are my life savers when I am not able to prepare rasam or sambhar. Rice with this podi and chips makes an perfect meal. Karuveppilai or Kadi Patta or Curry leaves are known for its health benefits. After moving to US, I call these as Costly leaves. A small packet costs 2 dollars whereas in India this tree was in my backyard and we use it for all the recipes.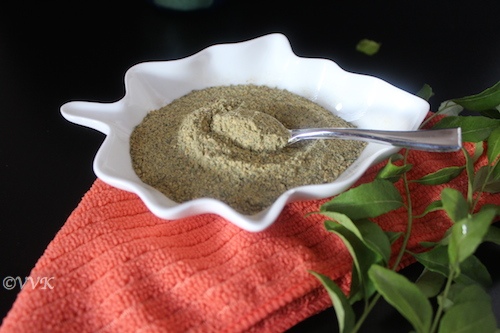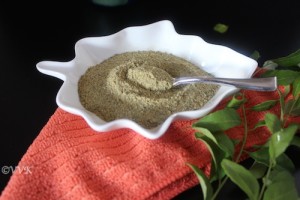 As I mentioned in my Curry leaves Chutney post, I tent to throw the curry leaves from sambhar and rasam. So Amma used to do this podi and chutney and make sure I eat them. Why? Curry leaves helps in digestion but more than that it has high folic acid and iron content which helps to beat anemia. It has other minerals and vitamins too. It aids in hair growth and helps to maintain the hair color. Amma used to grind curry leaves, hibiscus leaves, henna leaves (all fresh) along with neem and apply it for my hair. It's a monthly routine during my school days. She also makes hair oil with curry leaves.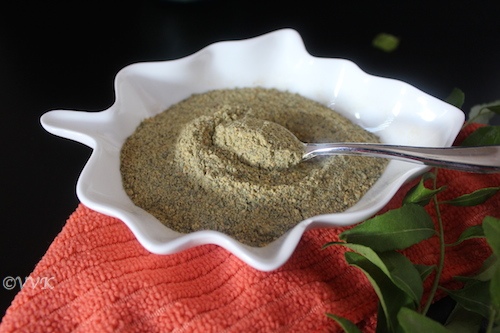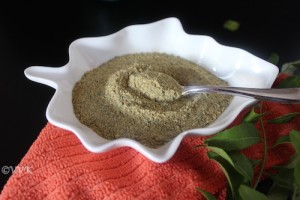 So now coming back to the podi recipe – I usually get this homemade podi from India. This trip I was able to click the pictures and here it is,
Ingredients: (No oil required)
Washed Curry leaves / Karuveppilai – 4 heaped cups
Urad dhal – 1 cup
Channa dhal – 1 cup (Urad dhal and Channa dhal should be of equal ratio)
Red chillies – 7-8
Pepper – 2 tsps
Hing – 2 tsp
Salt – as per taste
Method:
Heat the kadai.
Dry roast urad dhal and Channa dhal separately till they turn golden color.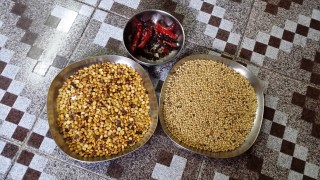 Dry roast red chillies, pepper and hing together.
Dry roast the curry leaves till they turn crisp. (Don't over roast them. We just need to make sure all the moisture is gone.)
Let all the mixture cool down.
First dry grind karuveppilai, red chillies, pepper, hing together.
Now add the dhals, salt and grind together.
That's it. The podi is ready and serve it with rice with a dollop of ghee or gingelly oil.