I wanted to try this recipe during vinayaka chatuthi itself. But somehow ended up eating the entire pooranam ;-) ;-) Basically this is  a sweet puff with left over pooranam / sweet coconut filling. Its very simple and semi home made as I used the store bought off pastry sheets. As I mentioned before, these puff pastry sheets come in handy and you can make countless dishes with them
Coconut Sweet Puffs
Prep Work: Make sure the pastry sheet is in room temperature. Either you can thaw it or just keep it outside till it reaches room temperature.
For the filling: Coconut Pooranam
Grated coconut – 1 cup
Jaggery – 3/4 cup (Adjust according to your taste)
Water – 1/4 cup
Elaichi/Cardamom powder – 2 tsp
Poppy seeds/kasa kasa – 2 tsps (optional)
Ghee – 2 tsps
For the puff:
Store bought pastry sheet – 1 sheet
All purpose flour – 2 tbsps (for dusting)
Cooking spray / oil – for binding
Steps:
Pooranam or filling:
Heat the kadai and add ghee.
Once its hot, add poppy seeds, if you are using.
Let it roast for couple of minutes, then add water and jaggery.
Let the jaggery dissolve completely and then add coconut and elaichi powder.
Cook till the water gets evaporated and keep it aside.
Puff Process:
Preheat the oven to 400 degree F and grease a cookie sheet or cover it with parchment paper / aluminum foil.
Dust the surface for rolling the sheet with the flour.
Basically I cut the sheets into 6 equal sizes and rolled them individually.
Add 2 tbsps of pooranam in the middle and close the edges.
Apply oil in the edges which acts as an binding agent.
Bake them for 15 mts or until they are golden brown.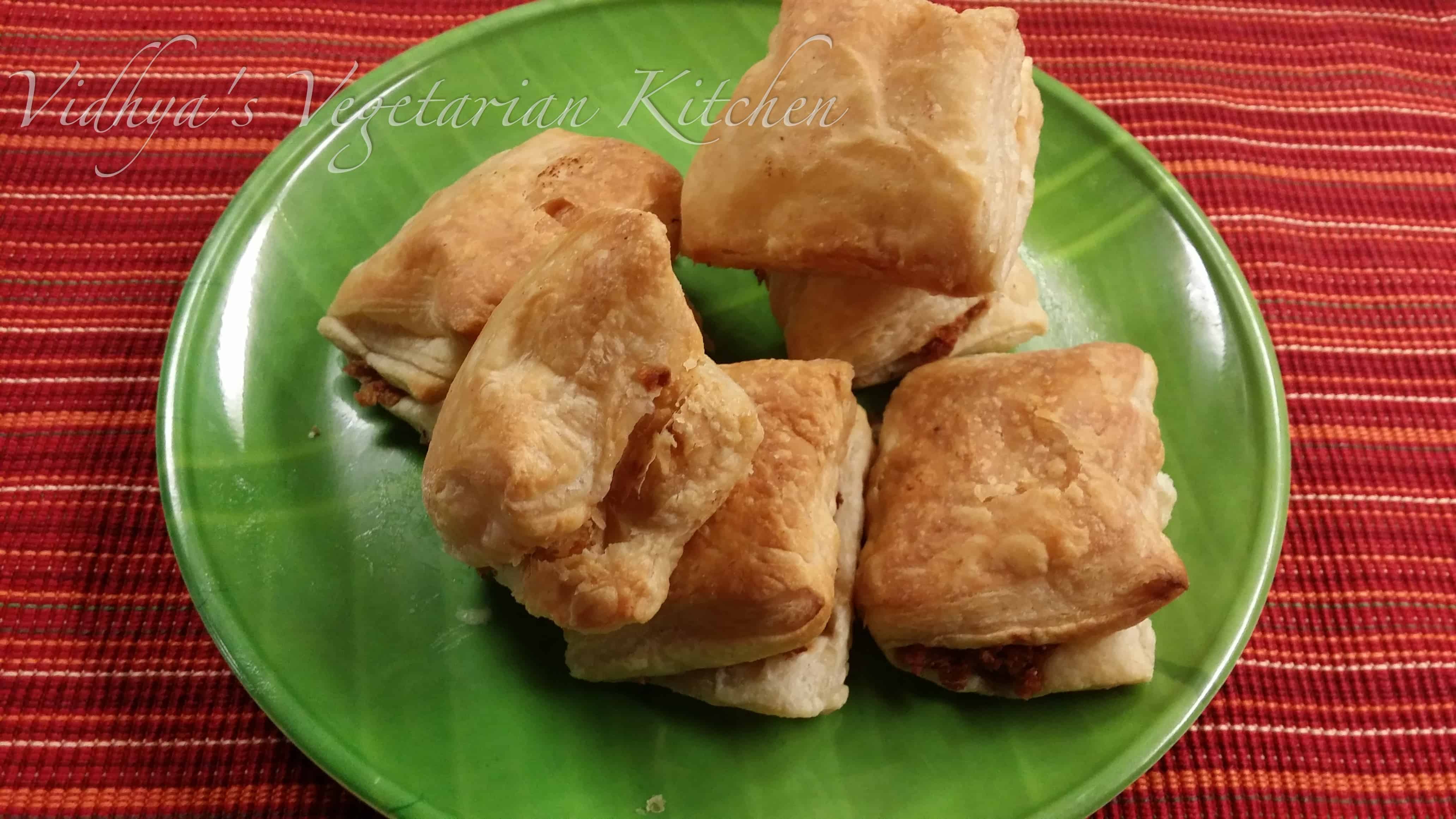 Submitting this post for Blogging Marathon #46 – A 3 day marathon for 4 weeks
Blogging Marathon page for the other Blogging marathoner doing BM#46