Pair your cheese paratha with sweet and spicy raisin chutney, sauteed mushrooms accompanied with a simple fruit salad, and a drink for a wholesome meal and a full thali.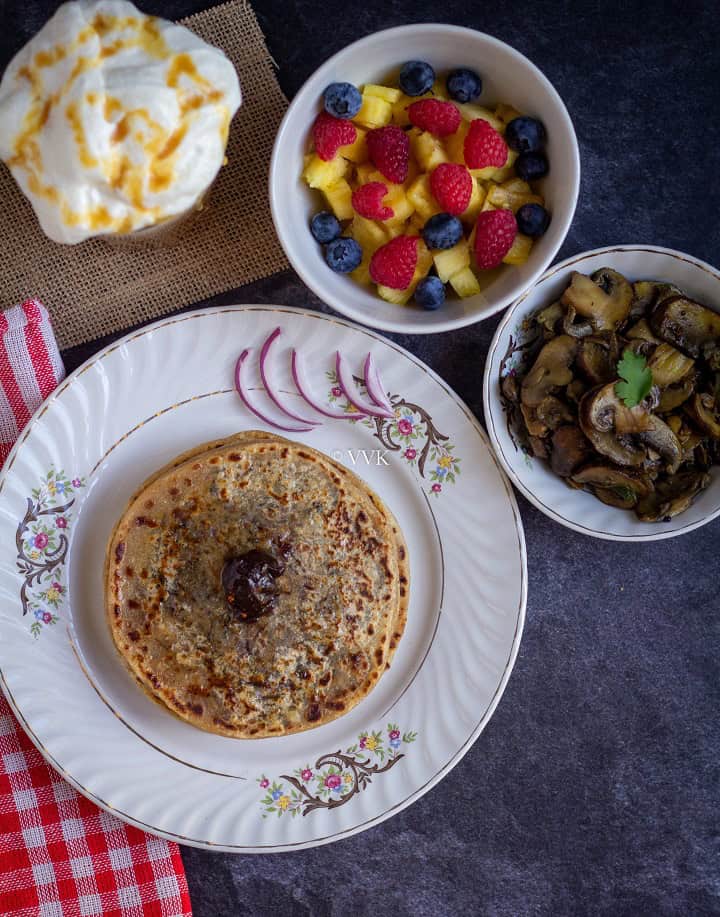 After the aloo paratha thali, here I am with another simple cheese paratha thali. Remember I added a disclaimer yesterday, now you will understand why I added that. You won't find butterbeer served with any parathas in any restaurant but only at Vidhya's vegetarian kitchen. :-)
I did not plan my thalis in a specific way just for the blog. I wanted to share what I usually do and what I cook over the weekend. This thali is one typical example. While I meticulously plan my weekday menu, I don't plan much for the weekend. I did plan this cheese paratha and raisin chutney, but the sides and the drink were decided on the go.
Ok, is this how you serve parathas. Well, yes and no. While you can simply serve parathas with butter or margarine, raita, plain yogurt, pickle, ketchup, chutney, you can also pair it with dry curries or gravies along with some salads and drinks to make it wholesome and hearty.
Let's see what's on my not-so-elaborate thali.
What's on my thali-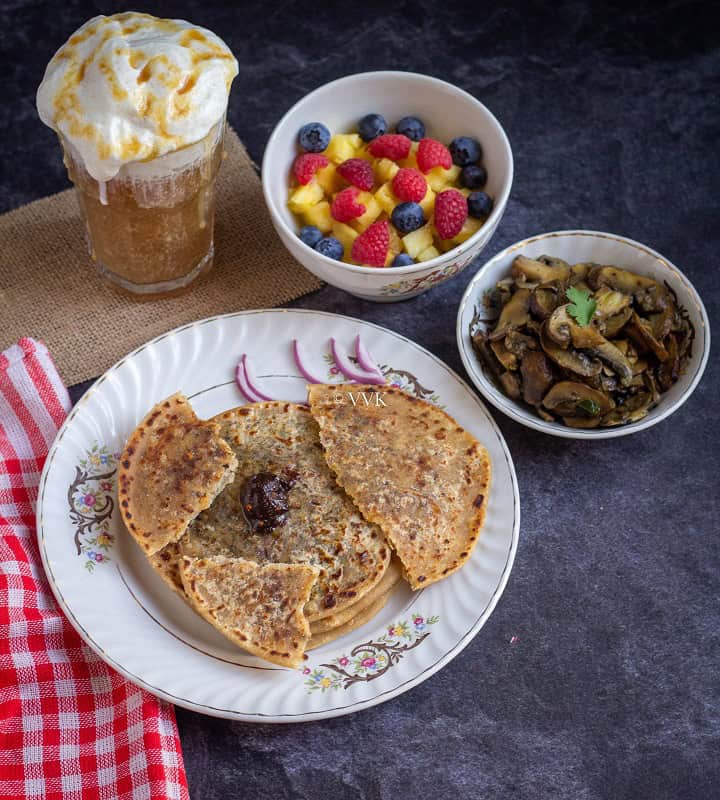 As I mentioned before, I decided to make cheese paratha and serve it along with raisin chutney but let me share how other dishes came into the picture.
I was planning on making raita and simple fruit salad, and that's when kiddo saw the mushrooms in the fridge and asked for something with mushroom. He loves a simple saute, and that's what I did. It's just simple mushroom stir-fry with the flavors of kalpaasi or dagad phool powder.
Mushroom definitely adds some protein to this thali. Even though it's cheese paratha, I won't say the cheese yields a significant amount of protein and the mushroom sure does.
This year we had a Harry Potter theme for kiddos birthday, and I tested butterbeer and pumpkin juice a few times before his party. We all loved it so much that I ended up making it again with the last batch of cream soda that I had in hand and paired it with the thali.
And made a simple fruit salad with pineapple, raspberries and blueberries.
Brunch / Lunch Menu List-
Check out the Blogging Marathon page for the other Blogging Marathoners doing BM#116
You are invited to the Inlinkz link party!Click here to enter