Be it any festival, a festival is not  complete without food especially the sweets and savories. All these foods are loaded with calories but during festivals we can't resist them also. Portion control, a well balanced diet and exercise are very important and during these festivals we need to keep repeating this mantra again and again.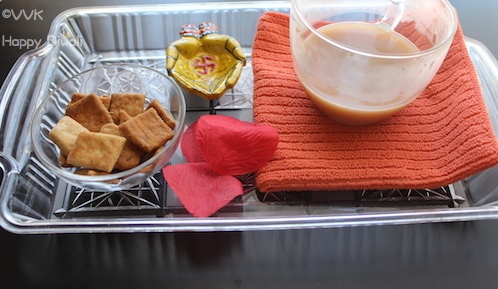 All the Diwali savory snacks are perfect Diwali tea time snacks also. These are perfect after a long tiring day with a cup of tea. Here is my attempt to make one the savory snack a bit healthy by baking and reducing the oil that it takes for frying. According to Wikipedia "Shankarpali/ shankarpaale / shakarpara are a snack popular in Maharashtra, India. It is traditionally enjoyed as a treat on the Diwali holiday"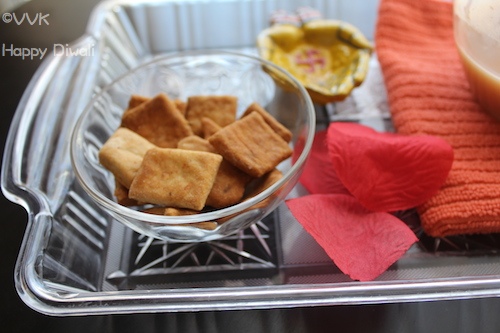 When I was asking my friend P for the traditional recipe she gave me hers  and also when I mentioned I am planning to bake she gave me this blog which has recipe for baked sweet shankarpara. I just checked for the time and prepared the spicy one and combing wheat flour and maida together. But the time and temperature is completely different for the sweet and the savory one.  Here is my version of the baked shankarpara,
Baked Spicy Shankarpali/ Shankarpaale / Shankarpara
Ingredients:
Wheat flour – 1 /2 cup + 2 tbsps for dusting.

Maida or All Purpose Flour – ½ cup

Salt – ¾ tsp (adjust to your taste)

Baking Powder – ½ tsp

Ajwain powder / Carom seeds powder – ½ tsp

Oil – 1 tbsp + 1 tbsp for spraying

Cumin seeds –  2 tsps.

Red chilly powder – ½ tsp (adjust to your taste)

Water for making the dough.
Steps:
Sieve the wheat flour and maida.

Now add the salt, carom seeds powder, cumin seeds, baking powder, red chilly powder and 1 tbsp of oil.
Slowly add water and prepare the dough. (Pretty much like chapatti dough)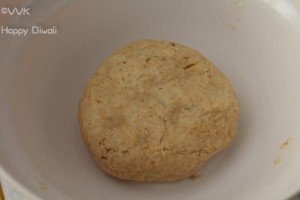 Now I took half of the dough and spread it on the working area dusted with flour.

Roll it out like chapatti and using the cookie cutter make different shapes.
With the other half I rolled it out and cut them into diamonds and squares.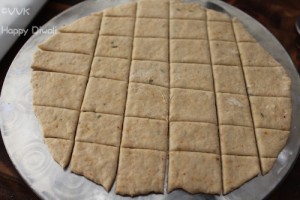 Preheat the oven to 350 degree F. In a cookie tray spread the parchment sheet and transfer all the cut shankarparas into them.
Spray some oil on top and bake it for 20 minutes.
Now flip them and spread some oil and bake it for another 12 minutes.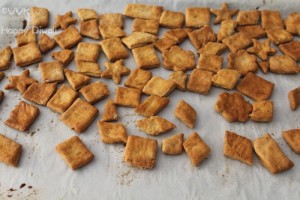 That's it crunchy and crispy shankarparas are ready.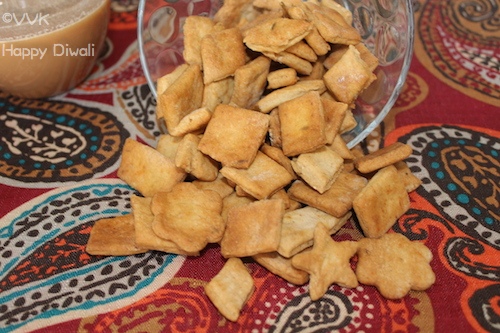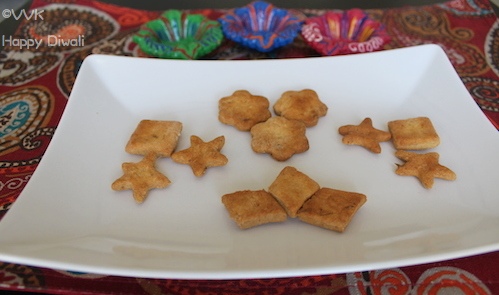 Check out the Blogging Marathon page for the other Blogging Marathoners doing this BM