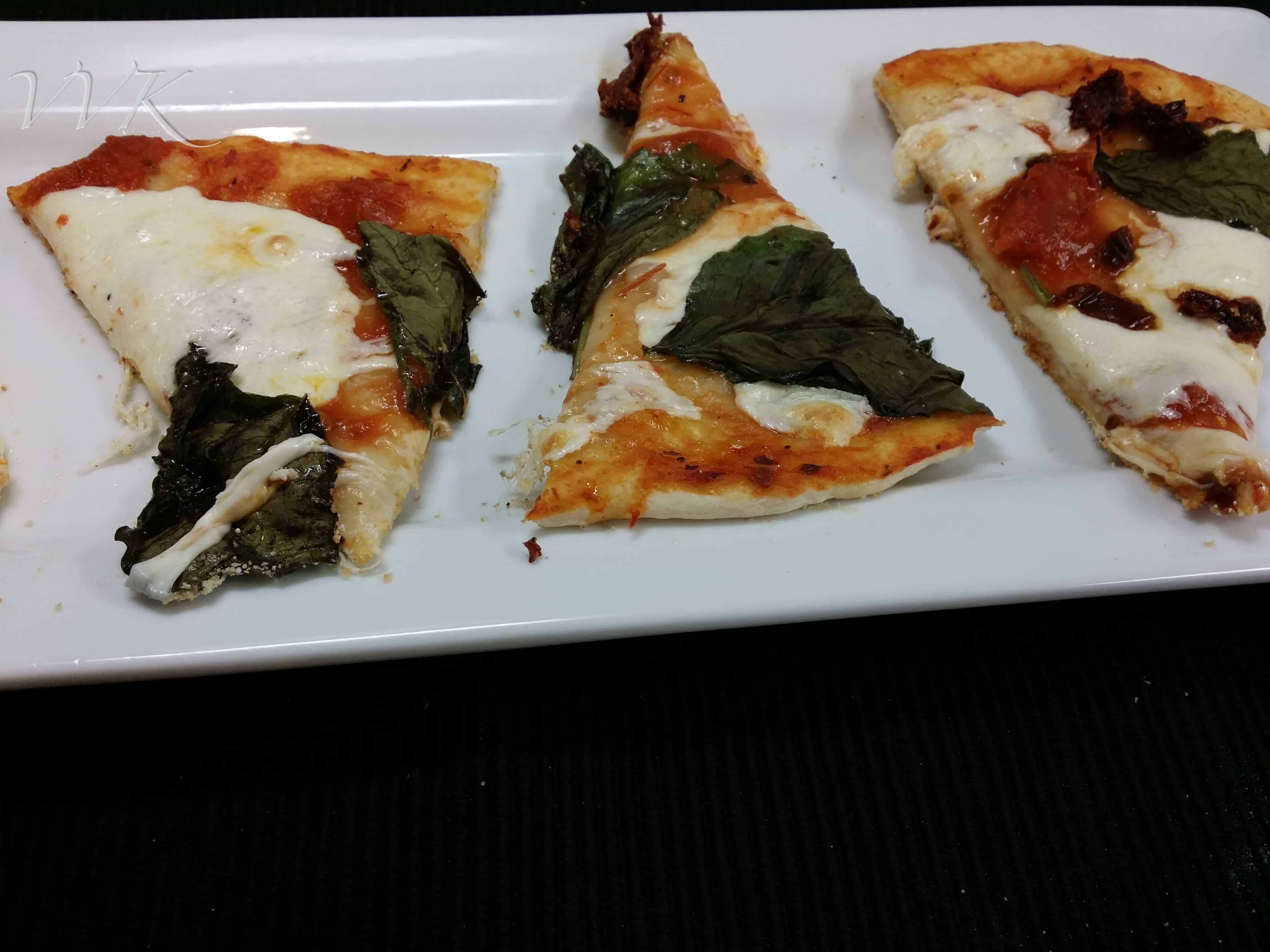 How can I not post pizza when it comes to American street food? You get hot fresh pizza with melted cheese right from brick ovens. You heard me right, brick ovens. No I am not kidding. You find these mobile pizza grills like below.
So every Tuesday and Friday we have someone who sells salads, pizza and sandwiches in a parking lot close to my company. They have amazing margarita pizzas.  I make M to come all the way down from his work to have these pizzas. And he never complaints. ;-) Yummy pizzas and salads. Wish he could come daily. Simple menu yet comforting and delicious.
American Street Food - Margherita Pizza
The base pizza dough recipe is taken from here but I just included sugar alone.
Ingredients:
For pizza dough:
Luke warm water – 3/4 cup
Active dry or instant yeast – 1 tsp
All purpose flour – 2 cups
Salt – 1.5 tsps
Sugar – 1 tsp
Preparing Pizza dough:
Mix the yeast and water and let it dissolve completely.
Now mix sugar, salt and the flour.
Slowly add the yeast water and mix well like chapati dough.
Let it alt east sit for 30 to 40 mts.
I usually prepare the dough in the morning and let it sit till the evening.
For Toppings:
Pizza sauce or marinara – as required
Mozzarella cheese – cut into chunks (I didn't use the shredded ones)
Basil leaves – 10 to 12
Sun dried tomatoes – 3 tbsps (soak them in hot water for 30 mts)
Corn meal – for dusting the pizza stone
All purpose flour – for dusting
Preparing Pizza:
Dust the pizza stone with the corn meal.
Preheat the oven along with the pizza stone to 500 degree F. If you don't have pizza stone, that's fine. You can use any baking trays.
Meanwhile separate the dough into two portions.
Dust the surface where you are going to the roll the pizza with the flour and roll the flour nicely.
Now transfer this rolled pizza into the hot pizza stone.
Spread the pizza sauce first and then add the mozzarella chunks, sun-dried tomatoes and basil leaves.

(Kiddo helped me to spread the pizza sauce and the toppings.)
Bake them at 450 degree F for about 8-10 mts till the crust turns golden brown and cheese is all bubbly.
That's it yummy pizza is ready. The process may sound lengthy but once the dough is ready, pizza will be done within half an hour.   
Submitting this post for Blogging Marathon #48 – A 3 day marathon for 4 weeks
Blogging Marathon page for the other Blogging marathoner doing BM#48