Follow my blog with Bloglovin
Oatmeal and raisin cookies are one of my favorite cookies. These are very easy to prepare and at the same time you can enjoy the goodness oats and the sugar. This is a vegan version and I have used banana puree for egg replacement. Also this is a nut free version which makes it perfect for sending it to schools on your kiddos snack turns.
This was my goto cookie whenever there was holiday charity bake sale in my previous work place. I bake them fresh in the morning and these cookies will be gone in no time. The magic word is the "OATS". No can say to say no to Fiber huh? I followed the recipe from the book – "How to be Vegan by Elizabeth Castoria". The original recipe calls for apple puree, but I went with banana puree and reduced the amount of oats added as mine was. Also I used raisins instead of chocolate chips. You can replace the raisin with nuts of your choice or with chocolate chips. So here is the eggless vegan version,
Ingredients:
Vegan oats and raisin cookies prepared with banana puree and old fashioned oats.
All purpose flour – 1 cup
Sugar – 1/2 cup (I used cane sugar)
Baking Soda – 1 tsp
Cinnamon Powder – 1/2 tsp
Salt – 1/2 tsp
Old Fashioned Syrup or Maple Syrup – 1/2 cup
Banana Puree – 1/4 cup (I pureed half a banana)
Vanilla essence – 1 tsp
Old Fashioned Rolled Oats – 1 cup
Raisins – 1/4 cup
Steps:
Preheat the oven to 350 degree F and keep two baking trays ready. Either cover them with parchment paper or aluminum foil and grease them lightly with oil of your choice.
Combine the dry ingredients together – Flour, sugar, baking soda, cinnamon powder and salt.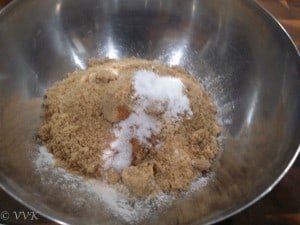 Combine the wet ingredients in a separate bowl – banana puree, syrup, vanilla essence and mix well.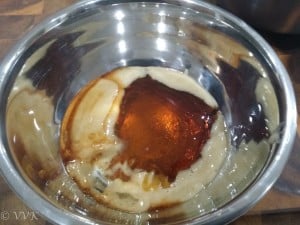 Pour the wet ingredients in the center of the dry ingredients and mix well.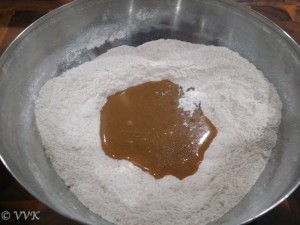 Now stir in oats and raisins and mix well.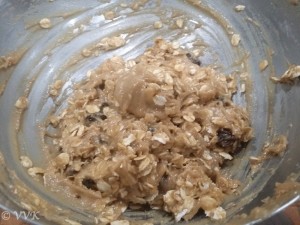 Scoop a small ball of gooseberry size and place them in the tray.

I greased my palms with oil and made small balls and flattened it slightly and placed them in the tray.
You can flatten using a spatula too.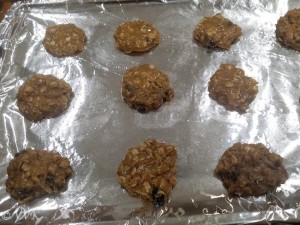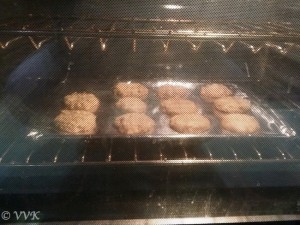 Bake it for unto 12 to 14 minutes until the cookies are browned on the bottom.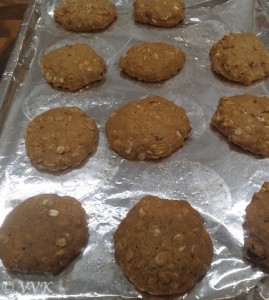 Let it cool and that's it. Yummy cookies are ready. :-)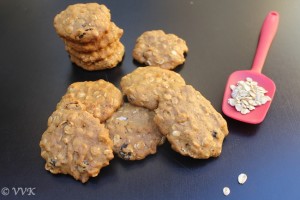 Notes:
Instead of all purpose flour you can use wheat flour also.
Raisins can be replaced with chocolate chips or nuts of your choice.
You can use apple puree instead of banana puree.
Check out the Blogging Marathon page for the other Blogging Marathoners doing BM#61
Sending this recipe to the Valli's Kids's delight event for baked snacks hosted by PJ.
Also sending this for CCC Challenge.
Ingredients
All purpose flour - 1 cup

Sugar - 1/2 cup

I used cane sugar

Baking Soda - 1 tsp

Cinnamon Powder - 1/2 tsp

Salt - 1/2 tsp

Old Fashioned Syrup or Maple Syrup - 1/2 cup

Banana Puree - 1/4 cup

I pureed half a banana

Vanilla essence - 1 tsp

Old Fashioned Rolled Oats - 1 cup

Raisins - 1/4 cup
Instructions
Preheat the oven to 350 degree F and keep two baking trays ready. Either cover them with parchment paper or aluminum foil and grease them lightly with oil of your choice.

Combine the dry ingredients together - Flour, sugar, baking soda, cinnamon powder and salt.

Combine the wet ingredients in a separate bowl - banana puree, syrup, vanilla essence and mix well.

Pour the wet ingredients in the center of the dry ingredients and mix well.

Now stir in oats and raisins and mix well.

Scoop a small ball of gooseberry size and place them in the tray.

I greased my palms with oil and made small balls and flattened it slightly and placed them in the tray.

You can flatten using a spatula too.

Bake it for unto 12 to 14 minutes until the cookies are browned on the bottom.

Let it cool and that's it. Yummy cookies are ready. :-)
Notes
Instead of all purpose flour you can use wheat flour also.
Raisins can be replaced with chocolate chips or nuts of your choice.
You can use apple puree instead of banana puree. Adapted from How To Be Vegan By Elizebeth Castoria