Theratti Pal / Pal-Khoa is a popular sweet from Tamil Nadu. It is a milk sweet which is prepared with just three ingredients. Milk, Sugar, and ghee or clarified butter. Here I am presenting this yummy sweet for this Father's Day. Happy Father's day :-)

Ha… Finally, here I am with my 100th post. It took me five years to reach here. My first post was on Jul24th 2009. (This one is going to be pretty lengthy post) As my profile says, cooking and coding are my passion. I started this blog when my mom visited the US for the first time. I created this space just for me, myself to save all her recipes. Initially, I didn't add any pictures, no background stories, nothing. Just tried all her recipes and wrote it down. And the very same year 2009, took a huge decision to quit my full-time job and to start my masters. With six months old at home and full-time masters, I couldn't focus much on my blog. I was completely occupied. After my masters, I just wanted to spend time with my kiddo. As I wanted to keep this space alive, I was posting now and then till 2012. Only from 2013, I started focusing more on the blog. Glad I could go back to my recipes last year, updated the pictures, re-edited couple of them and also created my Facebook page. I would like to thank all my readers for keeping this blog alive.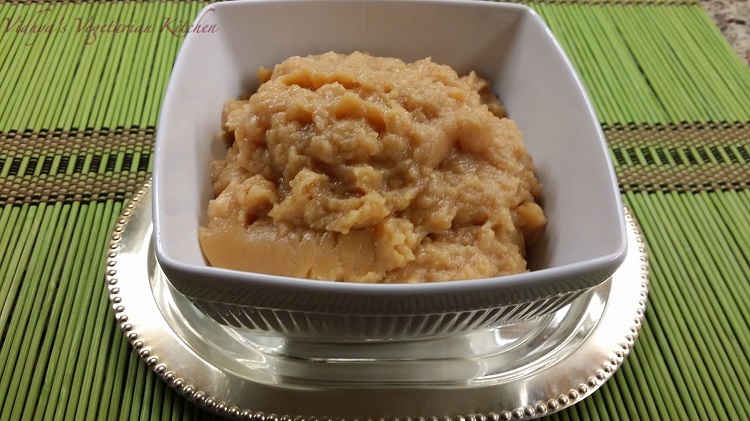 No more sentiments. So this dish is very famous in Srivilliputhur. Yup, its pal-khoa or theratti pal. Srivilliputhur is famous for its Andal temple too; the temple tower is the official symbol of Tamil Nadu Government. Pal-Khoa is milk sweet, and all you need is only three ingredients. Milk, sugar and little bit of ghee and that's it. I wanted to post a sweet dish for my 100th post, but I didn't plan for pal-khoa. Last week, the kiddo fell sick, and his whole milk stayed unconsumed. So I used half a gallon for making yogurt and another half for making paneer and the remaining for this sweet. Before getting into the dish, I just wanted to say cooking is fun. You can make it fun. I knew that this recipe is going to take for about 2 hrs as I am using 12 cups of milk.
Here is what I did to make it fun and entertaining,
Make sure your kid is occupied for first half an hour and then they can help you with stirring.
Get your laptop or tablet and keep it on your kitchen counter and start watching your favorite show/song/movie when you stir.
Imagine yourself as Hermione, mixing potions. (Harry doesn't like potions, so Hermione)
When the stirring process starts, get help from your kid/husband. (Make sure you supervise both)
And another thing that made this dish very interesting was, there is a Tamil poetry (seyyul) which explains how someone (I think that someone is Sujathai) made milk sweet for Lord Buddha. She gets milk from 12 cows and feeds the same to 6 cows and gets the milk from 6 cows and feeds it to 3 and then gets milk from those 3 and gave it to 1. Eventually, the milk obtained for the last one cow will be thick and sweet. And she makes a delicious sweet out of it. Sigh.. Thank God, I didn't need to do it that way. I remember reading this either in my 5th grade or 6th grade. So hubby and I were researching on this, and I even pinged my schoolmate/BFF A. We couldn't figure it out. Hubby was confident and telling that the seyyul should be from one of the five great epics of Tamil, Manimegalai. Let me know if you find it.
Ok finally here is the recipe.
Ingredients:
Milk (I used whole milk, 2% is fine too) – 12 cups (my kind request, start with less quantity of milk, as this dish takes a long time to prepare)
Sugar – 3 cups (Milk to sugar is 4:1 ratio)
Ghee (clarified butter) – 2 tbsps
Steps:
Coat a heavy bottomed vessel with 1 tbsp of ghee and boil the milk
Once it's about to boil (Pongu varum bodu), reduce the heat and start stirring.
Make sure it doesn't boil or gets overheated and overflow. (Keep stirring to prevent the milk from burning)
Keep stirring, and you will notice that the milk starts reducing and it thickens.
When it half reduced, add the sugar and now again keep stirring.
When it reduces to about ¼ of the initial quantity (By now it should have thickened, and the texture will be coarse), turn off the heat and let it cool.
Either you can transfer it to a new vessel coated with ghee or keep in the same. (I would suggest transferring it to a new vessel, as makes cleaning easier. If not you have to struggle with the heavy bottomed vessel. Also make sure you soak the vessel in which you made the pal-khoa, or will be burning all your calories in just washing that vessel. ;-) ;-))
That's it. Yummy Pal-khoa ready.