This recipe was sitting in my drafts for the past one week. We usually prepare this sweet for Saraswathi Poojai and wanted to post before that. Why I didn't post then? Err. It's because of the name. In Tamil we say சீயம் but in English when I was looking for the correct spelling, I got so confused. My Tamil Quill Pad would have cried for sure as I was trying out all the possible spelling combinations and finally gave up and decided to use all possible ones. That's why my recipe title is like that.
It is yet another two in one recipe. All you need is half cup of idly/dosa batter and coconut jaggery pooranam for the filling and of course oil for frying. I have written a separate post about this idly dosa batter so not going to talk about that again. But coming to the filling, you can try various combinations here – Coconut filling, Ellu/sesame seeds filling, coconut and channa dhal filling. The key thing here is that these fillings should be thick/semi-hard in consistency so that you can make small balls out of it. Make sure that these balls are hard enough so that it doesn't break while dipping them in the batter.
As Amma was preparing this, I was able to take a quick video of the dipping and frying process. I am not good at shooting videos still in the learning phase.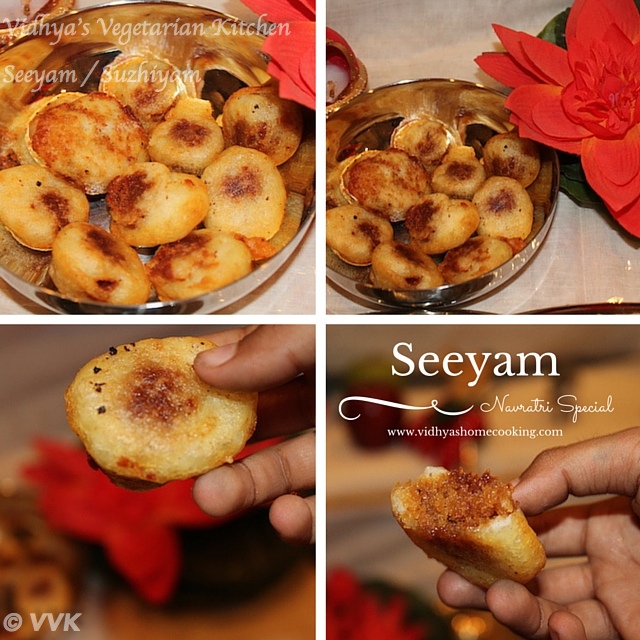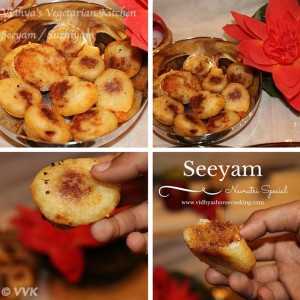 Ingredients:
For Filling:
Coconut – ½ cup
Cardamom – 1
Jaggery – ½ cup (powdered or shaved)
Water – 1 tbsp (Only if required)
Ghee – 1 tsp
For The Outer Cover:
Steps:
Preparing the Filling:
Pulse the grated coconut, elaichi and jaggery for couple of minutes. If required add water if not skip it. This step is to make sure they are mixed well and this makes it easy for rolling out the balls.
Heat the kadai or pan and add ghee.
Add this ground coconut mixture and cook it for couple of minutes till it thickens and all water evaporates.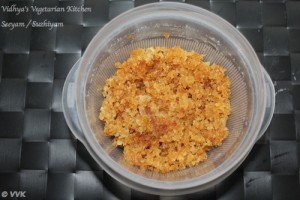 Let it cool and roll them into small balls like below. That's it the filling is ready.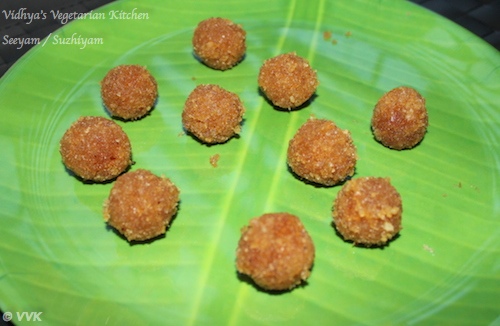 Preparing the Seeyam:
Heat the oil for frying.
Here is the video of the frying process.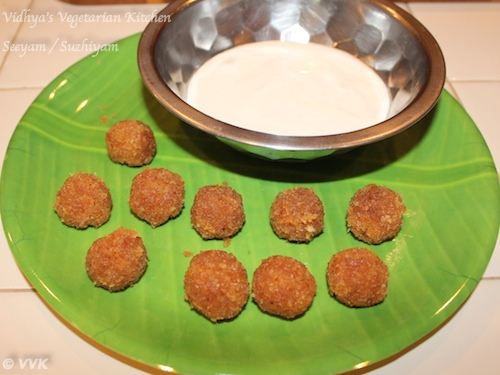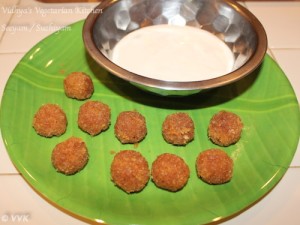 Basically you dip the rolled balls into the idly batter and make sure it is well covered and slowly drop them in the oil.
Fry till it turns golden brown.
Here is the video:
That's it. Seeyam is ready. As I mentioned we prepare this for sarawasthi poojai.
Notes:
Make sure the filling is thick.
Make sure the rolled out balls are not falling apart. It should be thick enough so that we can dip inside the batter.
Don't let it fry for a long time. Because of the jaggery it might turn black. So when it is golden brown take it off.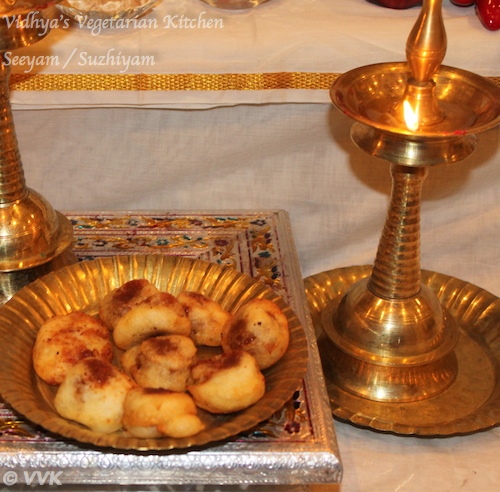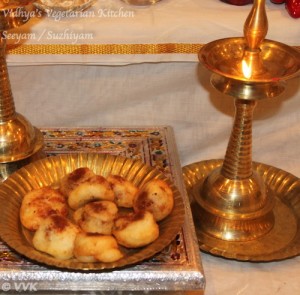 Happy Navratri Folks !!! Enjoy :-)