I am obsessed with greens right now, especially Kale and Arugula. When I saw the fruit salad contest at Manjula's Kitchen, I thought why not combine greens and fruits and here is my post.
I love fruit salads and I want to bring their natural flavor in the salads. I would like to combine greens with fruits as it is one of the best way to have them along with the sweetness of the fruits. This is a combination of greens (Kale and Arugula) and fruits salad also with the combination of different tastes, Sweet, Sour and bitter.
No special dressing required for this salad. The bitterness of kale and arugula is compensated by the sweetness of dates,raisins and sourness of pineapple and raspberries. A colorful salad loaded with Vitamin A and C.
Here is the colorful salad recipe,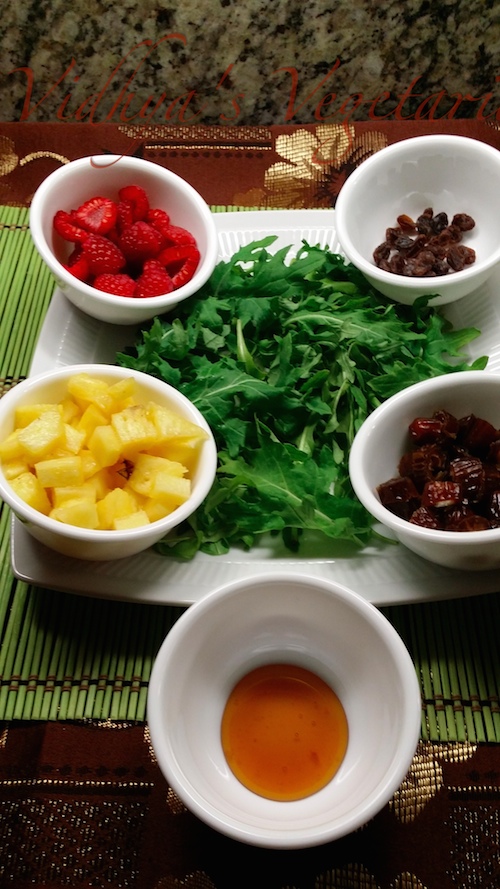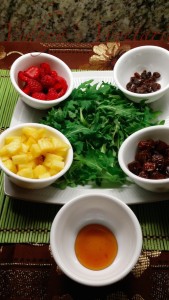 Ingredients:
Baby Kale – ½ cup
Baby Arugula – ½ cup
Chopped Raspberries – ½ cup
Chopped Pineapple – ¾ cup
Seedless dates – 10 (Chopped)
Raisins – 2 tbsps
Honey – 2 tbsps
Steps:
Mix all the above ingredients and drizzle honey before serving
If required add more honey.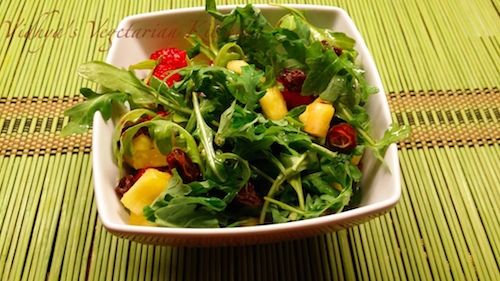 Serve chilled.
Cross posted @ Manjula's kitchen contest.