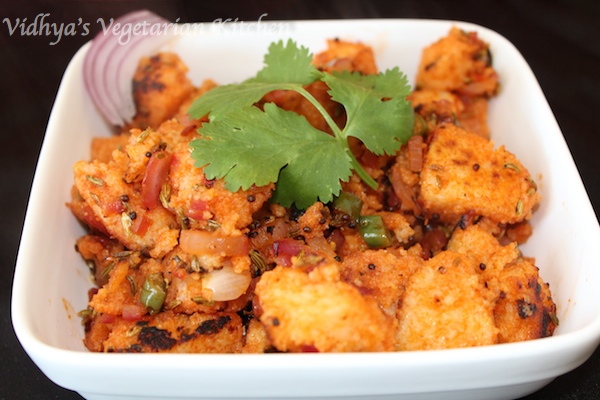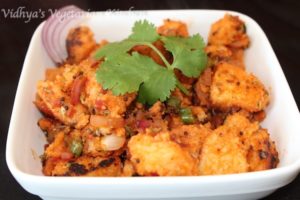 Usually with left over idlys we apply idly milahai podi with oil and leave it overnight and have it the next day. Idly soaked in milahai podi and oil.. delicious. In my UG hostel they used to make idly upma.. Idly upma tastes depending on the sourness of the idly. I think I had too much of upma in my UG hostel, so thought of trying something different and easy at the same time. I don't want to compromise on the taste too.
Here is what I tried.
Ingredients:
Left over idlys – 4 (chop them into small chunks)
Green chilly – 2
½ of medium sized onion finely chopped
Tomato ketchup – ¼ cup (adjust according to your taste)
Salt – ¼ tsp
Oil – 1 tbsp + 2 tsp
Sanf (soombu) – 2 tsps
Mustard seeds – 1 tsp
Steps:
Heat 1 tbsp of oil and fry the idly pieces till they turn to light brown color as shown in the picture below.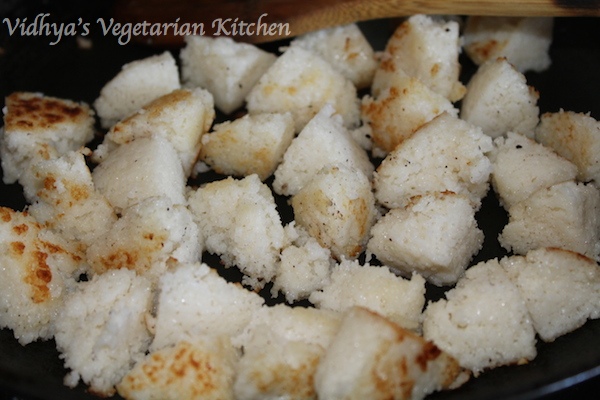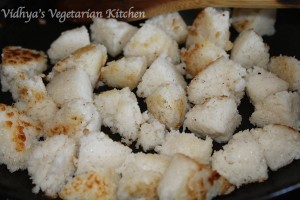 Keep them aside. I have placed in the tissue paper to remove the excess oil.
In the same kadai, heat the remaining oil and add mustard seeds and sanf.
Once they start splutter add the green chillies and the onion.
Fry till the onions become translucent.
Now add the fried idly pieces, salt and ketchup.
Mix them well and cook for 5 minutes under low flame.
Garnish with cilantro and serve it with raita or its ready to eat without any side dishes. :-)