I have mentioned about my passion for collecting recipe books in numerous posts before.  I shared my favorite collections in this post, and now I glad to add one more to that lot. When Tuttle Publishers, approached me to review their new book – "Farm to Table Asian Secrets: Vegan & Vegetarian Full-Flavored Recipes for Every Season" by Patricia Tanumihardja, I accepted happily, and when I received the book, I was so amazed and elated. (No I am not exaggerating) Read more to know why. :-)
We all know that Asian cooking is full of flavors and spices and given the fact that Asia is home to many cultures, many of which have their individual and unique cuisine and needless to say about the herbs and spices and veggies used. Farm to Table Asian Secrets teaches you how to blend the flavors, textures, aromas and colors with sweet, sour, spicy, salty and the umami flavors of Asia. Please don't miss the GIVEAWAY below.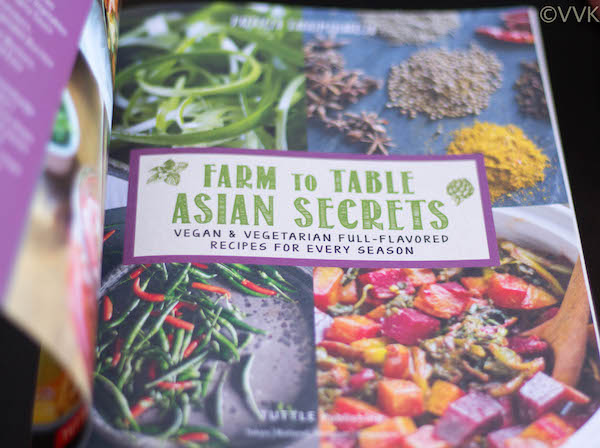 I like the way the author has organized this book. There are six sections in the book. It begins with the intro where the author starts with menu suggestions for each and every season then the basics where she explains the equipment and utensils used in day to day Asian cooking and also the cooking tips and techniques.  Then comes my favorite part – the Asian pantry. I always get confused with what noodles to buy and what vinegars to use. In the "My Asian Pantry Section" the author explains about all the pantry essentials right from sauces to vinegar to tofu to noodles. She also explains where to find these ingredients in the Asian market, their shelf life, and substitutes if required. This section is very informative, and I am sure I will refer to these quite often.
The next section is the basic recipe section which is yet another favorite of mine. The author shares not only about baking and broiling tofu and the perfect way to cook jasmine rice but also all the basic sauce and curry powders. Yes, you read it right – recipes for yellow curry powder, five-spice powder, sambar oelek, peanut sauce, mushroom stock, vegan fish sauce and what not. I can't wait to try them all.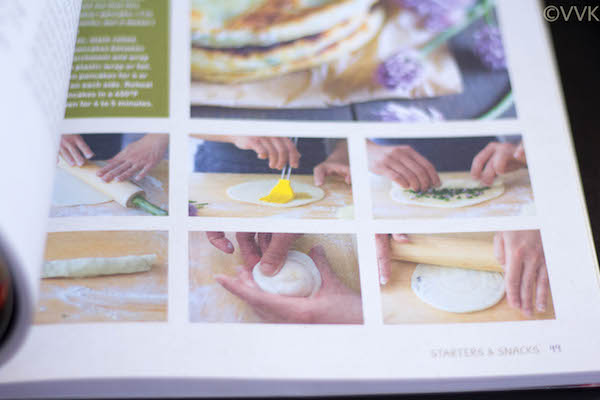 Then comes the recipes based on seasons. You can find recipes for spring, summer, autumn and winter. To name a few, Crispy Spring Rolls, Vietnamese Noodle Salad Bowl,  Everyday Pad Thai, Yellow Curry, Donburi Rice Bowl, Kung Pao Potatoes, Miso Ramen are few recipes among them. (This book contains 90 plus recipes)
What I liked about the book,
I liked the recipe segregation based on seasons and as mentioned above loved the intro and the basic recipe section.
The step wise pictures. Not all recipes books explain the steps with pictures, but this book does for few recipes. It is very helpful.  Also, the author clearly explains the "make ahead" steps which help a lot in planning.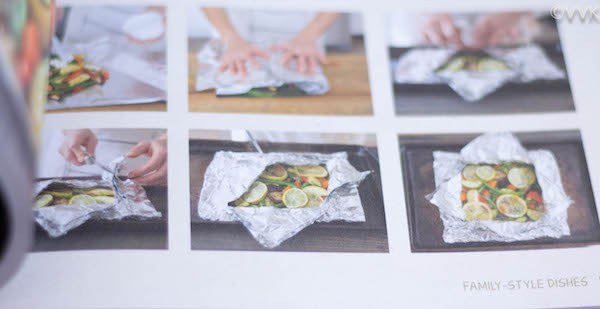 Now coming back to the pictures, needless to say, how gorgeous they are. Pictures do make you drool.
I enjoyed reading the stories and tips around the recipes and of course her detailed explanation.
The variety of recipes from starters to desserts.
The stress on seasonal eating.
This book indeed reveals a lot of secrets about Asian cooking and it sure does make it easy and simple. A great book to treasure in your repository.
Before getting into the recipe that I tried from the book, I would like to thank Tuttle Publishers for giving me this opportunity to review this book and also for the giveaway. They are giving away one copy this delightful cookbook, and it's restricted to the US. Please don't miss to enter the giveaway below. :-)
Baby Spinach with Sesame Sauce: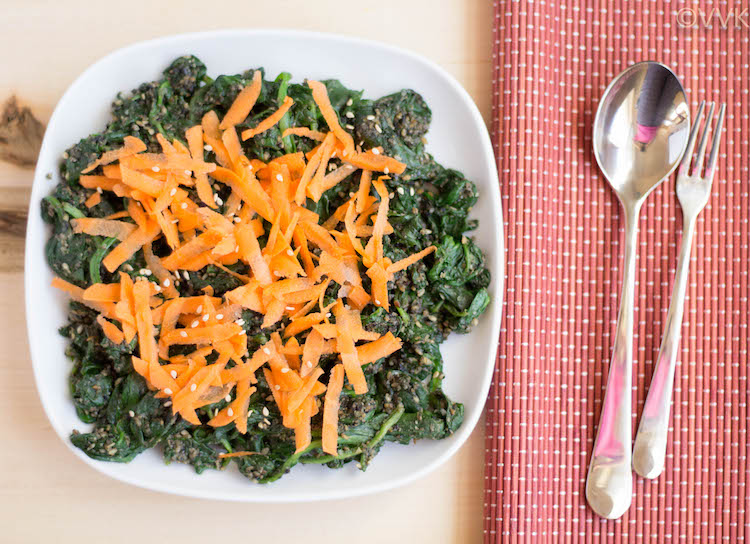 I tried few different sauces and stir-fry recipes and I would like to share this simple spinach stir-fry today. You may ask why I am posting this recipe in particular. It is mainly because the kiddo loved it so much. This not so spicy stir fry with tons of flavor is perfect kid's friendly dish. You will find many such recipes in this book. The author suggested blanching both carrots and the greens, but I went to sautéing and just tossed grated carrots on top. (the lazy me huh) So this is how I made this stir fry, (except for sautéing, I followed rest all ditto :-)
Ingredients:
Spinach – 1 packet / 10 oz bag
Grated carrots – approx. ½ cup
Toasted white sesame seeds – 2 tbsps
Toasted black sesame seeds – 1 tbsp
Sugar – 1.5 tsps
Soy Sauce – 1 tbsp
Sesame oil – 2 tsps + 1 tsp
Prep – work:
Clean the spinach and peel and grate the carrots.
As I had raw sesame seeds, I toasted them without any oil and ground them into a coarse paste. If you have toasted ones, just dry ground them.
Sesame Sauce: Now in a mixing bowl, combine this ground sesame seeds, sesame oil, soy sauce and sugar and mix well. The sesame sauce is ready.
Steps:
In a wok or kadai, add one tsp of oil and once the oil is hot add the cleaned spinach and sauté them for 2 to 3 minutes. Spinach would have shrunk by now, and the color should now be dark green.
At this stage sesame sauce and mix well.
That's it. Turn off the heat and add the grated carrots.
Note: As we use soy sauce, no salt is required, but you can adjust according to your preference.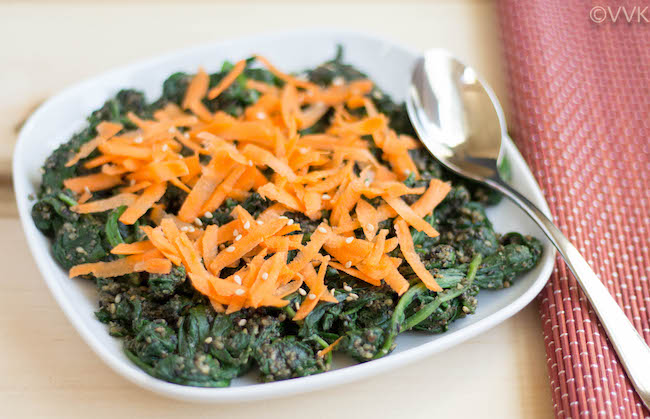 a Rafflecopter giveaway

This is a sponsored post, but the opinions and thoughts expressed here are my own.